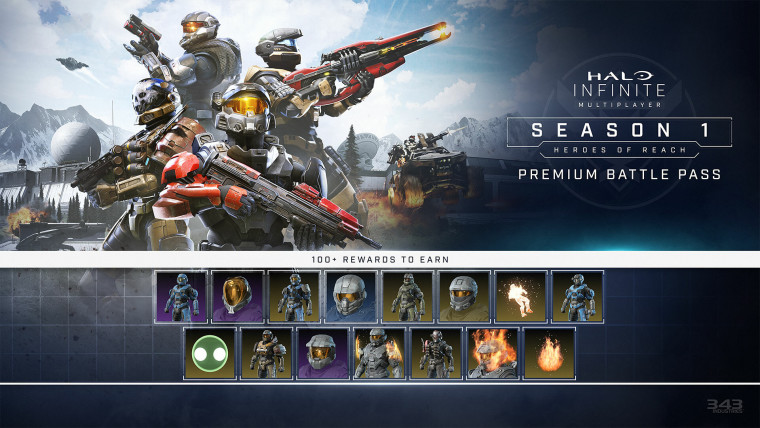 In a developer update, 343 Industries today confirmed plans are in motion to bring a new earning system for premium currency (Credits) in Halo Infinite Multiplayer. While this will materialize in Season 2's Battle Pass, more value-focused changes are incoming to the Shop quite soon as well.
Regarding the upcoming Battle Pass overhaul, 343 Industries said Credits will be available to earn as part of its progression path. This will offer players a way to purchase Shop items or even another Battle Pass without having to spend additional money on top of the original Battle Pass purchase, provided they play the game enough.
This is a feature in many other Battle Pass-touting games, and something lacking in Halo Infinite Season 1. It does do things a little differently by having non-expiring Battle Passes though, which may affect the number of Credits being offered. More information regarding this highly requested change will be revealed later.
Thanks to your continued feedback, we are happy to confirm Credits will be earnable in Season 2's Battle Pass. That means you will be able to earn Credits as part of your Halo Infinite progression. We'll have more to share on this as we get closer to Season 2.

— jerry hook (@hookscourt) January 22, 2022
The in-game Shop is getting another update next week, this time adding individual items for purchase. This is building on top of the price reductions for bundles that came through earlier this week. "We will be trying new things throughout the rest of the season so that we can continue to learn and improve for the future," 343 adds.
Meanwhile, as Big Team Battle matchmaking issues persist even through a hotfix, the studio will be removing Challenges that involve the popular game mode until a resolution is reached. This should come into effect on the next Challenges refresh on Tuesday.
All in all, Season 2 is gearing up to be a major upgrade for both the campaign and multiplayer portions of Halo Infinite. In addition to the multiplayer changes, 343 Industries is also bringing the much-awaited cooperative play and the Forge editor to the game with Season 2. There is still a long way to go before the update lands though, as delays pushed Season 2's launch to the middle of 2022.