Samsung's Galaxy S lineup of handsets is the best-selling line of premium Android phones in the world, and for good reason. They're great devices, and the Galaxy S10 series is no different. I was able to get T-Mobile to send me a Galaxy S10+, and the handset does not fall short of expectations.
It's among the first to use Qualcomm's new Snapdragon 855 chipset, which unlocks new capabilities, such as the ultrasonic in-display fingerprint sensor. It has a new triple-lens camera, and there's a dual-lens front camera that fits into the Infinity O display.
Here's our review:
Specs
| | |
| --- | --- |
| CPU | Octa-core Snapdragon 855 (2.84GHz Kryo 485, triple-core 2.41GHz Kryo 485, quad-core 1.78GHz Kryo 485) |
| GPU | Adreno 640 |
| Display | 6.4 inches, 1440x3040, 19:9, 522ppi, Super AMOLED |
| Body | 157.6x74.1x7.8mm (6.20x2.92x0.31in), 175g (6.17oz) |
| Camera | 12MP + 12MP + 16MP, Front - 10MP + 8MP |
| Aperture | f/1.5 - f/2.4 + f/2.4 + f/2.2, Front - f/1.9 + f/2.2 |
| Video capture | 4K - 60fps, Front - 4K - 30fps |
| RAM | 8GB |
| Storage | 128GB |
| Battery | 4,100mAh |
| Price | $999.99 |

As usual, Samsung is only using the Snapdragon 855 in the United States. In EMEA regions, you'll get the company's in-house Exynos 9820.
Day one
Design
The Samsung Galaxy S10+ comes in a number of colors like Prism Blue, Flamingo Pink, Prism Black, and Prism White. The model that T-Mobile sent me is Prism Blue, and it's a quite beautiful yet subtle color. It's pretty much par for the course though. There are plenty of phones with glass back and metallic colors that aren't too bold. I'd definitely pick this over yet another black or white phone.
The camera module maintains Samsung's design language, although it's now a bit larger to fit in three cameras. Now that the fingerprint sensor is in the display, it's no longer placed near the camera module.
As usual, the device includes a metal frame, which means there are antenna lines, two on the bottom of the device and one on top. Also on the bottom is where you'll find the 3.5mm combo audio jack and the USB Type-C port for charging. Yes, Samsung is one of few handset-makers, along with LG, that are keeping the legacy 3.5mm port in their premium smartphones.
On top is where you'll find the nano-SIM tray, and on the right, there's a power button.
On the left side of the device, there's a volume rocker and below that, the dedicated Bixby button.
Indeed, no one likes the Bixby button, including myself. You can change it to do different things though. You can either set it to launch Bixby when pressed and do a customized action, such as launch an app, with double-pressed, or you can set the custom action for a single-press and launch Bixby on the double-press. Personally, I just wish the button didn't exist and I hate that we're getting this trend of digital assistant buttons.
Infinity O display
The Design section of this review was a bit short, and that's mainly because the front of the device is covered in a display. The bezels are incredibly narrow, even on the top and bottom, and there's no notch.
No, instead, Samsung used its Infinity O display, so there's a cutout for the dual front cameras. If you ask me, it's far less intrusive than a notch, and it's barely noticeable.
Still, the least intrusive option is to not have a notch or a cutout, and just leave a bit of bezel space. I think that a lack of bezels is something that no one really asked for, but now we're all so caught up in this trend that every OEM has to do it.
Samsung hasn't helped either, as it's been focusing on eliminating the side bezels for years, leaving us with these oddly tall smartphones. Now, it's a much more immersive experience, and with those top and bottom bezels gone, it's actually the first form factor on a Samsung flagship that I've appreciated, that I'd actually spend money on.
But a lack of bezels comes with sacrifices as well. As has been the case for a few years now, Samsung used its curved edge display. I've always found this to be a pain to use. I'm constantly accidentally touching the sides of the screen just by holding it. Because of this, I believe that the Galaxy S10e might actually be the best choice, although I've not been able to get my hands on one just yet.
This problem can be solved by using a case. As I've said in many previous reviews, if you've got to put a case on a phone for it to function properly, then the manufacturer did something wrong. Still, MobileFun and BodyGuardz sent me a whole bunch of cases to check out.
The cool thing about the BodyGuardz one is that they look nice, being transparent yet colored, and they're not too big or bulky. Still, BodyGuardz says they can handle a 10-foot drop. I also really like the style of the Olixar case that's third from the left on top.
And then, of course, there are the official Samsung cases, including the LED Cover and the LED View Cover Case. Coming in at $44.49 from MobileFun for either one of them, they're pretty cool because they can show content from the phone. The LED Cover shows either "mood lighting", which is a bunch of white dots that appear in different places, or LED icons. You can also have it show a countdown from the camera, and more. The only bad part about those cases is that things like NFC don't work, and it's recommended to remove the case for Samsung's reverse wireless charging feature.
One thing I didn't like is that the case turns off after a while, likely to preserve the phone's power. You can set it to turn on when you place the phone face-down, but it only works for a few seconds. You can control all of this through the LED Cover app or the LED icon editor app, which will appear when you put the cases on the phone.
Back to the display itself, Samsung stuck with 1440p Super AMOLED, and it's once again best-in-class. Seriously, Samsung's displays are absolutely beautiful, as anyone with a Samsung phone knows. The colors are vibrant, and the blacks are true black, a benefit of OLED.
There's also an Always On Display, which benefits from the OLED technology since only that part of the screen is lit up. What's cool is that you can customize it through the Galaxy Themes app, although quite a few of the themes cost money. I paid a dollar for the TARDIS that you see above; but seriously though, it's a TARDIS.
Ultrasonic fingerprint sensor
As you've probably heard, the Galaxy S10+ includes an ultrasonic in-display fingerprint sensor. Shown off by Qualcomm when it launched the Snapdragon 855, it can detect your fingerprint regardless of contaminants, so it will still work when your hand is wet or dirty.
First of all, let's be clear that in the world of fingerprint sensors, this is not a good one. You'll still do better with just about any dedicated fingerprint sensor. As far as in-display fingerprint readers do, this one isn't too bad, although the only other one I've used is Huawei's Mate 20 Pro.
The S10+ comes with a screen protector on it, and if you take it off, you'll definitely get better performance from the fingerprint sensor. However, I have to say, I used the screen protector for the bulk of my time with the device, and it seemed to get better over time, or maybe I got used to how it handles and how my finger should be placed.
If you take the screen protector off and get a new one, you need to make sure it works with the fingerprint sensor. I'd once again point to BodyGuardz for that, since they sent me a couple that work.
Note that you have to press the display with some force for it to work, and that feels weird. I'm used to fingerprint sensors that I can just place my finger on, but this needs to be pressed, exactly where the icon is on the image above. It's also an issue that the sensor isn't larger, as there's no physical marker for where you need to press your finger. It would be nice if it was on a wider area.
But I do think that I got more used to how hard I have to press and where the sensor is over my time with the S10+. Ultimately, it works well, but nearly as well as a dedicated sensor.
As usual, the handset also supports facial recognition. There's no IR camera or anything like that, so it can be easily fooled. I also don't recommend using facial recognition and fingerprint together, as they respond to recognition different and it gets annoying.
Samsung Pay
I really don't think that Samsung knows how good Samsung Pay is. The reason that I say that is because it's not licensed to other OEMs, which implies that Samsung thinks it makes more off of handset sales with Samsung Pay as a selling point than it would off of licensing fees. But what's strange is that when I tell people about how great Samsung Pay is, they almost universally have no idea what makes it different from Google Pay or Apple Pay, so I doubt that anyone is buying a Samsung phone because of this feature.
The big difference is that it does not require an NFC terminal. You can use it with any magnetic card reader. Just hold it against the card reader, and it works.
I've used other mobile payment solutions before, like the ones used above, but this is the first time that I've been comfortable leaving my home without my wallet. That's a big deal, and I just put my driver's license in the sleeve in the LED View Cover Case, and I don't need anything else.
This was particularly useful when going to the gym, where I want to bring as few things as possible. Now, I can go to the gym and then to the store without having to stop back at my apartment to get my wallet.
Wireless PowerShare and battery life
Like the hole-punch display and the in-display fingerprint sensor, the idea of reverse wireless charging was first done by Huawei. However, Huawei's feature outputs at a lowly 2.5W, while Samsung's Wireless PowerShare can do 9W, a big difference. While the Huawei Mate 20 Pro charges your devices painfully slowly and shuts off after a time, the Galaxy S10+ does it rather quickly.
Unfortunately, the battery life of the S10+ isn't that great, so you probably won't want your friend's phone siphoning off of your juice. I never had trouble getting through a full day with the S10+, but it could get pretty low (around 20%) by the time I put it on the charger at night.
As usual, you have options when charging, including Qi wireless and wired via USB Type-C. Samsung stuck with 15W Quick Charge 2.0 for some reason, although that's likely good enough for most people, the key word being 'enough'. It also supports 12W Fast Wireless Charging 2.0, so even if you're low on battery, you can charge it up pretty quickly.
Back to Wireless PowerShare, one thing that's nice is that you can easily turn it on through your quick settings, so you don't have to go through the Settings app to turn it on. Naturally, you can use it to charge up any Qi-enabled device.
Camera
The Samsung Galaxy S10+ has three rear cameras: a 12MP f/1.5-f/2.4 standard lens, a 12MP f/2.4 2x zoom lens, and a 16MP f/2.2 wide-angle lens, the former two of which include optical image stabilization (OIS). This is a trend that we've seen in phones like LG's V40 ThinQ and Huawei's Mate 20 Pro.
The nice thing about having all three lenses is that you don't have to choose. For a while, we had dual-lens cameras from Apple where one was a 2x zoom, or we had the ones from LG where one was a wide-angle lens. Now, you get the optical zoom and and get the wide-angle shots.
The nice thing about a 2x zoom lens is that you can zoom without losing quality. Digital zoom works by degrading an image, as a camera lens can only see a certain amount. Since phones are too small to perform actual optical zoom, it makes sense to provide a secondary lens with the same resolution that simply has a smaller field of view.
The Galaxy S10+ also adds the ability to capture video in HDR10+, the HDR format that Samsung has been pushing for a couple of years now. Unfortunately, it only works when capturing video at 30fps, which is a non-starter for me. I capture at 60fps when I can, and I love phones that do 4K 60fps video capture, as the S10+ does.
One of the key features of the Snapdragon 855, along with HDR10+ video capture, is portrait mode video capture. Unfortunately, this feature is limited to the Galaxy S10 5G, probably because it has the additional time-of-flight sensor on the back.
Samsung has always excelled at cameras, so this really isn't any different. The truth is that smartphones from Google and Huawei are really doing some fantastic stuff, so if you spend this much on a smartphone, you're going to get a camera that you're happy with.
I also played around with the portrait lighting features. I'm not sure how useful that will be in real life, but it works. As for low-light conditions, the phone does pretty well, although it doesn't handle movement that great, probably due to a longer shutter speed.
Performance
I saved performance for last because I don't think it's an important topic anymore. This thing is fast; it's really fast, but you already knew that. It uses Qualcomm's latest premium chipset, the Snapdragon 855, so it's clear that this is going to meet the needs of anyone that buys it. This is the best that's available on the Android end of things right now, and on top of all of that, it has an incredible 8GB of RAM.
My biggest disappointment was the battery life, and watching the battery life indicator get lower and lower at the end of the day as I had more apps running in the background. But as far as doing the things you want it to do and playing the games you want to play, you're good.
I did run benchmarks, as I know that there will be those that want to put this up against previous chipsets. As usual, I used Geekbench 4 Pro, AnTuTu, and GFXBench. First up is Geekbench 4, which tests the CPU.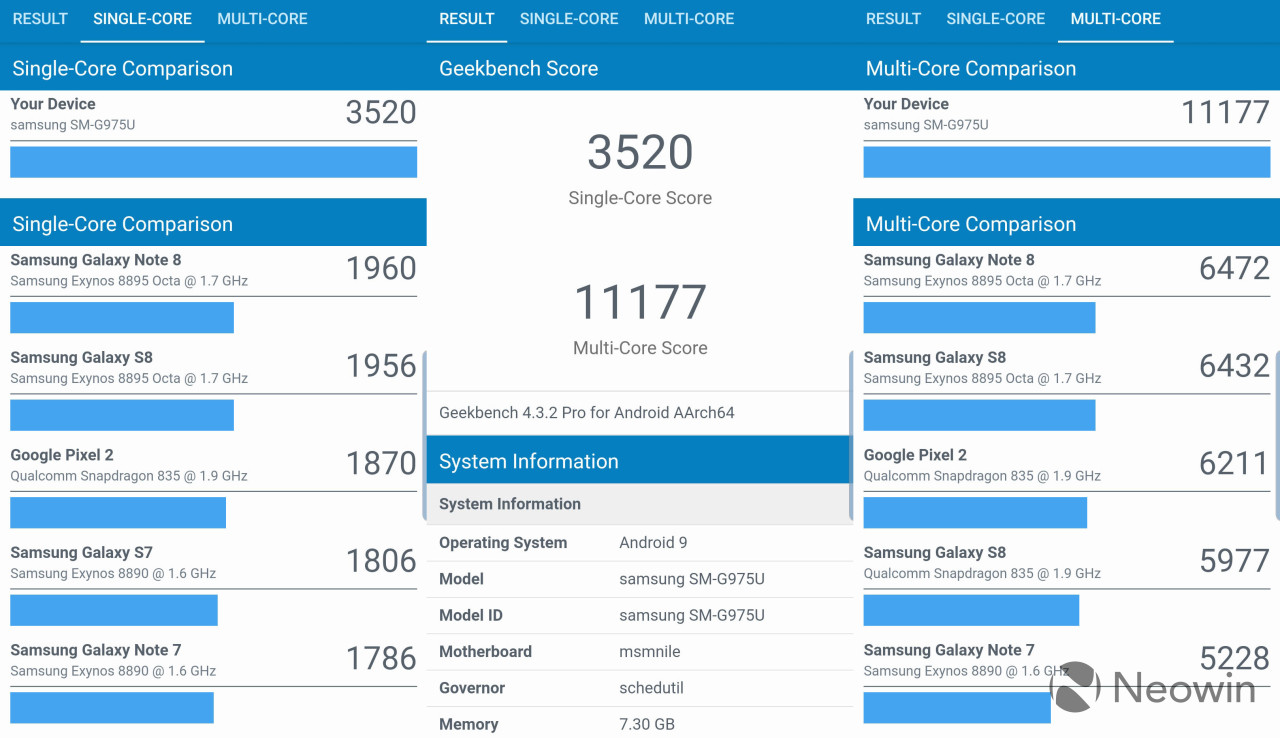 These are the best results that I got from the CPU after three tests. Both scores outperform the Snapdragon 845 in the LG V40 ThinQ, which got 2,398 on single-core and 8,770 on multi-core. The Kirin 980 in the Mate 20 Pro got 3,249 and 9,846, respectively. The A12 Bionic in the iPhone Xs Max far outperformed the Snapdragon 855 in single-core with a 4,798 score, and it's about the same in multi-core with 10,731.
Next up is AnTuTu, which offers a sort of all-in-one test.
The Snapdragon 855 outperforms all of its peers on this one. The Snapdragon 845 got 255,425, the Kirin 980 got 273,185, and the A12 got 312,678. Finally, GFXBench tests the GPU.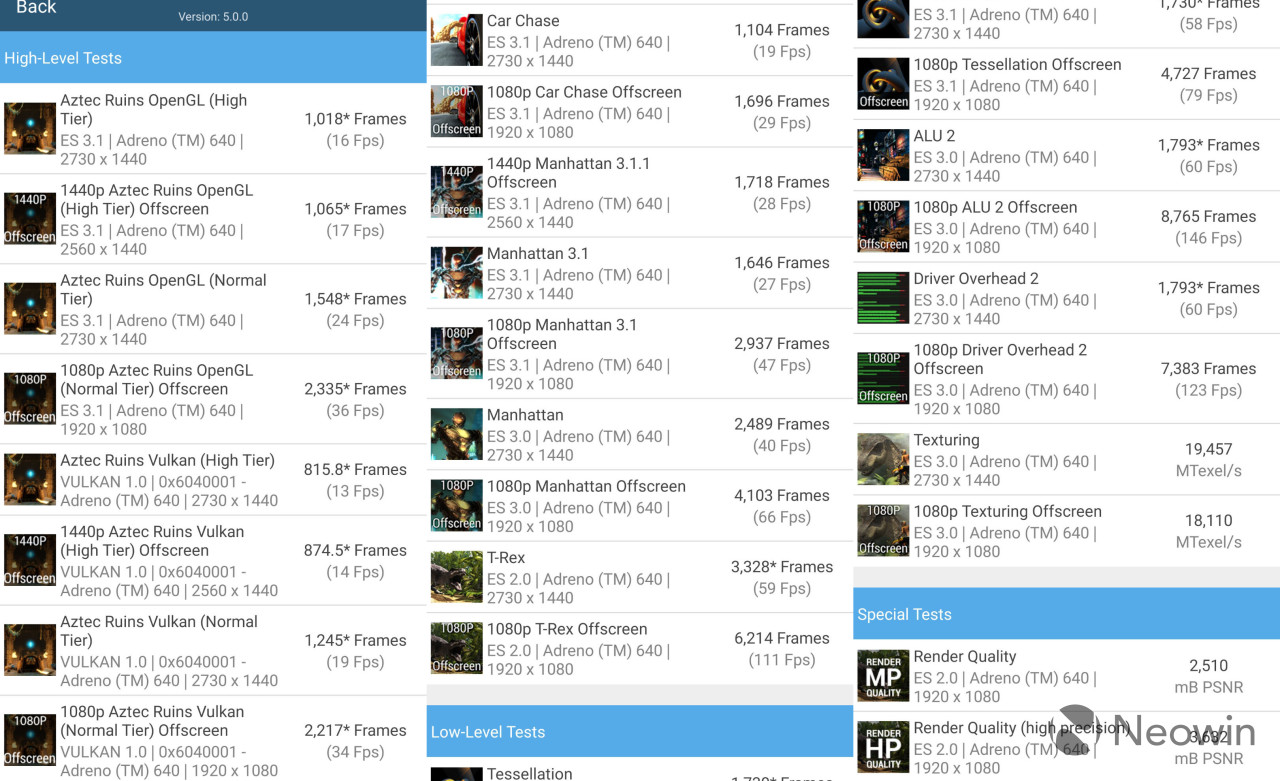 Conclusion
Samsung is the top seller of smartphones in the world, and that's not by mistake. The company makes phenomenal phones and the Galaxy S10+ is not an exception to that. My biggest problem with it is the curved edges on the display. It makes the phone really hard to use without a case, and you should not have to buy a case for your phone to function properly.
But other than that, the phone is wonderful. I love that Samsung finally got rid of those massive top and bottom bezels that made their previous devices too tall, and the Infinity O display is a much better solution than a notch. It's a beautiful and pleasant device to use.
It's useful as well. Samsung Pay can be life-changing if you're into the idea of being able to leave your wallet at home, and you're in one of the few countries that support it. Wireless PowerShare will be a cool feature to show off to your friends the next time someone says their phone is dying.
If you're in the market for a phone right now, the Galaxy S10+ could be the way to go, although I'd go with the S10e for the flat display (see our hands on of all the S10 variants here). Competitors aren't doing much this time of year, and while I haven't reviewed the S10e, I definitely think this is a better handset than the LG G8 ThinQ (more on that soon, hopefully). Google and Apple refresh their handsets in the fall, so nothing new on that for now, and HTC might not be making phones anymore.
Huawei will be launching the P30 this week, but it likely won't be sold in the United States. It seems to me that Huawei's premium handsets are the only real competitors that Samsung has in the Android arena anymore, and you can actually buy a Samsung phone from a U.S. carrier.
But the bottom line is that if you've had your eye on the latest Samsung smartphones, you won't be disappointed.
Pros
Beautiful screen Samsung Pay Triple-lens camera Wireless PowerShare No more massive bezels
Cons
Curved-edge display makes it hard to use without a case Disappointing, but not terrible battery life