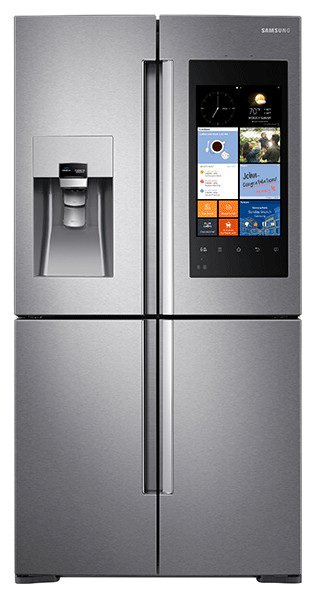 Earlier this year, at the CES electronics expo in Las Vegas, Samsung unveiled its Refrigerator with Family Hub, featuring a 21.5-inch touchscreen on one of its doors. It went on sale in the US priced at $5,999, and now, the company has brought it to the UK too.
The refrigerator offers a range of 'smart' features, including cameras inside that can take photos of its contents and send them to your phone, so that you can check if you need to replenish any supplies while you're out.
The Full HD touchscreen can be used in a variety of ways, such as controlling music playback, browsing the web, working through recipes while you cook, and displaying photos - much like you might pin cherished photos to a 'regular' refrigerator. Owners of certain Samsung Smart TV models can also mirror the display to the fridge's touchscreen, so if they start watching a show, but need to get on with the cooking, they can carry on viewing it in the kitchen.
Of course, these features won't appeal to everyone, and the price of the refrigerator is likely to make it even less desirable for some. Pocket-lint reports that Samsung has priced the full-size double-width model at £4,499.99 in the UK - over £2,500 more than the equivalent model without the touchscreen - although John Lewis is offering it for slightly less, £4,375, with an extra three years of warranty. Currys is selling it at the same price, but without the additional free warranty extension.
A more affordable single-width version is also available with the Family Hub feature, but that will still set you back just under £3,000.
Meanwhile, over in the US, Samsung has significantly reduced the cost of the refrigerator. The full double-width model launched for $5,799 (which converts to around £4,660) in stainless steel, and $5,999 (£4,820) for the black stainless steel model. The company has now slashed $2,000 off its recommended retail price for both models, reducing them to $3,799 (£3,050) and $3,999 (£3,210) respectively (note that the US prices are shown without tax, while the UK retail prices include 20% value added tax).
Samsung isn't the only company to believe that touchscreen fridges are the future. A few months ago, LG unveiled a refrigerator running Windows 10, featuring a 29-inch translucent touchscreen.