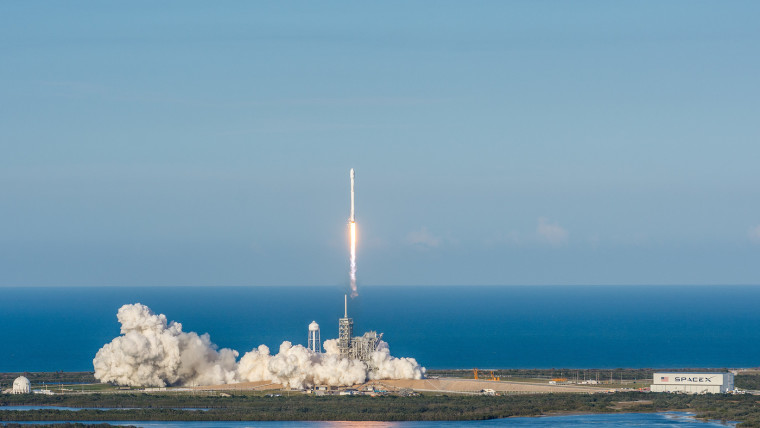 In between the talks of slinging cars into a solar orbit and building spaceships that induce profanity, one can often forget that Elon Musk's SpaceX also plans to do things a bit closer to home.
In May last year, SpaceX announced that it was going to begin prototyping and testing of satellites that would blanket the planet like a net and work together to deliver high-bandwidth low-latency internet anywhere in the world. It was said at the time that the company would launch at least one prototype before the end of 2017, followed by a second one "during the early months of 2018." The former didn't happen, but SpaceX now seems ready to move the timeline and bring the project forth.
This weekend the company intends to launch, upon its Falcon 9 rocket, the first pair of demonstration satellites – named Microsat 2a and 2b – for what it has dubbed as 'Starlink'; the duo will be the secondary payloads on the rocket, with the primary payload being Paz, a radar observation satellite built by Airbus for the Spanish government.
It is, perhaps, worth noting that Microsat 2a and 2b are iterations of Microsat 1a and 1b; the latter pair was meant to launch in 2016 but that plan was abandoned in favor of further development of the technology for the 2a and 2b satellites.
According to documents filed with the Federal Communications Commission (FCC), the company will have a variety of ground stations to test the network including at SpaceX's headquarters in Hawthorne, California; Tesla's headquarters in Fremont, California; SpaceX's facilities in McGregor and Brownsville in Texas, as well as in Redmond, Washington; and lastly, three transport vans, perhaps to test the network's reliability in moving vehicles.
It is also mentioned that the pair of satellites will exclusively transmit only when they are above these ground stations which, per the documents, would result in a transmission time of about 10 minutes per day.
It's certainly not a very large test; the finished mesh network would involve over 4,000 satellites in the low-earth orbit by 2024, a number that certainly puts the launch of the two prototypes in perspective.
Although the Starlink network may help connect millions – if not billions – to the world wide web, making accessible an incoherent amount of data, that's not its main purpose – at least for Elon Musk. In 2015, Musk stated that the Starlink project would cost more than $10 billion, but the revenue generated by it would help fund SpaceX's expedition to Mars:
"Over time, to build a full version of the system, we're talking about something that would be $10 or $15 billion to create, maybe more, and then the user terminals, would be at least $100 to $300 depending on which type of terminal. This is intended to generate a significant amount of revenue, and help fund a city on Mars. So in looking in the long term, and saying what's needed to create a city on Mars, well, one thing's for sure: a lot of money. So we need things that will generate a lot of money."
The Falcon 9 rocket carrying the payload is expected to lift off from the Vandenberg Air Force Base at 6:17am PT on February 17.
Source: Federal Communications Commission (1), (2), Vandenberg Air Force Base via CNET
Image via NPR