Windows Phone has been capable of working with Visual Voicemail for some time. However, until now no UK carriers have implemented it. O2 recently said that the feature would arrive with the update to Windows Phone 8.1 and we can confirm that the system is now in place and working.
When Visual Voicemail activated, you will no longer be required to call your voicemail and listen to all of your messages sequentially. Instead, the messages are downloaded to your device where you will have better control over playback and management functions.
There are of course some prerequisites to being able to use the service. Devices that currently support it are the Lumia 925, 625 and 1520. Those devices must be updated it to Windows Phone 8.1. O2 does not support carrier-unlocked devices or those with the Preview for Developers installed. As long as the update is applied and your account is set up with O2 correctly, you should be good to go.
After updating to Windows Phone 8.1, when you check your voicemail it should prompt you automatically to set it up. Here are the steps to do this otherwise.

Click on the Telephone/Call tile>hit the "…" >Settings and then hit the toggle for Visual Voicemail.
After a short pause while it communicates with the network, it will be activated. When it's in place, you'll have a new section in your calling hub titled 'voicemail'.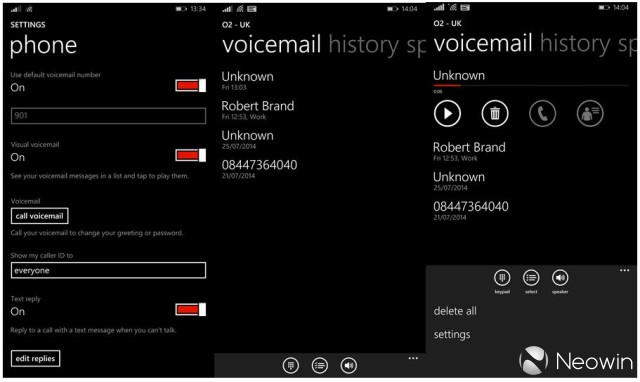 You can now manage messages more easily, being able to delete all messages at once, as well as being able to select one or multiple messages. Playback options include Pause, Play, Delete, Call back, Caller details (if you have them in your contact list).
When setting up Visual Voicemail, I encountered an issue whereby it advised that my number was not compatible with the service. This was due to my account having iPhone Visual Voicemail in place so a call was needed to get O2 to remove and a phone restart was required.
It's good to see O2 continue to support for Windows Phone, and this latest feature should prove a nice bonus to its customers getting the latest versions of the OS.