Weekend PC Game Deals is where the hottest gaming deals from all over the internet are gathered into one place, every week, for your consumption. So kick back, relax, and hold on to your wallets.
Heading right into it, the latest bundle to come out of Humble this week is the Double Fine 20 Year Anniversary collection, packing almost 20 hit games developed and published by the company, plus a few prototypes, into a hefty triple tier offer.
With the $1 tier you get Psychonauts, the Double Fine Adventure documentary complete series, and three Amnesia Fortnight packs containing game prototypes and behind the scenes content. The second tier - currently at $8.50 - spices things up with copies of Brütal Legend, Broken Age, Costume Quest, Day of the Tentacle Remastered, Massive Chalice, and the VR title Psychonauts in the Rhombus of Ruin.
It is the third and final tier that adds the most games to your pile, bringing Grim Fandango Remastered, GNOG, Gang Beasts, RAD, 140, Mountain, THOTH, Escape Goat 2, KIDS, Full Throttle Remastered, Headlander, and Everything for $9. The original soundtracks of quite a few of these games are included too, alongside DRM-free versions.
Humble isn't done just yet, as a Raw Fury publisher bundle was also introduced this week. This collection comes with four tiers of games, and the first rung comes with GoNNER BLüEBERRY EDiTION, Tormentor X Punisher, and Kathy Rain for $1.
Joining it if you pay the average price - currently at $7.20 - are Kingdom, Kingdom: New Lands Royal Edition, and Whispers of a Machine. Bumping up to the $12 third tier adds three more games, them being Night Call, Bad North: Jotunn Edition, and Mosiac. Lastly, Kingdom Two Crowns plus all of the previous games are yours if you put down $15.
Before we wrap up the bundle highlights, keep in mind that this is the final week you have to grab the July Humble Choice before its offerings are refreshed with a new lineup of games on August 7.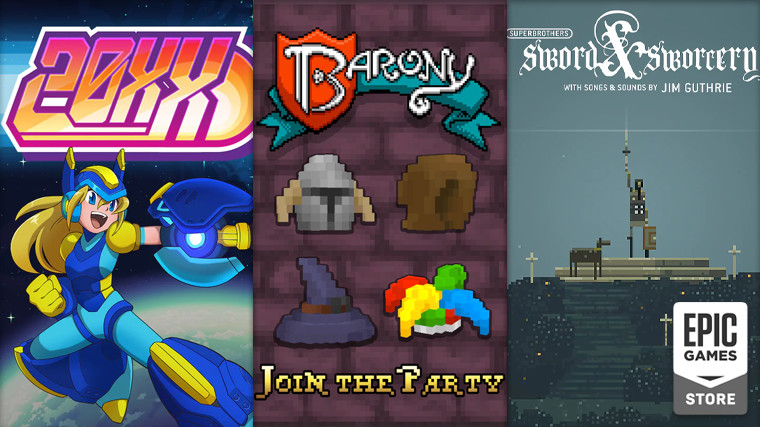 The continuing freebie offers from Epic Games Store this week delivered three games to claim, replacing Tacoma and Next Up Hero. Now you can add 20XX, Barony, and Superbrothers: Sword & Sworcery to your Epic Games library.
There's not much of a theme here. 20XX comes in as a roguelike action platformer and Superbrothers is a musical adventure game, while Barony delivers a first-person roguelike experience. All three can be yours by claiming them before August 6, which is when the puzzle game Wilmot's Warehouse will take the freebie slot from the current trio.
Free Events
Something interesting about the games that have gone free-to-play for the weekend is that they are all recent releases.
First up is the new EA-published hero-based competitive multiplayer shooter Rocket Arena, and as the name suggests, it has a heavy emphasis on firing rockets at each other. This is joined by Quantum League, another recently launched competitive shooter. This one takes place in a time loop, letting players team up with themselves. Lastly, the sci-fi FPS RTS mashup Disintegration has also gone free to play just for the weekend.
Big Deals
You can check out our newest list of highlights from what's on sale this weekend below, which is populated by the ongoing summer sale discounts of various stores and several other specials:
DRM-free Goodness
Here are our highlights from the DRM-free games that have gone on sale this weekend. They arrive from the massive role-playing games and Interplay promotions happening right now on GOG:
Keep in mind that availability and pricing for some deals may vary depending on the region you're in.
---
And that is it for our pick of this weekend's PC game deals folks, and hopefully, some of you have enough self-restraint to not add even more games to your growing backlogs this season. Of course, there is an enormous amount of more deals ready and waiting all over the internet if you comb through it hard enough, so keep your eyes open for those, and have a wonderful weekend.