Back January, Asus launched its new TUF series laptops based on AMD's Ryzen 4000 series processors and Intel's 10th gen processors. The TUF A15 and A17 come with Ryzen 4000 series, while the F15 and F17 come with Intel's corresponding counterparts. We had a chance to look at the TUF A15, which comes with the AMD's Ryzen 4000 processor.
Specifications
CPU
AMD Ryzen 7 4800H (8-core, 16 threads) (Base 2.9GHz, Boost up to 4.2GHz)
RAM
16 GB DDR4 (3200 MHz in a dual-channel configuration)
Storage

500 GB M.2 NVME SSD

1 TB HDD

GPU

AMD Radeon GPU

Nvidia GeForce GTX 1660Ti

Display
15.6-inch 1920x1080 144Hz Adaptive Sync
Battery
48 Wh
Ports

(1) USB 2.0 Type-A

(2) USB 3.2 Gen 1 Type-A

(1) USB 3.2 Gen 2 Type-C port (with Display port 1.4a support)

(1) HDMI port

(1) 3.5mm combo audio jack

(1) Ethernet jack

Keyboard
Backlit Chiclet Keyboard RGB
OS
Windows 10 Home Single Language
Price
$999.99
The Asus TUF A15 comes with a Ryzen 4000 CPU which is based on AMD's 7nm architecture, giving it an edge over Intel's 10th gen processors based on the 14nm architecture. Right out of the box, the laptop comes with the Windows 10 November 2019 Update with minimum bloatware. Apart from that, Asus has also installed DTS Audio, Asus Armoury Crate, AMD Radeon Settings and Nvidia Control Panel.
Design
Asus has gone to great lengths to make a value for money gaming laptop, especially for those who do not want to spend a lot of money on ROG laptops. The company has had to cut corners, which is evident in the design of the laptop.
Despite the use of plastic for the laptop, the brushed metal feel gives the device a premium look. The top of the laptop also has a TUF logo in the middle. Apart from that, Asus has gone with a minimal design which makes it a great laptop for both work and play.
The Asus TUF A15 has also got a decent selection of I/O but unlike the ROG series, this laptop has a majority of ports on the left except for a USB port on the right (along with Kensington lock).
On the left, there is power jack followed by an Ethernet port, an HDMI 2.0 output, two USB 3.2 Gen 1 Type-A ports, a USB 3.2 Gen 2 Type-C port (with Display port 1.4a support) and a 3.5mm headphone jack.
On the right, there is a USB 2.0 Type-A port and Kensington lock along with air exhaust vent.
On the back of the laptop, there are two air exhaust vents and the front corners house two bottom-firing speakers. Asus has also added some air intake vents at the bottom, but they are not directly above the fans.
Upon opening the laptop, you will be greeted with a bright RGB keyboard – and this time around, Asus has also included a webcam and hey! It is located at the right spot, i.e., on top of the display.
Display
The Asus TUF A15 comes with a 15.6-inch 144Hz Adaptive Sync panel with a resolution of 1920x1080. The screen is sharp and has decent calibration out of the box. However, I was a little disappointed to see that the colours on the screen are not accurate when compared to other monitors or even other laptops. This is because the panel has just 45% NTSC, which is low, especially if you plan to use the laptop for content creation. Furthermore, the display panel is not bright compared to other laptops in the same price range. Asus noted that the laptop display supports 300 nits, but it felt lower than 300 nits. Of course, while this was not a problem during indoor use, outdoors, under direct sunlight, the viewing the screen was more trouble than I anticipated.
Like most other gaming laptops, the display on the TUF A15 does not support touch. Plus, though Asus has added a decent webcam on this device, it does not, unfortunately, come with an IR sensor or a fingerprint scanner which means no Windows Hello support.
Keyboard and Trackpad
The Asus TUF A15 comes with a full keyboard i.e., it has a number pad, but it also has small arrow keys which are difficult to get used to, especially if you are used to a full-sized keyboard. There is a bit of deck flex, presumably due to the plastic chassis but thankfully, this does not cause problems while typing on the keyboard.
Speaking of typing, the Asus TUF A15 comes with an RGB keyboard. The keyboard lights can be customized using the Asus Armoury Crate software; however, it does not support per-key customization. That said, you can still control the RGB brightness and the effects using arrow keys on the keyboard. Overall, the keys do have a decent travel but were they a bit too loud for my liking.
Given that Asus is using Microsoft's Precision drivers, the trackpad is on the device is accurate and works well with Windows 10. The TUF A15 has separate left and right buttons, which in my opinion, are better than clickable trackpads (since those often register false clicks while gaming).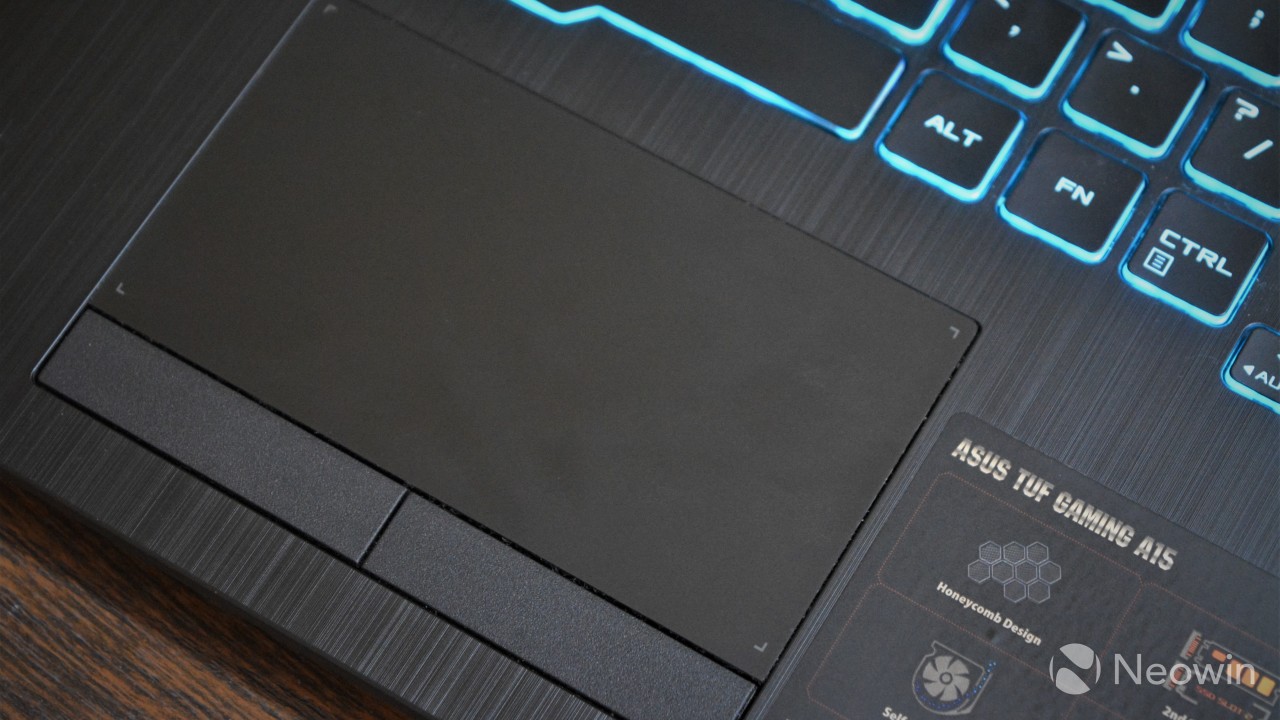 Performance and Battery
The Asus TUF A15 has decent hardware under the hood. Our unit came with a Ryzen 7 4800H (eight cores, 16 threads) processor which was paired with Nvidia GTX 1660Ti and 16GB of 3200MHz DDR4 RAM. For storage, Asus has added a 500GB NVME SSD and a 1TB HDD. While the specs look good on paper, the laptop is held back by poor thermal design. Unfortunately, the A15 tends to get a little toasty even during light workloads. Out of the box, the laptop was touching 65°C during Windows Updates. During a much more controlled temperature test, the laptop was hovering around 75-80°C under load (do note that the ambient temperature during the controlled test was 24°C).
Apart from the high temperatures, the laptop felt snappy and there were no issues while playing AAA titles like Call of Duty: Modern Warfare (2019), GTA V, Microsoft Flight Simulator (closed beta) and Control at high settings. However, you will feel a bit of heat on your palms during extended gaming sessions.
One reason for the high temperature is the design of the air intake vents at the bottom of the laptop. The vents are not directly above the fans making them work harder to pull air. It looks like Asus picked aesthetics over functionality and this cost them dearly.
Despite the high temperatures, all the components managed to stay within the limits and not thermal throttle which, could be taken as the silver lining here. I recorded temperatures during benchmarks and maximum CPU temperature was 92°C while the GTX 1660Ti recorded a maximum temperature of 84°C.
Interestingly, Asus has added thermal pads to almost every single component on the TUF A15 but still, the device was not able to keep the temperatures in check. This was also the first time I saw a company add thermal pads to RAM modules in addition to the NVMe SSD on a laptop.
As for benchmarks, I used PCMark 10, 3D Mark Time Spy, 3D Mark Time Spy Extreme, 3D Mark Fire Strike, 3D Mark Fire Strike Ultra, Cinebench R20, VR Mark: Orange Room, CrystalDiskMark and Geekbench 5.
| | |
| --- | --- |
| PCMark 10 | 3D Mark Time Spy Extreme |
| | |
| 3D Mark Fire Strike | 3D Mark Fire Strike Ultra |
| | |
| CrystalDiskMark (SSD) | CrystalDiskMark (HDD) |
| | |
| Cinebench R20 | VRMark Orange Room |
| | |
| Geekbench 5 (CPU) | Geekbench 5 (OpenCL) |
| | |
Apart from performance benchmarks, I also ran PCMark 10 Modern Office Battery Life benchmark to simulate battery usage in an office environment. Here, the TUF A15 lasted for three hours 42 minutes with the brightness set to 50% and all RGB lights turned off.
These benchmark numbers are a clear indication of what this laptop can achieve. The device is great for both work and casual gaming. Since Asus has included an HDMI port and a USB Type-C port, while the HDMI port is connected to the Radeon iGPU, you can connect a monitor via Type-C cable to bypass the iGPU and take advantage of the GTX 1660Ti.
Upgradability
The Asus TUF A15 has decent a decent upgrade path. Firstly, the laptop is easy to open, but you will need to remove 11 Philips head screws to get inside the laptop. The only drawback? Asus uses different sized screws, so make sure you keep them organized. Once inside, you will get access to the two RAM slots, two NVME M.2 slots, one 2.5-inch HDD slot and the battery. My model came with a 48Wh battery with a 2.5-inch 1 TB HDD. However, if you must, you can remove the HDD and get a 90Wh battery for extended battery life. On the upside, the TUF A15 is also one of the rare laptops that come with two NVME M.2 slots giving users the option of using high-speed SSD or traditional 2.5-inch drive.
Conclusion
Asus has always been at the forefront when it comes to hardware and Asus TUF A15 is no exception. It is one of the first laptops to feature AMD's new 4000 series chipset and is paired with GTX 1660Ti making it a great machine on paper.
Essentially, my major complaints are about the thermal design and the display. Asus could have done a better job at the thermal design of the laptop and it would not hurt to have included more air vents on the bottom as well as on both sides. Further, the laptop does not have any heat pipes or thermal pads over the VRAM chips which will get hot during extended gaming sessions.
Asus has also used an inferior display panel on the TUF A15. While it would not matter much while playing games, the display is not colour accurate enough for more media-oriented workload: like graphic designing and content creation. This is truly a shame because the combination of Ryzen 4000 series processor and GTX 16 series GPU would have made it a great laptop for content creation on-the-go.
Apart from the major issues, here are some of the minor concerns. Asus could have included an IR sensor or a fingerprint scanner with the TUF A15 to allow users to take advantage of Windows Hello. The laptop is also missing Thunderbolt 3 support which makes it a tough sell for people who may want to use an eGPU enclosure for better performance. That said, there are only a couple of motherboards that support both AMD and Thunderbolt so we could probably see Thunderbolt support in the future.
In the USA, the TUF A15 with the same configuration as the one reviewed is available on Newegg for $999.99. However, I would recommend saving and going for the Acer Helios 300 which comes with 10th gen Intel processors and Nvidia GPU but has a better screen and a much better thermal design. Currently in the USA, the Helios 300 is available with i7-10750H, 16 GB DDR4 RAM and RTX 2060. The laptop is priced at for $1,199.99 and can be picked up at Amazon.
All said and done, if your heart is set on the TUF A15 then I would highly recommend investing in a cooling pad for gamers. If you plan to get it for content creation, then adding a colour accurate external monitor is highly recommended too, because there is no way you could work on this laptop without worrying that you messed up the colours because of an inaccurate display.