Huawei is fairly new to the Windows 10 market. Its first entry was the MateBook, announced at Mobile World Congress 2016. The PC was a Core M tablet with a folio keyboard, and it wasn't without its share of issues. The firm returned last May with three new Windows 10 PCs, the MateBook D, E, and X.
The MateBook E was the successor to the original MateBook tablet, but the D and X were 15- and 13-inch laptops, respectively, with the latter as the flagship. And indeed, when I reviewed the Huawei MateBook X, I loved it.
Now, the MateBook X Pro is here, a 14-inch version that includes the same Dolby Atmos sound and portability, but it also has eighth-gen quad-core processors, a dedicated GPU, multi-touch, a USB Type-A port, and a hidden webcam. On a sidenote, Huawei did tell me that it's refreshing the current MateBook X model with Intel's new processors.
Ultimately, the MateBook X Pro seems to be everything that the MateBook X is, but better. Here's our review.
Specs
CPU
Intel Core i7-8550U
GPU
Nvidia GeForce MX150 with 2GB GDDR5
Display
13.9 inches, 3000x2000, 10-point multitouch, 178-degree viewing angle
Body
304x217x14.6mm, 1.33kg
RAM
16GB LPDDR3 2133MHz
Storage
512GB NVMe PCIe SSD
Ports
USB 3.1 Type-C
Thunderbolt 3
USB 3.0 Type-A
3.5mm audio
Battery
57.4Wh
Windows Hello
Fingerprint
Color
Space Gray
Price
$1,499.99

The Huawei MateBook X Pro comes in two configurations. Stated above is the higher end one that was sent to me to review. The other costs $1199.99, and comes with a Core i5, 8GB RAM, 256GB storage, and there's no dedicated GPU. If you ask me, going for the $1,499 model is a no-brainer.
Day one
You can see that the device comes with a charger, and the MateDock 2.0.
Design
By and large, the Huawei MateBook X Pro has a very similar design to the MateBook X. It's a bit larger, a bit heavier, and it has fans on account of the additional RAM and GPU power. In fact, it doesn't have that "this thing is so light that it's incredibly easy to carry around" feeling. Still, at 1.33kg (compared to 1.05kg on the MateBook X), it's pretty light.
The design is that of a standard MacBook clone, which isn't necessarily a bad thing. There's just nothing in particular to set the MateBook X Pro aside as unique. It's set in an aluminum unibody, and the color is the same Space Gray.
On the left side of the device, you'll find two USB Type-C ports and a 3.5mm audio jack. One of the Type-C ports is USB 3.1, and the other is Thunderbolt 3. Either one can be used for charging, and works with the MateDock 2.0. Obviously, you'll get faster data transfer speeds from the Thunderbolt 3 port, which can support up to two 4K displays or one 5K display.
On the right side, there's a USB 3.0 Type-A port. This is something that wasn't included in the original MateBook X, and it's certainly a welcome change. After all, I think everyone has at least one thing that they have to plug in sometimes that uses Type-A.
Inside of the device, you'll find that the high-resolution screen has narrow, 4.4mm side and top bezels, as the webcam is now hidden in the keyboard between the F6 and F7 keys. And below the keyboard is a large trackpad, and above it is the power button, which doubles as a fingerprint reader. Finally, on the sides of the keys are where the dual Dolby Atmos speakers can be found.
Display
As mentioned above, the Huawei MateBook X Pro has 4.4mm bezels on the top and sides, and the chin is only slightly larger, resulting in a 91% screen-to-body ratio. Slim bezels do provide an immersive experience, but you have to make a choice between that immersive experience and a functional webcam. If you rarely use your webcam, like most consumers, then you shouldn't have a problem with it not being above the display.
The narrow chin is also a preference. Some companies, like HP, have a large chin on their laptops so the display is higher from your desk, but those laptops also have 16:9 displays. While the MateBook X Pro's display will sit closer to the table, it's 3:2, meaning that the display itself is taller.
The 13.9-inch display comes in at 3000x2000 resolution, with a 178-degree viewing angle, 100% sRGB color gamut, and up to 450 nits of brightness. Indeed, the screen looks great, and combined with the immersive experience offered by the narrow bezels, it's just beautiful.
But another thing that's improved about the Pro's display, other than the larger size, is that it now supports multitouch. This is a clamshell laptop, so there's no need for pen support, and you might even be wondering if you have any need for touch. The truth is that you never know when being able to touch the screen will come in handy, so now you have it if you need it.
Keyboard
The big thing to note about the keyboard is the hidden webcam between the F6 and F7 keys. Privacy guards for webcams are becoming popular, as you no longer have to put a piece of tape over it. Unfortunately, this also means that your webcam is looking up at you, rather than across at you. Other companies have done this to provide a more immersive experience, such as Dell, which places the camera below the screen in the bottom bezel.
The keys are a bit shallow, coming in at 1.22mm key travel, whereas a standard laptop would have between 1.35mm and 1.5mm. It's comfortable enough though, and I think that the sacrifice is worth it for the thinner design.
Ultimately, I found it to be pretty comfortable to type on. There are better keyboards on there, especially for clamshell ultrabooks, but you'll get by just fine with the Huawei MateBook X Pro.
Windows Hello
Huawei uses a fingerprint sensor for Windows Hello, rather than an IR camera for facial recognition. Honestly, I don't even know where it would put an IR camera, with such thin bezels and a hidden webcam. Normally, I prefer facial recognition, given how natural it is to just sit in front of your PC and have it recognize you, but Huawei's fingerprint sensors are just so good.
Indeed, the sensor is fast and accurate. If you've got a Huawei phone, then you know what I'm talking about. It's so good that you'll find yourself testing it with other fingers just to see if it's really scanning anything.
Huawei's fingerprint sensors have another awesome feature for PCs. When you press the power button to turn on the device, it automatically scans your fingerprint. You don't have to scan it again after Windows 10 loads. It's the most seamless and natural experience that there is.
Audio
Just like the MateBook X did, the MateBook X Pro uses Dolby Atmos audio, and it sounds fantastic. If you use your laptop for watching movies or listening to music while you work, then this is the perfect PC for that. It's loud, and it's immersive.
There's just one problem, which is the form factor of the device. If it was a 360-degree convertible, you'd probably be a lot more likely to use it for watching movies and TV shows, as you'd be able to hold it as a tablet or stand the device up in display or tent mode.
And indeed, with such a beautiful display combined with Dolby Atmos audio, the Huawei MateBook X Pro is excellent for media consumption.
MateDock 2.0
The MateBook X Pro ships with the MateDock 2.0, which was originally introduced alongside of last year's trio of MateBooks. It allows you to expand either of the USB Type-C ports by adding HDMI, VGA, and USB Type-A ports.
My only problem with this is that the original MateDock, which arrived alongside of the original MateBook, was better. That offered all that the MateDock 2.0 offers, but it had two USB Type-A ports and wired Ethernet. I'm not as upset about this as I was when I reviewed the original MateBook X.
After all, a docking solution like this is very important on a device with no USB Type-A ports, and with last year's model, I made the case that you might need to plug in two Type-A peripherals.
But the MateBook X Pro does have a USB Type-A port, so the MateDock is just offering expanded functionality. You can look across the board and see companies like HP and Lenovo that have one USB Type-A port and two USB Type-C ports in their consumer flagship PCs (it's a common configuration these days), but they're not including a docking solution in the box.
In other words, the MateDock 2.0 should provide all of the expansion that you need, and if you ask me, Huawei could have gotten away with not including this in the package at all.
Performance
The Huawei MateBook X Pro comes in two configurations. The model that was sent to me is the higher end one, which comes with a Core i7-8550U, 16GB RAM, 512GB RAM, and an Nvidia GeForce MX150 with 2GB GDDR5. The lower end one comes with a Core i5-8250U, 8GB RAM, 256GB storage, and integrated graphics.
The prices of the two are $1,199 and $1,499, and I think that the latter is a no-brainer. A $300 jump for all that you get is a good deal, as it includes a bump in processor, RAM, storage, and graphics power.
Where the MateBook X was fanless, the Pro does have a fan, but this machine does have a lot more power, with the dedicated graphics and more RAM. It's also a quad-core processor now from Intel's eighth-gen 15W lineup, although that's pretty standard now for an ultrabook.
As far as everyday usage goes, I didn't have any issues with performance. My normal work flow includes having Chrome, OneNote, Skype, and Slack open all of the time, but I also use Photoshop and Illustrator pretty regularly. I also tried editing video in Premiere Pro, and you won't have any issues doing so if you're in a pinch.
For benchmarks, I used PCMark 8, which provides three tests: Home, Creative, and Work. First up is Home, which checks common tasks like video chat, web browsing, casual gaming, and more.
The MateBook X Pro performs exactly where you'd expect given its hardware. Next up is Creative, which tests GPU-intensive tasks like video editing and mainstream gaming.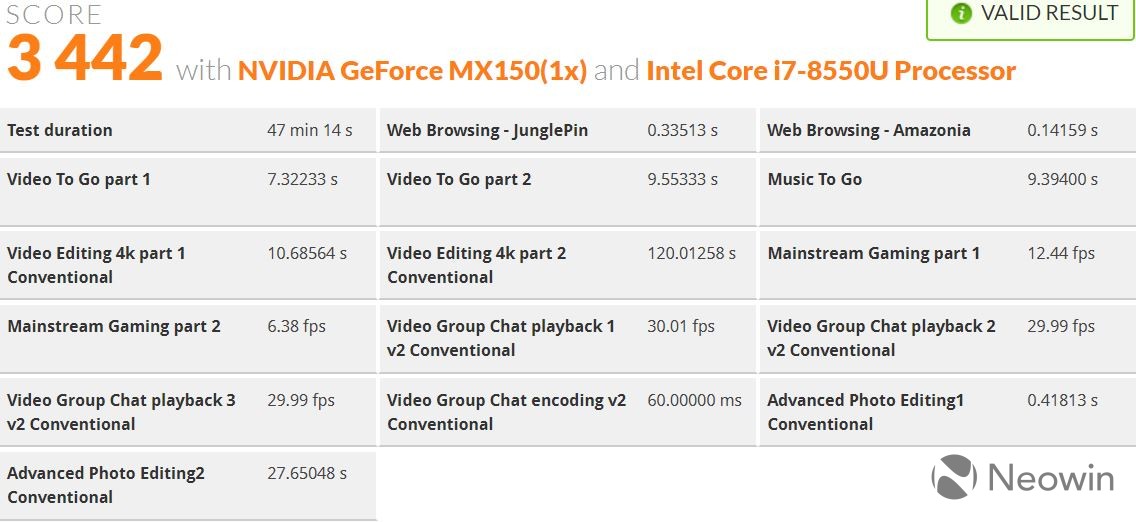 It's important to remember that the MX150 isn't the most powerful dedicated GPU out there. The difference between that and integrated graphics, however, is that integrated graphics shares the system memory. With the MX150, at least you're getting 2GB that are dedicated to graphics.
Finally, the Work test checks productivity-related tasks like writing, spreadsheets, and more.

Once again, the MateBook X Pro performs well, as you'd expect it to.
Conclusion
The Huawei MateBook X Pro is an excellent laptop, and at the price of $1,499, it's hard to find anything wrong with it. The display is beautiful, the audio is fantastic, and it's just an all-around great machine.
One thing that I found myself missing was how light the MateBook X was. There's something about a machine that's so thin and light that you can throw it in a bag and it feels like it's not even there. These ultraportable machines are fantastic for those on the go. Sure, the Pro is thin and light, but it isn't amazingly so.
And of course, there's good reason for that. There's a larger 13.9-inch screen, a dedicated GPU, and fans to make all of that work. And it does solve some pain points, adding multitouch and a USB Type-A port.
Ultimately, the MateBook X Pro is a delightful Windows 10 PC. Unless you're looking for something that specifically requires a lot of power - like gaming or heavy video editing - I think that this laptop is great for anyone.
Pros
That price Fingerprint sensor Dolby Atmos Display/bezels Multitouch and USB-A added
Cons
Not as thin/light as I'd like Webcam placement