Have you ever wondered what Microsoft's Surface Studio all-in-one PCs would be like if they had real desktop processors and Thunderbolt 3? Of course you have, since those are common sense features to include in a modern desktop PC.
Announced at CES 2019 this year, Lenovo's Yoga A940 includes just that, but it does so much more. Rather than the Surface Dial, it uses the Lenovo Precision Dial that plugs into the side of the PC, not taking up valuable screen real estate. The base is much larger, with a Dolby Atmos soundbar and a wireless charging pad.
When Microsoft announced the Surface Studio 2, I asked why it stuck with a mobile CPU again, and I was told that the team didn't want to change the form factor and include a larger base. Lenovo's Yoga A940 proves just how useful a larger base can be.
Specs
CPU
Intel Core i7-8700 Processor with Turbo boost (3.20GHz, up to 4.60 GHz, 6 Cores, 12MB Cache)
GPU
AMD Radeon RX 560 4GB
Display
27" 4K UHD (3840 x 2160) IPS, multi-touch, 100% Adobe RGB with Dolby Vision
Memory
16GB DDR4 2666 MHz
Storage
1TB 5400RPM + 256GB SSD PCIe
Dimensions
25" x 18.3" x 9.6" / 635.7 x 467 x 244 (mm), 32.2lbs / 14.6kg
Ports

Side
(1) Thunderbolt 3
(1) USB 3.1 Gen 2 Type-A
3-in-1 card reader
3.5mm combo audio jack

Rear
AC-in
(1) RJ45 Ethernet
(1) HDMI in/out
(4) USB 3.1 Gen 1 Type-A

Sides of display
(2) USB 2.0 Type-A

Windows Hello
IR camera
Audio

2 x 3W + 2 x 5W speakers

Dolby Atmos

Far-field mics

OS
Windows 10 Home
Color
Iron Grey

I didn't have pricing for this configuration to provide, because at the time of this writing, the Yoga A940 is temporarily unavailable from Lenovo.com. It should start at $2,349.99, more than a thousand dollars cheaper than a base model Surface Studio 2.
Also, I didn't make an unboxing video, so it's worth noting what actually comes in the box. You get the A940, a 230W AC adapter, the Active Pen, a mouse, a keyboard, and the Lenovo Precision Dial. Like most all-in-ones, it's all you need to get started.
The base
I've always appreciated the simplicity of all-in-one PCs. My main PC is a tower that stays under my desk, so there's this mess of wires between power, connecting to two monitors, connecting to my mouse and keyboard, and so on. And yes, I use a wired mouse and keyboard for stability, since the PC is under the desk. But all-in-ones clear away a lot of that mess. The PC and the monitor are in one piece, and it's easy to connect the mouse and keyboard wirelessly, so all you really need is power.
But I have to say that Lenovo did a great job with the Yoga A940. It seems to do everything, and it does it well. Let's start with the base.
The base spans the entire width of the monitor, and there's good reason for this. The top of it is meant for storing your keyboard when the display is down on an angle. Yes, like the Surface Studio, the screen will actually touch the desk, so the keyboard will get in the way. It's only natural that Lenovo would give you a place to store it.
That portion of the base takes up about two-thirds of it, and the front of that section is a Dolby Atmos soundbar. And just as you'd expect from Dolby Atmos, it sounds incredible. It's loud, it's clear, and it's fantastic. In fact, when we talk more about the 4K Dolby Vision display, you'll see that this is actually a pretty great Netflix machine too.
That other third of the base is where you'll store the mouse and pen. But I'm not sure if there's a single part of this machine that has just one use, so it's also a wireless charging pad. It's a really unique and useful solution. You just keep your phone there while you're working, and it charges. There's also a small LED light; blinking white means it's charging, solid white means it's charged, and blinking amber means there's an error. The light is useful in case you miss the spot.
It charges very slowly though, in most cases at least (the Galaxy S10+ says it's fast charging). I've went through every spec sheet and user guide I could find (I also asked Lenovo and got no answer), and I couldn't find the wattage of the Qi pad, but it must be fairly low. During the time that I was testing this, Logitech also sent me its new Zone Wireless headset, which also supports Qi charging. This thing hasn't even seen a wired charge yet.
Also in the base, we have lots of ports. On the left side of the base, there's a Thunderbolt 3 port, USB 3.1 Gen 2 Type-A, an SD card reader, and a 3.5mm combo audio jack. All of this is in the perfect spot, because these are the exact things you'd want in side ports. Just imagine having to reach around back to plug in headphones, or insert an SD card.
On the back, there are four USB 3.1 Gen 1 Type-A ports, HDMI, Ethernet, and power ports. There's also a button for switching between PC and monitor modes. That button doesn't seem to work very well, and I usually just end up unplugging it and plugging it back in. The HDMI port supports both input and output, so you can use it for a second monitor, or you can use it to use the A940 as a display, although touch won't work. None of Lenovo's documentation says whether it's HDMI 2.0 or 1.4, but I'm guessing it's 2.0 if you're going to use this as a 4K monitor.
Note that the four rear USB Type-A ports are USB 3.1 Gen 1, or USB 3.0 (oddly, Lenovo's documentation swaps the nomenclature depending on where you look, but they mean the same thing), and the one on the side is USB 3.1 Gen 2. The former supports data transfer speeds of up to 5Gbps, while the latter supports 10Gbps.
Display
Yes, that's right. We just spent about 800 words talking about the base, and there's another whole section of the PC to cover. That's the display. The Yoga A940 packs a 27-inch 4K Dolby Vision display, and it's pretty beautiful. The colors really pop with the HDR standard, and streaming video is a dream. Like I mentioned above, it's actually a great Netflix machine, not that you'd buy this PC for just that.
It does have rather large bezels, something I'm not a huge fan of. In the top bezel, there's a webcam and an IR camera, both of which can be physically blocked by a privacy guard. While I've not had any problems logging in with the IR camera, the webcam is awful. It's probably the buggiest webcam I've ever used, and any time I've tried to use it, the video freezes up, or it flickers during Skype calls. I ended up plugging in my trusty Logitech Brio.
Behind the display panel, you'll find USB 2.0 Type-A ports on each side. This is where you'll plug in the Lenovo Precision Dial. Looking at the PC, the ports are covered, but the covers are magnetic, so if you take them off, you can stick them to the base and you won't lose them.
On the bottom-right side of the panel, you'll find a button, and that's for turning on the LED lamp that's located on the bottom of the display. I have no idea why this lamp exists. I've been trying to think of something, but I've got nothing. You can also hold down the button to pair the speaker with your phone, something that's much more useful.
And of course, the display has a rotating hinge, so you can fold it down and use the pen on it. It's an awesome feature and the best use of touch/pen support on a desktop PC that I've seen. This is the part that's inspired by the Surface Studio. And the nice thing about the Lenovo Precision Dial is that when you're in this mode, it doesn't take up screen real estate, since it can be on either side of the PC.
Lenovo Precision Dial
The Lenovo Precision Dial is a pretty useful tool. It has a button on the outside, a small dial on the inside, and a larger dial on its innermost side. Holding down the button will allow you to customize what each of those things do.
For example, in Windows, I have it set so that pressing the button opens the Start Menu, turning the first dial adjusts volume, and turning the second dial adjusts zoom. You can also have it do things like adjust brightness.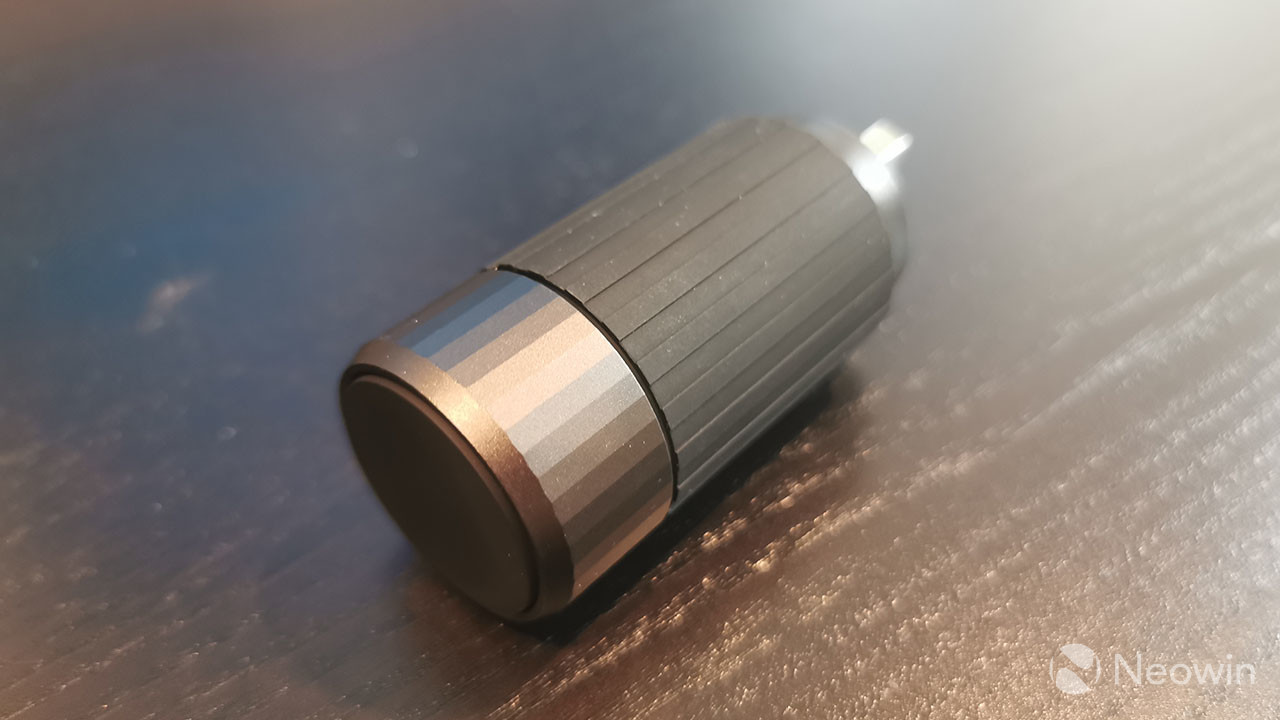 But it also has custom settings for different apps. It works with the big three apps in Office (Word, Excel, and PowerPoint), Sketchbook, and a variety of Adobe CC apps that include Photoshop, Lightroom, Illustrator, and Premiere Pro. There's an LED light in-between the two dials, and it will change color based on what app you're in.
Here are some more examples. In Premiere Pro, I have the button configured to set a marker when I press it. When I turn the dials, they're set to either zoom or to scrub forward or backward in the video, depending on which knob I turn.
It's all pretty useful, especially if you're planning on using the A940 with the display tilted down. You're not going to want touch to be your only method of input. And what's cool is that since there are USB ports on both sides of the display, it doesn't matter if you're right- or left-handed.
Keyboard and mouse
The keyboard and mouse that come with the A940 are pretty basic, but they came with it, so I have to talk about them. The mouse comes with a dongle that's inside of it, which you can plug into a USB Type-A port. The keyboard connects via Bluetooth.
The mouse is fine, as far as basic wireless mice go. The scrollwheel seems to be inconsistent at times, and I'm definitely going back to my Microsoft IntelliMouse after this. It's just a basic wireless mouse that connects with a dongle.
The keyboard is actually pretty bad. It's comfortable to type on, but it's terribly inaccurate. Frequently, it will double-type keys, or it will miss keys. It doesn't seem to work any better when it's wired either, but you do have the wired option if you want. It has a micro-USB port for just that; in fact, you'll have to use that to pair it with the A940.
The good news is that the keyboard is a standard size, almost exactly the same as my Microsoft Modern Keyboard with Fingerprint ID. This is actually important, because you're going to want to be able to store whatever keyboard you're using on the base from time to time. Every keyboard I own fits there just fine.
But yes, you're going to want to swap out the included keyboard and mouse at some point, as neither of them are particularly good. Normally, I wouldn't say much about it, as the peripherals that come with PCs are usually meant to be very basic, but they're there to complete the package. I do feel like this is a minor oversight on Lenovo's part this time though, so you have to be able to store them on the device.
Performance
The Yoga A940 that Lenovo sent me packs an Intel Core i7-8700 and an AMD Radeon RX 560 with 4GB GDDR5, along with 16GB RAM. It's a hexa-core 65W CPU, which is what you'd expect from a desktop PC. For comparison, the Surface Studio 2 has a Core i7-7820HQ, a quad-core 45W chip that you'd find in a two-year-old prosumer laptop. However, the Studio does have the better GPU, sporting up to an Nvidia GeForce GTX 1070 with 8GB GDDR5.
I point out the differences between the Yoga A940 and the Surface Studio 2 because as I said above, Microsoft told me that it used the laptop CPU because it didn't want to change the form factor and give it a larger base. As it turns out, making a larger base is a great idea.
The performance of the Yoga A940 is solid. It's what you'd expect from a desktop Core i7 and a 4GB AMD Radeon GPU, which is to say that it can handle all tasks but it can't handle all of them well. For example, editing 4K video caused it to choke up at times, and rendering times were longer. Of course, I'm coming from using a desktop PC that has the same CPU but an RTX 2080 GPU, so I notice the difference more than most.
Photo editing, illustrating, and productivity tasks are a breeze. Also, pretty much anything you do with the screen tilted and using the pen is great. A great example of something you'd do with this is Microsoft Whiteboard, which will let you draw on it in real-time with other users.
Also, the fan is comically loud, like the roar of the Gods. Seriously, don't get freaked out by this thing. If you hit an intense workload and the fan comes on, you'll notice it.
Of course, if performance does end up being an issue, you can still use the A940 as a monitor, although I couldn't get touch to work. You do still get the wireless charging pad and the Dolby Atmos soundbar just by connecting to the HDMI port.
For benchmarks, I used PCMark 8 and PCMark 10. PCMark 8 provides three tests: Home, Creative, and Work. The Home test checks common tasks like web browsing, video chat, and casual gaming.
As you can see, performance is pretty solid. Next up is the Creative test, which checks GPU-intensive tasks like mainstream gaming and video editing.
Once again, it's right on par with a desktop PC that has these specs. Finally, the Work test checks productivity-related tasks like writing and spreadsheets.

I think that the Work score was a bit lower than I expected, but it's still great. I also ran the all-in-one test in PCMark 10, just for those that like to keep score.
Conclusion
The Lenovo Yoga A940 is the Surface Studio that you've been waiting for. I rarely recommend actual Surface products because of these same reasons; they're just not the best hardware in any category. The Yoga A940 takes what is broken about the Studio and fixes it. Oh, and it's more inexpensive than the $3,500 Surface Studio 2, starting at just $2,349.99.
My biggest complaints are either trivial or can be easily fixed with a driver update. For example, the webcam absolutely sucks, but that's only because it's incredibly buggy. The keyboard and mouse that come with it aren't great, but you'll probably be better off with your own peripherals anyway.
Now let's run down the list of things that are great about the Yoga A940, aside from the spec improvements over the Surface Studio like a desktop processor and Thunderbolt 3. The larger base provides room to store your mouse and keyboard, a Dolby Atmos soundbar that sounds amazing, and a wireless charging pad.
You can tilt the display down to a 25-degree angle and write on it, or you can use it as a dual-monitor PC. It's incredibly versatile. The screen is 4K with Dolby Vision as well, so the colors look phenomenal, bright, and vibrant.
I'm not sure what else I could ask for in an all-in-one PC, except for maybe slimmer bezels and a more powerful GPU. I'm going to be sad to send this one back, just because I love it so much. It's almost the perfect desktop PC.
Pros
Full desktop CPU Dolby Atmos sound Dolby Vision 4K display Form factor Price
Cons
Loud fan Buggy webcam Subpar keyboard and mouse