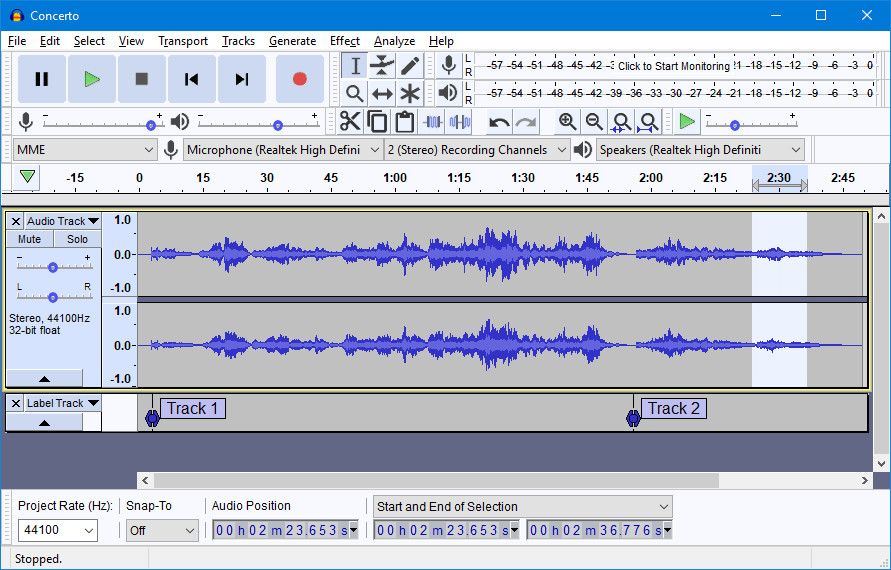 Audacity is a free, open source digital audio editor and recording application. Edit your sounds using cut, copy, and paste features (with unlimited undo functionality), mix tracks, or apply effects to your recordings. The program also has a built-in amplitude-envelope editor, a customizable spectrogram mode, and a frequency-analysis window for audio-analysis applications. Built-in effects include bass boost, wah wah, and noise removal, and the program also supports VST plug-in effects.
You can use Audacity to:
Record live audio.
Record computer playback on any Windows Vista or later machine.
Convert tapes and records into digital recordings or CDs.
Edit WAV, AIFF, FLAC, MP2, MP3 or Ogg Vorbis sound files.
AC3, M4A/M4R (AAC), WMA and other formats supported using optional libraries.
Cut, copy, splice or mix sounds together.
Numerous effects including change the speed or pitch of a recording.
Write your own plug-in effects with Nyquist.
And more! See the complete list of features.
What's new in Audacity 2.3.0:
New feature – "Punch and Roll Recording"
Pinned-play-head can now be repositioned by dragging
Play-at-speed now can be adjusted whilst playing.
Toolbars controlling volume and speed can now be resized for greater precision
Macros (formerly 'Chains') substantially extended
New Macro palette
Macros can be bound to keyboard keys
New commands
New 'Tools' menu
New 'Scriptables' commands
Nyquist gains AUD-DO command
Nyquist effects are now translatable and translated
More dialogs have help buttons now
Increased legibility of trackname display
Half-wave option for collapsed tracks
Sliding Stretch
Dialog (option) for entering labels
See: 2.3.0 New Features for longer descriptions and links on how to use the new features.
Over 90 bugs that were in 2.2.2 fixed, including
Windows: Queen Mary 1.7.1 Vamp plug-ins crash Audacity on opening Plug-in Manager – bug #1244
Inconsistent behavior when recording with a selection defined – bug #1839
Ctrl + M does not open label for editing – bug #1852
Vertical Zoom in by clicking in the vertical Scale, or context menu, in waveform views is inconsistent – bug #1810
Deletion of all tracks cannot be undone – bug #1845
Timer Record with a selection present can get a truncated recording with data loss – bug #1851
Duplicate shortcuts can be created – bug #1786
Labels longer than 260 characters are now supported – bug #1905
Using Spectrogram Settings in TCP or using Preferences causes Audacity to reset Project Rate to default rate in Quality Preferences – bug #1977
Cut Preview should play all selected/sync-locked tracks, respecting Mute/Solo during preview – bug #231
Download: Audacity 2.3.0 | 25.5 MB (Open Source)
Download: Audacity 2.3.0 Standalone | 12.3 MB
View: Audacity Home Page
Get alerted to all of our Software updates on Twitter at @NeowinSoftware