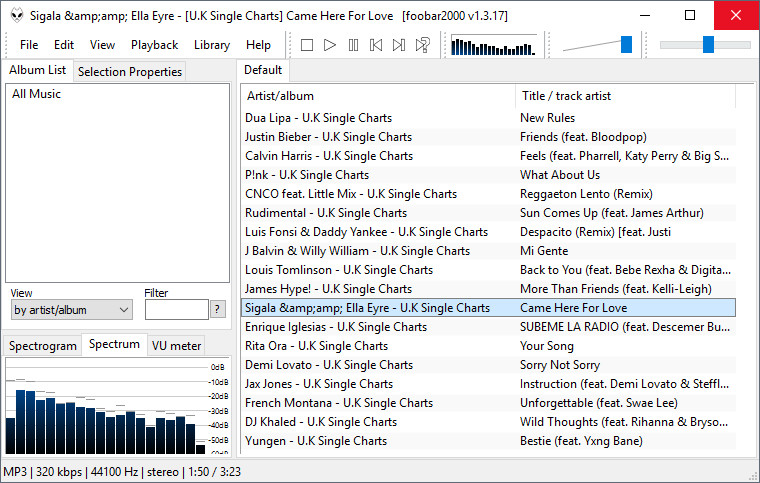 foobar2000 is an advanced freeware audio player for the Windows platform. It features the simplest, most minimalistic interface you'll ever see in this kind of program. Other features include full unicode support, ReplayGain support and native support for several popular audio formats.
foobar2000 features:
Supported audio formats: MP3, MP4, AAC, CD Audio, WMA, Vorbis, FLAC, WavPack, WAV, AIFF, Musepack, Speex, AU, SND... and more with additional components.
Gapless playback.
Full unicode support.
Easily customizable user interface layout.
Advanced tagging capabilities.
Support for ripping Audio CDs as well as transcoding all supported audio formats using the Converter component.
Full ReplayGain support.
Customizable keyboard shortcuts.
Open component architecture allowing third-party developers to extend functionality of the player
foobar2000 1.6.10 Beta 1 changelog:
Fixed stuck now playing album art with many single tracks in one folder.

Workaround for certain radio serving .pls that 302-redirects to audio/mpeg stream.

Playlist Search: Don't reload view / drop selection if search refresh changed nothing.

Properly focus newly spawned UI Element popup - Library Search etc is now focused if invoked via global hotkey.

Implemented #EXT-X-PROGRAM-DATE-TIME for HLS internet radio.
Download page: foobar2000 1.6.10 Beta 1 | 4.5 MB (Freeware)
Links: Home Page | foobar2000 for Mac | Windows Store | Android
Get alerted to all of our Software updates on Twitter at @NeowinSoftware