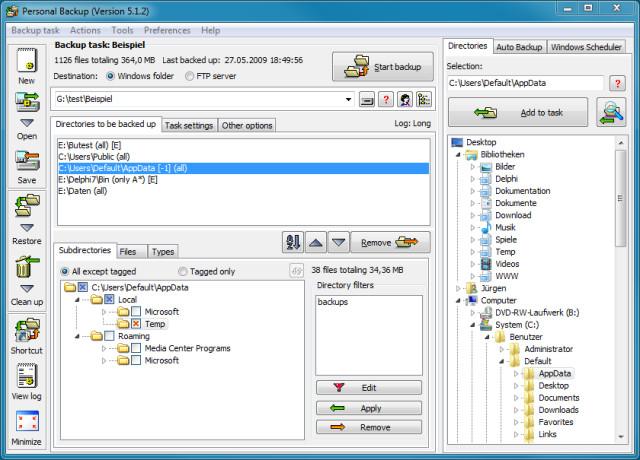 Personal Backup is a program for saving personal data to any destination folder. This folder may be located on a local fixed or removable drive, on a Windows network server or on an FTP server. network server or on an FTP server.  You can configure and store as many backup tasks as you wish. The selection of the files to be backed up is made on a by-folder basis. All subfolders are included automatically, but the user can exclude or include any subdirectories from or in the backup by selection or by filter. Additional criteria are the selection by file type, file age and/or file name filter.
The 32-bit version runs under Windows 7 and 8 (32- & 64-bit), Windows Vista, Windows XP, Windows 2000 and Windows Server 2003/2008/2012, the 64-bit only under Windows 7 and 8 (64-bit) and Windows Server 2008R2/2012.
Personal Backup key features:
Wizard for the creation of new backup tasks
Unlimited number of configurable backup tasks
Backup of complete directory structures
Start backup on demand or run automatically
Backup via FTP (optionally with proxy and FTPS (FTP over SSL))
Include or exclude selected subdirectories
Filter settings for filenames (optionally regular expressions), file attributes, file age and file size
Selection of file types
Optional encryption using AES (zip compatible)
Adjustable time gap for timestamp comparison
Running of external programs or scripts before and after backup
File preview to check filter settings
Placeholders for date in target directory and zip filename
Optional log file with printout
Optional mail delivery after backup, restore and cleanup with status report and log (also TLS)
Selection by filters and/or age
Synchronize backup directories
Function for verification of backed up files
....and much more.
Download: Personal Backup 5.5.1 | 7.9 MB (Freeware)
Link: Home Page | Personal Backup Help | Changelog