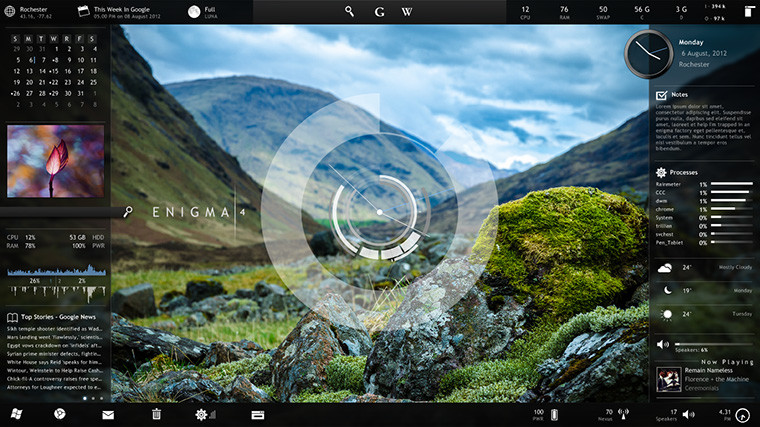 Rainmeter is a free, open-source platform that enables skins to run on the desktop. Rainmeter allows you to display customizable skins on your desktop, from hardware usage meters to fully functional audio visualizers. You are only limited by your imagination and creativity.
Rainmeter is the best known and most popular desktop customization program for Windows. Enhance your Windows computer at home or work with skins; handy, compact applets that float freely on your desktop. Rainmeter skins provide you with useful information at a glance. It's easy to keep an eye on your system resources, like memory and battery power, or your online data streams, including email, RSS feeds, and weather forecasts.
Many skins are even functional: they can record your notes and to-do lists, launch your favorite applications, and control your media player - all in a clean, unobtrusive interface that you can rearrange and customize to your liking. Rainmeter is at once an application and a toolkit.
Rainmeter is open source software distributed free of charge under the terms of the GNU GPL v2 license.
Rainmeter 4.5.3.3546 changelog:
Fixed - Measures: Corrected potential errors in IfCondition and Formula when the name of a measure started with characters other than the ASCII alphanumeric a-z/A-Z/0-9. Measures names can now safely start with or contain any printable letter, number or non-math punctuation or symbol from the ASCII / Extended ASCII character set, and any Unicode "letter/word" character from any language.
Changed - Net measures: Changed the default value for the Interface option from "0" to "Best".
Changed - Languages: Updated localization strings for Indonesian, Polish and Vietnamese.
Download: Rainmeter 4.5.3.3546 | 2.4 MB (Open Source)
View: Rainmeter Home page | Rainmeter 4.5 Release Notes
Get alerted to all of our Software updates on Twitter at @NeowinSoftware