It's time for more holiday gift guides, and this one will be focusing on Windows 10 PCs. After all, many are working from home this year, so a new laptop might just be the perfect gift. Of course, when it comes to laptops, there are a lot to choose from. Here are some ideas.
HP Spectre x360
Convertible, pen support, ultrabook or more powerful form factors
HP's Spectre x360 is one of our favorite convertibles on the market. It has a stunning two-tone design, narrow bezels on all sides without compromising an IR camera, and B&O speakers. It comes with Intel's Ice Lake processors, Iris Plus Graphics, and an optional 4K OLED display.
The 13-inch model is great for the average user, but for someone that needs more power for editing photos and such, take a look at the 15-inch model that has a 45W processor and dedicated graphics. You can check out our review here.
Microsoft Surface Pro X
Tablet, ultra-portable, always-connected, battery life, pen support
The Surface Pro X is Microsoft's own Windows on ARM PC, using a custom SKU of the Qualcomm Snapdragon 8cx. With its ARM chip, it's always connected with cellular connectivity, it gets better battery life, and it has instant-wake. It's also thinner with a fanless design, and it's quite stylish. It's a fantastic PC to take on the go.
It starts at $999, although there are some solid deals where you can get over $100 off. The base model comes with a Microsoft SQ1 processor, although the higher-end ones come with the newer SQ2 and have a Platinum color option, instead of just black. you can check out our review here.
Dell XPS
Clamshell, premium, ultrabook to super-powerful
Dell's XPS lineup comes in 13-, 15-, and 17-inch sizes, and the amount of power you get from them is respective to the size. The 13-inch model comes with Intel's Tiger Lake processors, Iris Xe graphics, and Thunderbolt 4. Meanwhile, the XPS 17 has a 45W processor and Nvidia GeForce RTX 2060 graphics.
All of them are known for their slim bezels and stylish designs. Even with the InfinityEdge displays, they still maintain the webcam and IR camera on top. You can check out our reviews for the XPS 13, XPS 15, and XPS 17. You can check out the products here, here, and here, respectively.
Lenovo IdeaPad Slim 7
Clamshell, mainstream, balance of power and portability
Lenovo's IdeaPad Slim 7 is more for the mainstream category than the premium devices above, but it packs a punch. It has AMD's Ryzen 7 4800U processor, which not only has eight cores and 16 threads, but the TDP has been jacked up to 25W for some of the best performance that you'll find in a thin and light ultrabook. It's a nice combination between power and portability.
You can check out our review here. This laptop actually isn't available anymore, but the product link is here. I asked PR if it's coming back and it seems to be a possibility, so in other words, I'm leaving it on the list because the product is so good that if you can find it, you should definitely grab it.
HP Envy x360
Convertible, mainstream, pen support
At $799.99, HP's Envy x360 13 is a great high-end PC that doesn't break the bank. It's got AMD's Ryzen 4000 processors, a 13.3-inch FHD display, 8GB RAM, and 256GB SSD. It comes in a stylish Nightfall Black color, and frankly, has an excellent keyboard.
We gave it a 9.5 in our review, and you can check it out here.
Microsoft Surface Laptop Go
Clamshell, budget, thin and light
Microsoft's Surface Laptop Go is the newest PC from the Redmond firm, and it starts at just $549. It comes in colors like Sandstone, Ice Blue, and Platinum, and unlike the Surface Go 2, the Surface Laptop Go has a full Core i5 processor. It has a fingerprint sensor instead of an IR camera and is missing a backlit keyboard, but it definitely looks and feels premium.
You can check out the review here and the product here.
HP Pavilion x360 14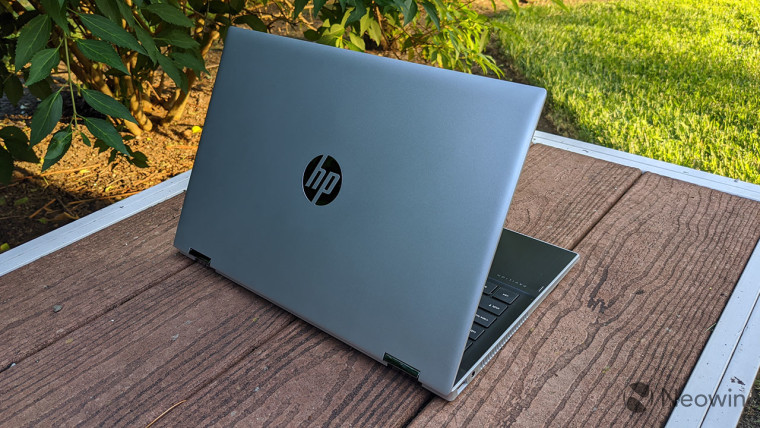 Convertible, budget, always-connected
HP's Pavilion x360 14 made some weird compromises, such as not offering any Windows Hello, having a dim display, and not having a backlit keyboard, but it also offered some solid value propositions. Along with solid performance and excellent value, this $699 PC offers 4G LTE. It's probably the most inexpensive Intel-powered PC to have cellular connectivity.
You can check out the review here, and the product here.
Lenovo Legion 7i
Gaming laptop, high-end, powerful
Lenovo's Legion laptops offer a subtle design that makes them stylish for work, but powerful enough for play. The Legion 7i is the premium one that has more powerful configurations and RGB lighting, although for more of a budget gaming laptop, check out the Legion 5 or Legion 5i. I like to think of it like the Legion 5 series is more about a work PC that can play games, and the Legion 7 series is about being a gaming PC that's also great at productivity.
You can check out our reviews of the Legion 7i, Legion 5i, and Legion 5, you can find the products here, here, and here, respectively.