Every year, we like to write up some holiday gift guides for those that like to get people some device as a gift, but don't quite know what to get. One of my favorite topics is set-top boxes; you know, those little streaming devices that let you play Netflix, Hulu, and a lot more. The reason is that for so many people, streaming devices are the perfect gift.
There are so many people that only think to upgrade one component of their entertainment system. I can't tell you how many people I see spend a couple thousand dollars on a brand-new LG OLED or Samsung QLED 4K UHD TV, but they're still using their third-generation Apple TV or original Amazon Fire TV Stick. Many people just don't stop to think that they're limiting their experience by using an old device.
It's a meaningful upgrade in our experience too. We spend a lot of our time in front of TVs, whether it's for binging a new show on Netflix or watching movies. Going from something that only supports FHD to something that supports UHD and HDR formats like Dolby Vision can really change the experience. And it's not even an expensive gift.
Amazon Fire TV
If you're buying for someone that's invested in Amazon's ecosystem, the Fire TV is the way to go. What's great about them is that Amazon has some solid deals on its own hardware throughout the holiday season. There are four key products here: Fire TV Cube, Fire TV Stick 4K, Fire TV Stick, and Fire TV Stick Lite.
The Fire TV Cube is the best that Amazon has to offer. It's faster than the quad-core processors in the Fire TV Sticks with its hexa-core chipset, and it has an Ethernet port for wired internet speeds. Another key feature is far-field voice microphones for Alexa support. It's normally $119.99, but right now, it's $79.99.
The Fire TV Stick 4K has the same picture quality as the Fire TV Cube, meaning 4K resolution support along with HDR10+, Dolby Vision, and more HDR support. It comes with an Alexa voice remote. Normally $49.99, this product is just $29.99.
Next, we have the FHD lineup, which is the Fire TV Stick and the Fire TV Stick light. The Fire TV stick is normally $39.99 and it's marked down to $27.99, so you should probably just spend the extra $2 for 4K and Dolby Vision support. Finally, normally $29.99, the Fire TV Stick Lite is $17.99.
Google Chromecast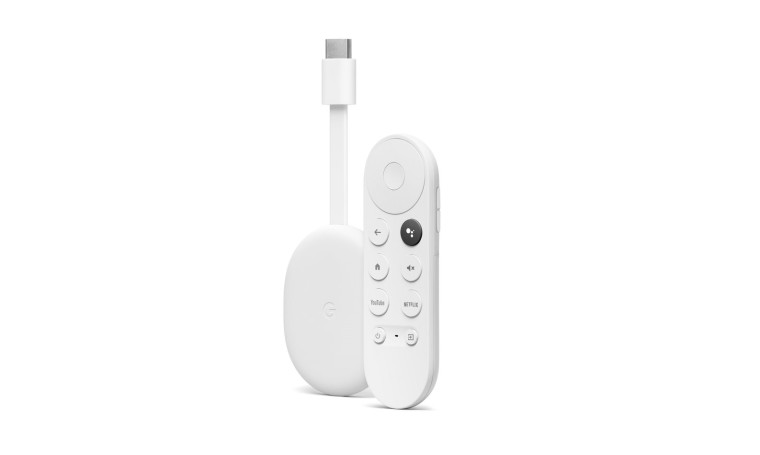 Google's Chromecast was always a product that I had trouble recommending. The whole idea was supposed to be a new take on a streaming device. Instead of a remote control, you cast content from your smartphone to the device, also controlling it with your phone. It was interesting, but not always practical.
The new Chromecast is more traditional though. It comes with an actual operating system, Google TV, which will let you run all of your apps like Netflix, Hulu, and so on. It also comes with a proper remote control. And another thing, you don't need to spend extra money on some "Ultra" variant to get 4K support. The new Chromecast supports 4K resolution, and HDR formats like Dolby Vision, HDR10, and HDR10+.
If you want to check it out on the Google Store, you can find it here.
Roku
The nice thing about Roku is that it's platform-agnostic. Amazon's Fire TV is built around Amazon Prime subscription content and on-demand content. Apple TV is built around iTunes. Roku isn't built around any service, although it does have a few of its own now. Roku was also the first to make a streaming set-top box back in the day.
These days, it makes a ton of products, and you can check out the full list here. At the top of the lineup is the Roku Ultra, which supports 4K, Dolby Vision, Dolby Atmos, and wired internet. Usually $99.99, it's on sale for $69.99. Roku also has the Streambar and Smart Soundbar, which add audio quality to the mix along with 4K HDR support.
There are some other things that are nice about Roku too, such as AirPlay support if you don't want to go all-in on an Apple TV. There's also a headphone jack in the remote control, so you can watch TV without waking people up. Just like Amazon, Roku also has its own range of inexpensive streaming sticks.
Apple TV
Apple TV is great if you're invested in Apple's ecosystem, and the nice thing about iTunes is that Apple doesn't charge extra for 4K content. Apple has two models, the Apple TV HD and Apple TV 4K. The difference is pretty self-explanatory. The only problem is that the Apple TV 4K is already three years old, and the Apple TV HD is over five years old.
If you want to check these out, you can find them here:
As an Amazon Associate, Neowin may earn commission from qualifying purchases.