Today, AMD held a virtual event dedicated to announcing its new Zen3 architecture, which will be inside the new Ryzen desktop processors coming later this year. The new architecture is still based on a 7nm node, but it now features max boost speeds, a 19% increase in instructions per clock, and more.
The new processors use a new design where cores are arranged in eight-core complexes, which reduces latency in core-to-core communication and gives all cores access to the L3 cache. The new architecture also promises even more performance per watt, a 24% increase over the previous generation, even though it's using the same 7nm node.
The new Zen3 processors will debut in the Ryzen 5000 series of processors, with AMD skipping the Ryzen 4000 designation for desktop processors. This is likely to align the mobile and desktop processors, as the Ryzen 4000 mobile processors used the same architecture as the Ryzen 3000 desktop processors. The new lineup is headlined by the Ryzen 5 5900X, a 12-core, 24-thread processor, with 70MB of combined L2 and L3 cache, and the same 105W TDP as the previous generation.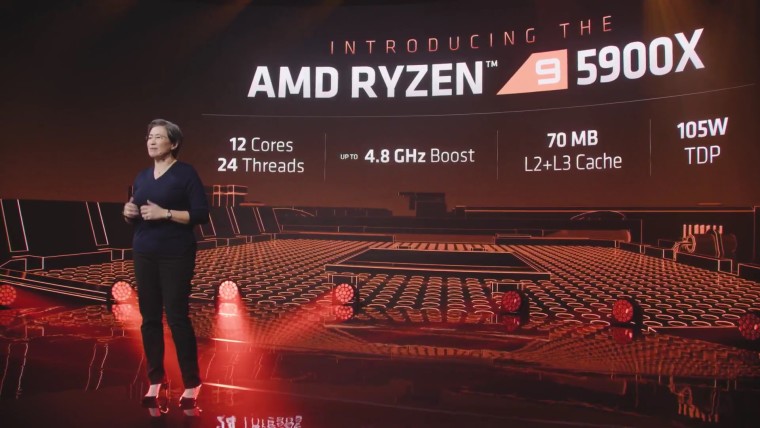 The new Ryzen 9 5900X promises up to a 26% performance improvement in gaming compared to the previous generation, and it also beats out Intel's competing products, according to AMD.
The rest of the mainstream lineup includes the Ryzen 7 5800X and the Ryzen 5 5600X, but there's even more, as AMD also announced the range-topping Ryzen 9 5950X for enthusiasts. The 5950X promises signficant improvements over the previous generation for both content creation and gaming, and it even beats out Intel's Core i9-10900K in gaming performance.
For reference, here's a comparison of all the products announced today:
| Product | Core/Thread count | Max Boost Speed | Cache | TDP | Price |
| --- | --- | --- | --- | --- | --- |
| Ryzen 9 5950X | 16-core, 32-thread | 4.9GHz (3.4GHz base) | 72MB | 105W | $799 |
| Ryzen 9 5900X | 12-core, 32-thread | 4.8GHz (3.7GHz base) | 70MB | 105W | $549 |
| Ryzen 7 5800X | 8-core, 16-thread | 4.7GHz (3.8GHz base) | 36MB | 105W | $449 |
| Ryzen 5 5600X | 6-core, 12-thread | 4.6GHz (3.7GHz base) | 35MB | 65W | $299 |
All of these products will be available on November 5, but before then, AMD will also unveil a new family of GPUs, the Radeon RX 6000 series. The company showed off one of its GPUs today, but it didn't dive into the details of its performance.