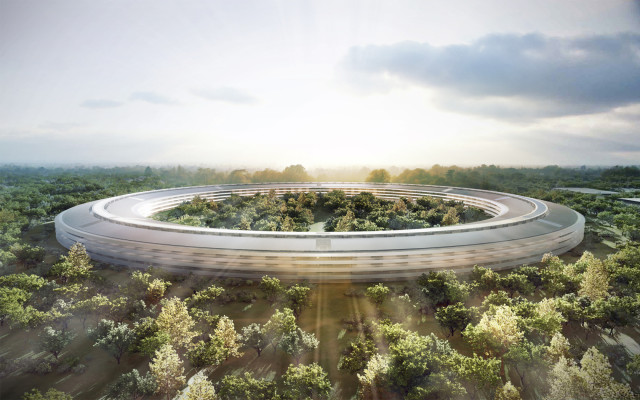 In his last public appearance, Steve Jobs set out his plans for Apple's new corporate home, Campus 2. The new building would, Jobs said, be "a little like a spaceship," and would house around 13,000 Apple employees. The massive circular building would cover 2.8 million square feet and would be 4 stories high, with not a single piece of straight glass in the building. Jobs said that the new Campus would be two thirds the size of the Pentagon, and would be build on an area currently used for parking. The cafés alone would be able to accommodate 6,000 employees. 
Jobs reportedly told the Cupertino City Council that "[Apple has] a shot at building the best office building in the world. I really do think that architecture students will come here to see it." The Campus would be situated in a 176 acre area full of trees, and would hide all of the roads and parking spaces in the area underground. The design included 40-foot, floor-to-ceiling panes of glass, manufactured in Germany, which would provide views of the surrounding area. Jobs told the Council that "there isn't a straight piece of glass on the whole building … and as you know if you build things, this isn't the cheapest way to build them."
BusinessWeek have a profile on the building which includes the staggering cost of Campus 2. The project was originally set to cost $3 billion, but that price has since risen to "nearly $5 billion," a staggering increase placing the cost-per-square-foot at $1,500. The $5 billion figure pushes the Campus into a new territory, and makes the development more expensive that the new World Trade Centre complex in New York, which is currently under construction and has a budget of $3.9 billion.
The architects, Foster + Partners, have pushed the finish date back to 2016, one year after it was originally intended to be completed. BusinessWeek notes that the architect firm is looking for ways to cut costs, which were originally raised due to Jobs' exacting standards. Excavating the the site alone will take 6 months, and will require a continuous 24-hour convoy of trucks, according to BusinessWeek. 
While $5 billion does sound like a large sum of money, it is nothing compared to Apple's war chest and quarterly earnings. In Q1 2013, Apple made a profit of $13.1 billion, while raising their cash-in-hand to a staggering $140 billion. The project will use just 3% of Apple available cash, not taking into consideration the money Apple will take in between now and 2016. To put the $5 billion into context, Google splashed out $12 billion for Motorola, which will offer much less gain than a new office facility. 
The building is designed to be carbon neutral, with over 700,000 square feet of solar panels. These panels will generate roughly 8 megawatts of electricity, enough to power 4,000 homes. Despite the massive amount of solar panels, the Campus will require more power and Apple is negotiating deals with solar- and wind-energy companies. 
Source: BusinessWeek | Images via DeviantArt.net, Gizmodo