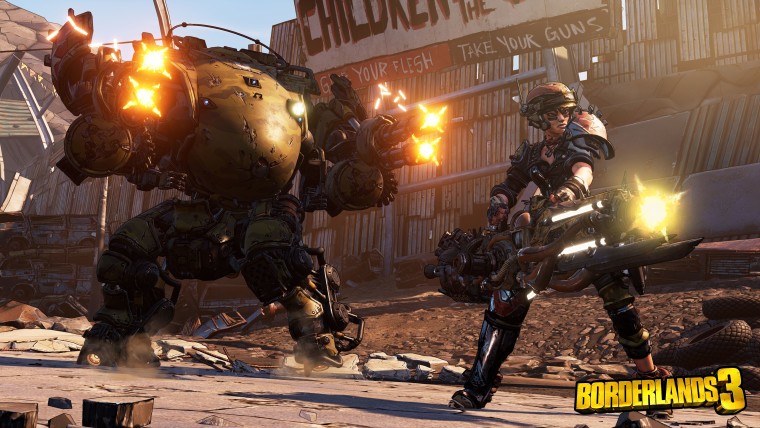 It seems like Borderlands 3 will have cross-platform play when it launches later this year. Alongside the release date reveal today, the game's store pages went up on all of the platforms it's coming out on, and this cross-platform hint was found on the Microsoft Store page.
Spotted by eagle-eyed Reddit users, according to the tags present in the Capabilities section of the Microsoft Store Borderlands 3 pre-order page, the game will support "Cross-platform co-op."
Sony's original stance on enabling cross-play across Xbox One and PlayStation 4 has been faltering recently, with both Fortnite and Rocket League now having full cross-platform functionality across the two platforms. If this tag isn't an error, Borderlands 3 might be the first game to have this capability right out of the gate.
This could also be about having cross-play with a Windows 10 version or something of the sort as we've seen with other games. However, the PC version of Borderlands 3 is exclusive to the Epic Games Store for six months after launch, so even if there is a Windows 10 version planned for the Microsoft Store, that's a long time to wait for cross-play.
A more likely scenario is cooperative cross-play support with PC players on the Epic Games Store. Supporting this train of thought is a recent tweet by Gearbox Software president and CEO Randy Pitchford who said the studio has a "very keen interest in cross-platform play" and that "Epic's leadership with cross-platform support is helpful to our interests there."
In any case, we should get more information about Borderlands 3 and if it does have any cross-play features as we get nearer to its launch, which is slated for September 13, 2019.
---
Update: In a statement to Gamespot, a 2K Games representative said, "Cross-play is something we're looking at closely, but we don't have anything to confirm or announce at this time." The "Cross-platform co-op" tag has since been removed from the Microsoft Store. Hopefully, this isn't the last we see of Borderlands 3 cross-play.