Windows 11's general release is roughly 10 days away, and while it will not be available to everyone on October 5 due to a staggered rollout strategy, if you're eager to upgrade to the OS as soon as possible, you're also likely interested in what it has to offer. This is exactly what we have been covering in our ongoing Closer Look series over the past few weeks.
So far, we have taken a look at Search, Widgets, the Start menu, Snap Layouts and Snap Groups, the Taskbar, quick settings and notifications, Virtual Desktops, power and battery settings, default apps configurations, File Explorer, and context menus in Windows 11. Today, we'll be taking a look at the deeper integration of Microsoft Teams with Windows 11. While we did discuss it before, that was from a hands-on perspective two months ago, so it's worth discussing it in terms of features and an overall end-user experience.
Unlike previous Closer Look articles where we compared the upcoming OS' capabilities with its predecessor, we'll only be discussing Microsoft Teams' integration with Windows 11 this time. This is because Teams is offered as a standalone app in Windows 10 and isn't installed by default. Windows 11 does not install Skype automatically either. So the two implementations are fairly independent.
For the purpose of this hands-on, we'll be taking a look at Windows 11 build 22000.194 that was released to the Beta Channel a few days ago. As usual, it is important to note that the OS is still under active development so it's possible that some of the features we talk about may change by the time of Windows 11's general availability.
Microsoft has included Teams by default in Windows 11 and has promised deeper integration with the OS. When you boot up the OS for the first time, you'll notice a purple chat bubble icon on your taskbar, representing the capability. If you hover over the icon, you'll notice that it is actually referred to as "Chat", the same branding is present in the Windows Settings app too.
When you click on it to launch it, you will be asked to sign up. The only sign-up method that Microsoft allows right now is with a personal account. If you want to sign in with a work or school account, you have a button at your disposal that will direct you to download the "full" Teams app. As is evident from the "Meet and chat with friends and family" tagline when you launch the app for the first time, Microsoft seems to be positioning this as an online chat app for personal use rather than a hybrid one which combines personal use with work or education as well. I'm not sure if the company plans to expand this offering or maybe have different Teams versions for different SKUs of the OS, but this is at least how it is on Windows 11 Home's Beta channel right now. Provided that you do have an eligible personal account, the sign-in process is fairly straightforward. You'll get the option to sync your contacts from Outlook and Skype, and you'll be up and running in a matter of seconds.
Once you sign-in, you'll first be shown the "full" Teams experience, which is labeled as a "Preview" right now. If you've used the standalone Teams app before, you'll notice a very familiar UI. The chats and contacts are on the left side, with some options like Activity, Chat, and Calendar on the left. You can access settings from the ellipsis menu on the top-right, and it will show you some basic configurations related to auto-start, notifications, appearance, and privacy. Of course, the regular Teams capabilities such as chatting, groups, and Meet Now are also advertised on launch. You can also be notified about interactions via Windows notifications and reply to messages inline, and although Microsoft makes a big fuss about it in its blog post, I think it's a pretty basic feature and I would have been extremely surprised if it wasn't there.
Although Microsoft has talked about how it is shifting Teams' architecture away from Electron and AngularJS to Edge Webview2 and React, which will result in lower memory consumption, "work life scenarios, release predictability, and scale up for the client", I personally have not noticed any significant change in terms of how this translates to actual usage yet. This statement is based only on real-world use, which I think that matters more than benchmarks. I'm tempted to say that the launch experience seems slightly faster but once the app is loaded, performance seems very similar to the standalone app to me right now.
All the capabilities that we have talked about so far are available in the standalone Teams app too. So what deeper integration is Microsoft boasting about? Turns out that clicking on the Teams icon in the taskbar opens up a flyout UI through which you can quickly open pop-up chats, see your recent activity, start Meet Now calls, and search for contacts. If you want to do something else, you can also click on "Open Microsoft Teams" button at the bottom which will open the full Teams app.
While this is certainly an interesting direction in terms of making Teams a more integrated experience with Windows 11, I'm a bit disappointed with the lack of polish, at least in its current state. I'll go through my grievances one by one.
While you can open multiple independent pop-up chats, I was quite disappointed to know that there seems to be no support for Snap Layouts and Snap Groups when you hover over the "window" icon. The capability is probably my favorite in Windows 11 and I find it a bit odd that despite being touted as a native integration with the OS, Teams' pop-chats have to be snapped using the Windows + directional keys or by manually dragging the window. Not a good look from a multitasking perspective.
Secondly, the context menus in the flyout UI are surprisingly lackluster. When I right-click on any of my synced contacts, I get no context menu at all. When I right-click on a recent contact (screenshot above), I only get a couple of options, namely Audio call and Video call. If I want to mute, hide, or delete a chat, I have to open the full Microsoft Teams app.
It's just odd, really. It actually got me wondering that maybe I'm using an outdated version of the app but when I went to the "About Teams" section, I found out that I was using the most up-to-date version. This seems to be another example of Microsoft's "ship first, fix later" mantra. I fully understand that I'm using a preview version of the OS, but hey, Windows 11's general availability is less than 10 days away, and I find it unlikely that the company will fix this and other issues I have talked about so far before then. If it does, kudos to them and I'll update this piece with a note at the end.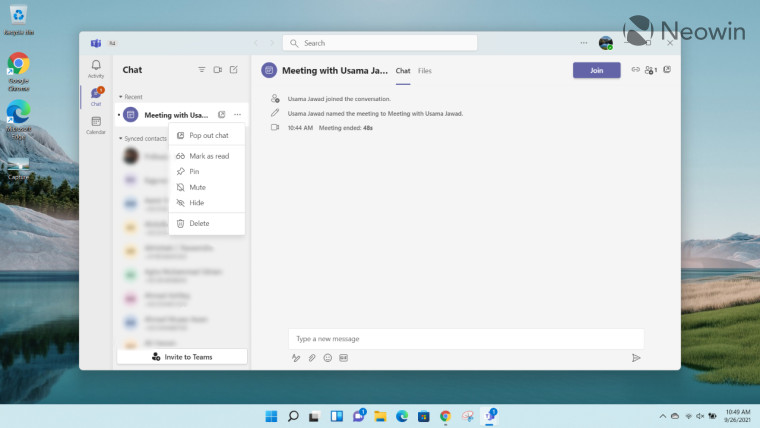 Remember I talked about having the ability to delete items only via the full Microsoft Teams app? Turns out even that does not work as expected sometimes. I started a "Meet Now" interaction just for testing and then closed it. I keep trying to delete it and mark it as read but to no avail. It still shows up as an "unread" chat with the annoying notification bubble both in the taskbar and inside the Teams app. You can see a screenshot of this instance above.
I have to emphasize that this is not a widespread issue in the sense that it does not apply to all of my chats, but the fact that it is inexplicably tied to this one chat is a bug that's bugging the hell out of me (pun intended).
Finally, while it's possible to send a message directly to a phone number (or email account), SMS chat is only available in the U.S., UK, Canada, Mexico, Brazil, Colombia, and India. All recipients in other countries get a notification on their phone number, and are asked to download the Teams app. I know I can't entirely blame Microsoft for this because it's likely related to telecom operators as well, but it's again disappointing to see that an OS that is supposed to rollout globally does not support a mode of communication across more countries. I know we live in an increasingly internet-connected world where SMS as a method of message delivery is dying, but if it's supported in a handful of countries, it should be supported in more too. Maybe Microsoft will add more countries with the passage of time, but that's how it is right now.
Overall, while I like the Teams flyout UI in Windows 11, the lack of capabilities in it makes me wonder if it's preferable to just download the Teams standalone app rather than relying on the current integration. I don't have anything against the capability but it's just not a big enough selling point for me personally, at least not in its current state.
It's clear that Microsoft wants to make this the FaceTime for Windows where people use it as a part of their daily personal life, but it's not a unique idea. The company tried and failed at that already with Skype and I don't see a massive value addition right now.
Personally speaking, I just don't see myself calling and chatting with friends and family from a PC when there are more convenient and feature-rich alternatives like WhatsApp, both on phone and PC. The only possible benefit I can actually see right now is the ability to screen-share while on calls, but that's again something that I do regularly in my work environment, not relatives and friends. Even more importantly, given the lack of cross-messaging support using at least SMS, you'd actually have to get all your contacts to sign up to a Microsoft account in Windows 11 for this to even be a viable mode of communication in your circle. Given how well-adjusted people are to (better) alternatives, I don't see this happening in the near future, at the very least.
Teams integration with Windows 11 right now is just not in a state for me where I can consider it a part of my daily life. It will undoubtedly improve with time but I'm yet to find out how it will replace my current modes of online communication. Given the lack of a proper use-case and unpolished experience, the only thing I will do right now is to go to Settings and hide the icon from my taskbar (you can't even unpin it directly from the crippled taskbar). While you can uninstall the app from the "Add or remove programs" settings in Windows, it doesn't hide the Chat icon on the taskbar, and if you launch it after removal, it will download the Teams app again and ask you to sign-in. Hiding it from the taskbar is much more convenient.
All in all, I understand that the Teams integration is currently in preview, it's just not a very good preview right now.
What do you think of Microsoft Teams' integration in Windows 11 right now? Have you had a pleasant experience so far? Do you see a use-case for it? Let us know in the comments section below!
---
Take a look at the section here or select from the links below to continue exploring Windows 11 in our ongoing "Closer Look" series: