Microsoft's Xbox Game Pass subscription is growing even larger soon, as the company has announced another wave of games that will be available to subscribers in the next couple of weeks.
Headlining the new games is Deus Ex Mankind Divided, another game from the Square Enix lineup, joining Shadow of the Tomb Raider that landed last month. The six new titles that were announced for the service can be found below, along with their arrival dates:
Deus Ex: Mankind Divided (March 21)
The year is 2029, and mechanically augmented humans have been deemed outcasts, segregated from the rest of society. Now an elite covert agent, Adam Jensen is forced to operate in a world that has grown to despise his kind. Armed with an arsenal of state-of-the-art weapons and augmentations, he must choose the right approach, along with who to trust, in order to unravel a vast worldwide conspiracy.

What Remains of Edith Finch (March 21)
What Remains of Edith Finch is a collection of strange tales about a family in Washington state.

As Edith, you'll explore the colossal Finch house, searching for stories as she explores her family history and tries to figure out why she's the last one in her family left alive. Each story you find lets you experience the life of a new family member on the day of their death, with stories ranging from the distant past to the present day.

The Walking Dead: Michonne (March 28)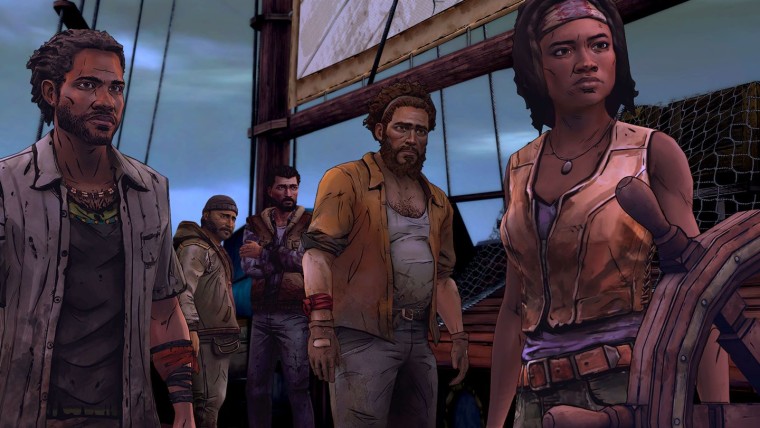 The Walking Dead: Michonne - A Telltale Miniseries stars the iconic, blade-wielding character from Robert Kirkman's best-selling comic books. Haunted by her past, and coping with unimaginable loss and regret, the story explores Michonne's absence between issues #126 and #139 of the comic book.
London, 1918. You are newly-turned Vampyr Dr. Jonathan Reid. As a doctor, you must find a cure to save the city's flu-ravaged citizens. As a Vampyr, you are cursed to feed on those you vowed to heal.

Will you embrace the monster within? Survive and fight against Vampyr hunters, undead skals, and other supernatural creatures. Use your unholy powers to manipulate and delve into the lives of those around you, to decide who will be your next victim.

Operencia: The Stolen Sun (March 29)
Zen Studios' modern homage to classic first-person dungeon-crawlers takes you to the land of Operencia, an unconventional fantasy world inspired by a faraway land referenced in countless Hungarian folktales. An old-school turn-based battle system combines with inspiration from Central European mythology to offer an RPG experience that feels unique yet also familiar.
Marvel vs. Capcom Infinite (April 1) - Xbox Play Anywhere
The epic clash between two storied universes returns with Marvel vs. Capcom: Infinite, the next era of the highly revered action-fighting game series. Marvel and Capcom universes collide like never before as iconic characters team up for action-packed player-versus-player combat.
Just earlier this month, Microsoft brought in Just Cause 4, Fallout 4, and several more games to the service, and more recently announced that the sandbox hit of the company Minecraft will be made available early next month.
Carrying over 100 games in its coffers, the Xbox Game Pass subscription normally costs $9.99 per month, but currently, new subscribers can jump in for $1, giving them a single month of complete access.