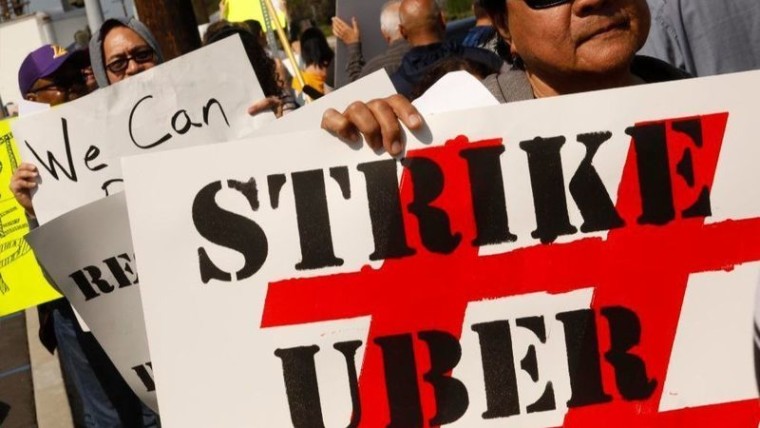 Just ahead of Uber's initial public offering, employees of ride-hailing services in the U.S. have decided to go on strike. Lyft, Juno, Via, and Uber drivers have requested members of the public to boycott these services for the day, and have turned off their apps. They have several demands, including improved working conditions, better wages, and job security. Drivers who work in Los Angeles specifically are demanding that Uber abolish its 25% wage policy that was introduced recently and that both Uber and Lyft implement a minimum pay rate of $28 per hour or $17 per hour (minus costs) - a rule already in place in New York.
The strike is planned to last for 24 hours today, May 8, 2019, and will go on in 10 cities including Los Angeles, Chicago, New York City, San Diego, Boston, Atlanta, Philadelphia, Washington, San Francisco and Stamford. In L.A., the movement is headed by Rideshare Drivers United (RDU-LA), a Los Angeles-based association. The organization is asking the authorities to reform the ride-sharing industry by introducing a fair Drivers Bill of Rights which contains the following conditions:
a 10% commission cap
transparency around deactivations
the right for drivers to organize and negotiate with the companies, and community standards around traffic and emissions to ensure that the ride-hailing industry benefits the cities where it operates
Similarly, the workers on strike in New York also have a set of demands. Led by the New York Taxi Workers Alliance (NYTWA), ride-hailing app drivers aim to achieve the following goals:
To stop poverty and debt in support of their national demands
To secure a livable income by ending upfront pricing where passengers pay more but drivers earn less
To win job security for app drivers by ending unfair deactivations in NYC
To put drivers' lives before company profits
Uber responded to the strike in a statement issued to The Washington Post:
"Drivers are at the heart of our service — we can't succeed without them — and thousands of people come into work at Uber every day focused on how to make their experience better, on and off the road. Whether it's more consistent earnings, stronger insurance protections or fully-funded four-year degrees for drivers or their families, we'll continue working to improve the experience for and with drivers."
This isn't the first time that Uber drivers have gone on strike to take a stand against unfair work practices. Just last year drivers in the U.K. organized a 24-hour strike calling on Uber to put an end to its deactivations, raise the fares, reduce the commissions they pay to Uber and grant them employee status. Back in 2016, Uber settled class action lawsuits in the U.S. by paying up to $100 million to its drivers and agreeing to implement a formal driver deactivation policy, among other concessions.
Source: Rideshare Drivers United, NYTWA via Engadget | Image credit: Los Angeles Times