Unveiled on August 19 during gamescom's Opening Night Live event, Rockfish Games' single-player space shooter, EVERSPACE 2 went the Kickstarter route - much like its predecessor. Now, because both titles have gone the crowdfunding route, the developer's co-founder and CEO, Michael Schade, posted a Kickstarter update which addressed, among others, the lack of exclusivity to the Epic Games Store.
As folks may remember, Metro Exodus was one of the first big titles to go Epic exclusive, with The Outer Worlds, and crowdfunded titles like Phoenix Point and Shenmue III also going the exclusive route. Schade had this to say:
Finally, we have noticed that since our last Kickstarter, things have changed quite a bit. Due to broken promises from indie devs all the way to AAA publishers, it is probably no exaggeration to say that trust in developers is at an all-time low, especially in regards to Epic Games Store exclusives of titles that were originally (co)funded on Kickstarter.

Ironically, one of the main reasons why we are doing another Kickstarter is to double-down on our promise that EVERSPACE 2 will launch on Steam first, no matter what. Just in case there are still any doubts, you might want to read an official interview on Gamesindustry.biz why Steam is and will be our most important digital games storefront.

With this hopefully being out of the way, please head over to our new campaign and help us once again to make an even bigger and better space shooter and tell your friends all about it. We couldn't be more excited about EVERSPACE 2 going open-world – let's do this together!
The second game's Kickstarter campagin, which debuted at the beginning of the month and has a funding goal of €450,000 (approximately $494,000), reveals a bit more about the potentially strange release schedule, given that the final version isn't out until 2021.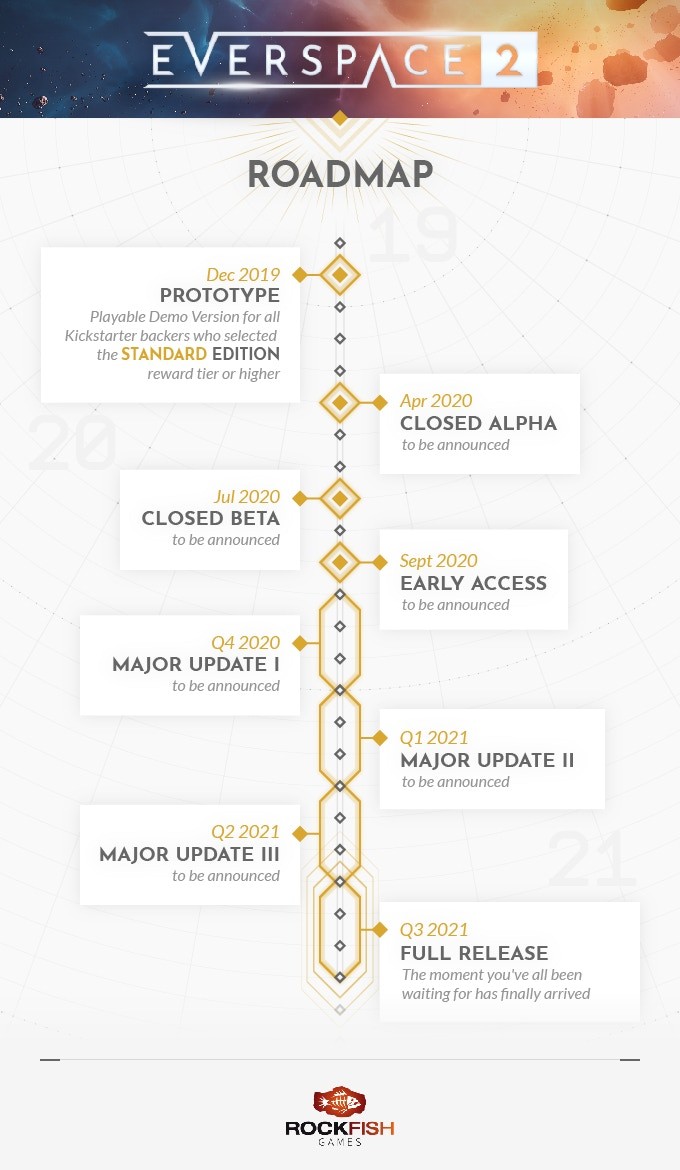 As per the roadmap (pictured on the right), a demo will be pushed out to backers of the Standard edition or higher tier in December, via Steam. This will be followed by a closed alpha in April next year, a Closed beta in July 2020, after which the game will hit Steam Early Access in September of next year. Following that, there will be three major updates (in Q4 2020, Q1 2021, and Q2 2021), ending in the release of the game in the third quarter of 2021.
Set in a persistent open-world, and drawing from classic RPG elements - it is being positioned as a looter shooter in space -, the game's approximately 20-hour long campaign is headed for a release on Windows, Mac, and Linux - via Steam and GOG - in Q3 2021, with a release on Xbox One and PlayStation 4 six months after the PC release. In the studio's own words:
If EVERSPACE 2 becomes another commercial success for us, we also plan to release at least one major paid DLC featuring lots of new content within a year after Full Release."
You can check out the Kickstarter campaign here.