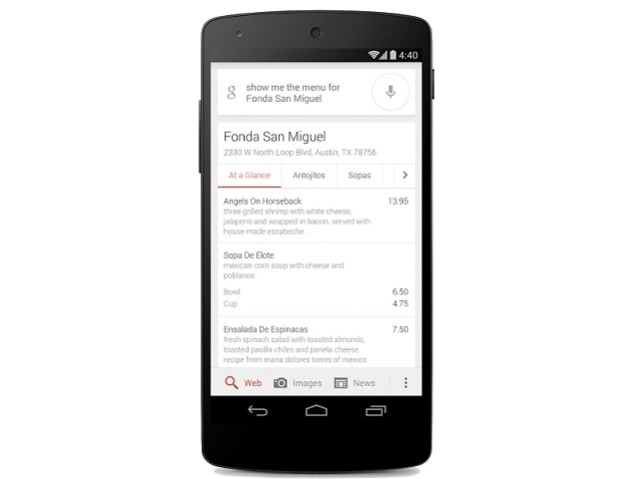 Google added a new feature to its massively popular search engine yesterday: The ability to view full menus for most restaurants in the United States.
By typing "show me the menu at" followed by a restaurant's name, users can access the restaurant's full menu – separated into categories like "at a glance", "appetizers" and "burgers" – as well as the prices of those menu items. According to Google, it obtains the menu data from an unnamed external third-party provider which covers "most of the popular restaurants in the United States".
The new feature by Google, which is available both on desktop and mobile browsers, may be viewed by some as an answer to Yahoo's previous announcement that they would be partnering with Yelp to provide local business reviews and listings. Although Yahoo has a market share which pales in comparison to Google, it's still a fairly significant competitor in terms of traffic. In January 2014, Yahoo.com received 170.16 million unique U.S visitors – only 9 million short of Google's 179.6 million unique U.S. visitors.
While this new feature may seem slightly redundant for those who are avid users of sites like Urbanspoon and Foursquare, Google's strategy makes sense: By cutting out the middleman and including menu results directly in its search, Google is moving closer to becoming a major aggregation source for almost anything imaginable.
Source: Google+ via Techienews | Image via Google