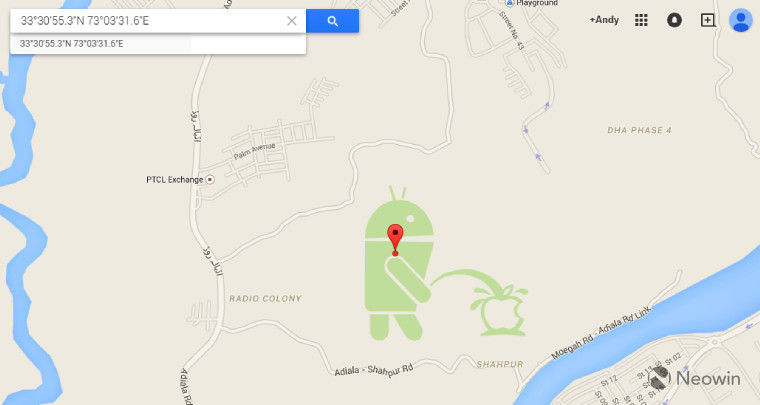 A few weeks ago, a rather unexpected discovery was made on Google Maps - not some fascinating new geographical insight, but something far more bizarre: the image of the company's world-famous Android mascot emptying its bladder onto the Apple logo.
Within a few hours of the image spreading across the globe like wildfire, Google had issued a public apology, saying that the "inappropriate user-created content" had been added using its Map Maker tool.
But as TNW's Owen Williams quickly pointed out, the approval process for Google's Map Maker service wasn't exactly robust to begin with. Indeed, according to Google itself, the tool relied on "user moderation" and "auto-approval", and it it was only after the 'Android incident' that the company chose to suspend these options until it "figured out ways to add more intelligent mechanisms to prevent such incidents".
But the process of creating those new safeguards is taking longer than expected, as Google's Pavithra Kanakarajan explained. She said that from today, May 12, the company has suspended all Map Maker edits and is not currently accepting further submissions to the service:
We have been analyzing the problem and have made several changes. However, it is becoming clear that fixing some of this is actually going to take longer than a few days. As you can imagine, turning automated and user moderation off has the direct implication of very large backlogs of edits requiring manual review. This in turn means your edits will take a long time to get published.

Given the current state of the system, we have come to the conclusion that it is not fair to any of our users to let them continue to spend time editing. Every edit you make is essentially going to a backlog that is growing very fast. We believe that it is more fair to only say that if we do not have the capacity to review edits at roughly the rate they come in, we have to take a pause.
She emphasized that "this will be a temporary situation and one that we hope to come out of as soon as possible", but didn't offer any indication of how long that might actually take.