HP made its CES 2019 announcements today, and on the consumer side, it's mostly new variants of current products. HP first announced its new family of Spectre x360 convertibles back in October, but now you'll be able to get the larger 15-inch model with an AMOLED display.
AMOLED displays tend to be more vibrant than LCDs, which are used in most laptops. In fact, HP says that this is the world's first 15-inch AMOLED laptop. The reason that the colors are more vibrant is that pixels can be turned off, allowing for true blacks, and then colors are rendered on top of that instead of on top of a backlight.
HP's Spectre x360 15 comes with Intel's 45W Coffee Lake H-series processors, along with an Nvidia GeForce GTX 1050Ti GPU. Unfortunately, the AMOLED display is only coming to the model with a 15W U-series processor and Nvidia GeForce MX150 GPU.
The Spectre x360 15 with AMOLED will be available in March, and pricing will be announced at a later date.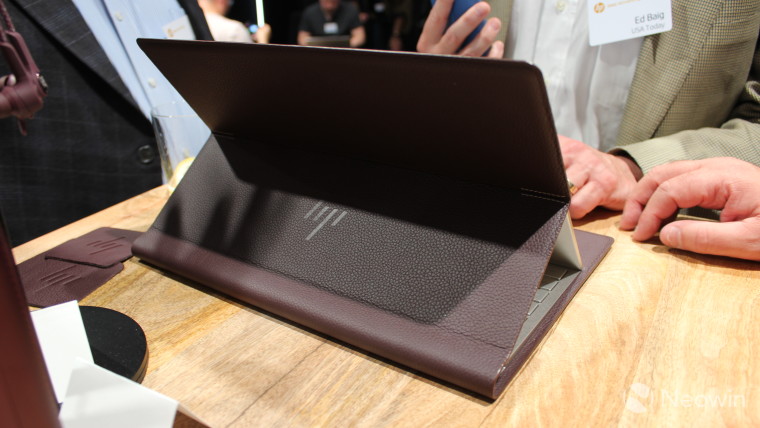 There's also some news on the Spectre Folio, which we reviewed last month. The Bordeaux Burgundy color that was promised is now available, starting at $1,309.99. There's also a 4K model that's available now.
HP also announced some monitors under its Pavilion brand. The Pavilion 27 Quantum Dot claims to be the first Quantum Dot on glass monitor, and there's also a Pavilion 27 FHD and a Pavilion 32 QHD, promising "stunning vantage points at any angle". The Pavilion 27 Quantum Dot and 27 FHD are coming in March for $399 and $329, respectively, while the Pavilion 32 QHD is coming in June, priced at $379.99.
Finally, under the Envy brand, there's a new USB Type-C Hub. The device is compact and looks like a regular dongle, but it adds HDMI and two USB Type-A ports. It's coming in March for $79.99.
Neowin is at CES to bring you all the coverage from the show floor, click here for other articles.