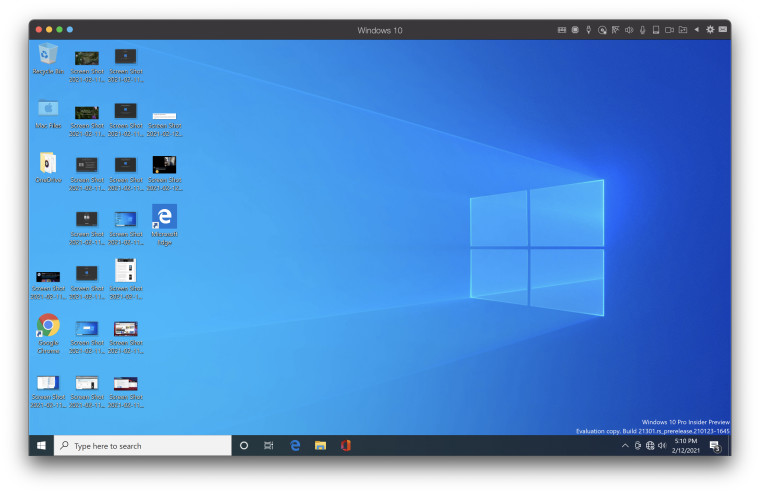 This is the fifth part of our Intel Evo vs Apple Silicon series, where we're taking a look at what each side can do better than the other. The MacBook Pro 13, Razer Book 13, Razer Core X, Nvidia GeForce RTX 2080 Ti, Samsung T7 Touch SSD, and CalDigit Thunderbolt 3 dock were provided by Intel. All opinions expressed are a result of our own testing and experience.
When I started looking at software compatibility between the M1 MacBook Pro and Intel PCs like the Razer Book and the Spectre x360 14, I kind of expected to be writing something similar to what I wrote when I tested hardware compatibility. After all, there are plenty of peripherals that don't work with macOS, even more than don't work with M1 Macs, and they all work with Intel.
That wasn't quite the case when it came to software though. As it turns out, there are absolutely some things that are better on a Mac from the software side of things.
Windows 10
Let's start out by talking about running good old Windows 10. As you may have heard, the M1 Macs do not support Boot Camp. In fact, the MacBook Pro actually comes with a Boot Camp Assistant app pre-installed, and just tells you it won't work if you try to open it. If you're looking to dual-boot between operating systems, you'll want to grab an Intel Mac while you can still get them.
But as Apple promised when it introduced the M1, you can run other operating systems through virtualization. In the keynote, the firm only promised Linux, and you're about to find out why. It's because Windows just isn't ready.
First of all, I ran the Windows Insider Program VHDX image for build 21286, which is available from Microsoft here. There is no production version of the image, mainly because Microsoft pushed back its major update from the spring to the fall. These images actually exist to run in Hyper-V, and Hyper-V for Windows on ARM won't ship until then. You can blame the delay of Windows 10X for all of this.
Windows 10 runs well on the M1 MacBook Pro, in general. Windows on ARM runs native ARM32 and ARM64 apps, and it runs emulated x86 and x64 apps. Three of those things work, and the one that doesn't is ARM32. This is because the M1 chipset simply doesn't support 32-bit ARM apps, and why would it? There hasn't been a 32-bit ARM app in the Apple ecosystem since iOS 10.
It's a problem when it comes to Windows 10 though, because while the OS itself is ARM64, most of the inbox apps are 32-bit. You can double-click on an image, but when it tries to open Photos to view the image, it won't work because Photos is 32-bit. The same goes for the Microsoft Store. One thing that does work is Edge, so you can use it to download other things that work.
Another thing that's pretty cool is that Parallels has pretty tight integration with the file system. All of the files that I had on the desktop automatically showed up on the Windows 10 desktop (don't judge how many files are there; it's the default landing spot for macOS screenshots). And, there's a macOS folder that shows up and lets me access the Mac's file system. There's even a shortcut for Edge that shows up on the macOS desktop.
macOS
Obviously, you can't run macOS on a PC that's not sold be Apple. Well, it takes some work, and that's well beyond the scope of this article. I'm not really into comparing how one operating system works when compared to another, although I will say that macOS is more consistent and prettier.
Instead, I want to talk a little bit about inbox apps. It's a common complaint that iPhones don't work particularly well with Windows, but they do work with macOS.
Here are some examples. Microsoft has an app called Your Phone, and it lets you send and receive texts, mirror your screen, interact with your photo gallery, and more, as long as you're using an Android phone. Google has a web client for its Messages app, but of course, you can't change the default SMS client on iOS.
And everyone loves to blame Apple. The Your Phone team will happily tell you that the app doesn't work with iOS because of restrictions from Apple; however, Dell Mobile Connect does everything that Your Phone can't do. You can send and receive text, and more importantly, send and receive files. Unfortunately, Dell Mobile Connect is exclusive to Dell PCs. There used to be some workarounds to get it going on non-Dell PCs, but those seem to have been shut down.
Using this MacBook Pro, I've been living in the Apple ecosystem, since I've already been using an iPhone 12 Pro Max and Apple Watch Series 5 as daily drivers. And holy wow, did I miss having this kind of integration. It's so nice to be able to send and receive texts through the Messages application. Oh, and if I take a video with my iPhone and want to edit it on a PC, I just AirDrop it.
Let's not forget about Find My. If I'm wondering if my wife is on her way home from work yet, there's no more need to pull out my phone and check. That's what this is really about too. You just don't have to take your phone out for anything when using a Mac and an iPhone.
Of course, there's FaceTime too, the video-calling service that somehow succeeded in a world where it can't talk to non-Apple devices. That's there too, along with things like Apple Maps, Books, Podcasts, TV, and more.
And then there are iOS apps, which are now on macOS for some reason. They don't feel natural to use, and some are speculating that this is Apple building up to a touch-based Mac, but I don't think so. I think this is a rare example of Apple doing something just because it can. I think the thought process was that Macs are getting ARM processors, it's easy to run iOS apps on them now, so let's do it, without a second thought as to what the experience might be like.
But also, other than for testing purposes, I really didn't use any iOS apps, because I've never found myself wishing I had a mobile app while I'm on a PC. I use the browser and web apps, and that's it. I did try downloading the Toyota app thinking that I could use it to start my car from the MacBook instead of my iPhone, but that app was incompatible. I'm not actually sure what makes an app incompatible either, since the array of apps available seems too big to assume that Apple got explicit permission from each developer to bring their apps to the Mac.
But it's there if you need it. Maybe you own a car from some company whose app does work on a Mac, and boom; this feature is suddenly useful to you. That's the thing. I can't tell you what's useful to you, and I'm sure there are people that love that they can run iPhone apps on a Mac now.
Adobe CC
Adobe is committed to bringing its full suite of apps to both Apple Silicon and Windows on ARM. We're going to talk a little bit about how it is now, but I just wanted to be up front with the fact that the situation will get better.
The only app that currently supports Apple Silicon (and Windows on ARM) is Lightroom, although Adobe does have some additional apps that are in beta. Those include Photoshop, Premiere Pro, Media Encoder, Premiere Rush, After Effects, Character Animator, and Audition.
Some of the beta software is more stable than others, and they've been getting updated pretty frequently. If you don't like them, you can run the Intel apps side-by-side with them, as they run through Apple's Rosetta translation. Specifically, I've been using Photoshop, Premiere Pro, and Media Encoder, and on the Intel side, I've been using Illustrator and Acrobat.
In the Photoshop beta, at first, it would crash as soon as I tried to crop an image. That was fixed rather quickly, but it should tell you where these betas are at. I tried to add an audio track to a video in Premiere Pro, and I soon realized that the beta currently doesn't support the MP3 format. I ended up using Media Encoder on a Windows 10 machine to convert it to a WAV file that I could use, although like I said, I could have installed the Intel apps to do this stuff.
I also attempted to use a FLAC file before I realized that Adobe doesn't support FLAC at all. I found a plug-in I could use and then realized I couldn't install it with the beta. Yes, let's not forget that it's one thing to turn extensible software native, but it's another thing to get all of the extensions on-board as well.
All of this stuff is going to get there at some point. I just feel like all of my testing with the MacBook Pro is leading me to the conclusion that if you really want Apple Silicon, wait for the next generation.
Microsoft Office
I'm not a big Office guy, but it's my suite of choice. I don't use iWork or G Suite. Most of Office runs native for the M1 now, and that includes Word, Excel, PowerPoint, Outlook, and OneNote, although you could run into issues with extensions like with Adobe CC.
Apps that are not native yet include To Do and OneDrive. Microsoft To Do is a simple enough application, so you're not running into any issues there. In fact, Apple's Rosetta 2 translation is very good, and I didn't find any major performance issues in most apps that I used.
OneDrive was painfully slow though. I don't know if OneDrive for Mac is normally like this or not, but just getting the file system to sync before Files On-Demand worked took hours and hours. On Windows 10, it takes minutes. If I clicked on the OneDrive icon in the menu bar, it would freeze the PC for minutes before opening the menu.
Gaming
This is less of an Apple Silicon thing and more of a Windows vs macOS thing. It's pretty well-known that if gaming is a priority for you, you should get a Windows PC. It's the place where the games are, and it's the place where the more powerful hardware is. There's no Mac with an Nvidia GeForce RTX 3090, and there never will be.
I actually downloaded Shadow of the Tomb Raider from Steam on the Mac, just to test out the Xbox Wireless Controller for the hardware comparison. Performance was surprisingly good. I expected that the translation might struggle a bit more with a game.
But while there are obviously more native games on Windows than there are on the Mac, game streaming is coming. That's really the thing that puts all of these devices on an even ground. You can easily play games with services like Nvidia GeForce Now and Google Stadia, and Microsoft is bringing its Xbox game streaming to more platforms soon. What's also cool about Microsoft's service is that it's part of Xbox Game Pass Ultimate, so it offers access to over 100 games right out of the gate.
Conclusion
A lot of the time that I've been using this MacBook Pro, I've considered that I'd be totally willing to use it as a daily driver if it could support multiple monitors. It's just a pleasant machine to use if you're in the Apple ecosystem.
Here's the deal when it comes to software. Everything works on Windows unless you're trying to make an Apple product work; however, if you've got a Dell, more Apple stuff works. There are also a bunch of issues with the Apple M1 right now, such as Adobe CC apps being in beta, OneDrive not working well, and a lack of Windows 10 support in Parallels.
Most of this is going to change. Adobe is going to get its apps up and running eventually; we know that's going to happen. As for Windows 10, I'm frankly not sure why there are still 32-bit apps in the OS. It's not hard to convert them to ARM64, and the only devices that required 32-bit ARM apps were Windows 10 Mobile, and that's been unsupported for over a year now. But also, that's the kind of inconsistency that makes macOS pleasant.
My biggest issue with the M1 MacBook Pro is that it feels like I'm doing more workarounds than I should have to do for a PC that costs well over a thousand dollars. Yes, there's a native version of Adobe Premiere Pro, but I had to convert an audio file to WAV before I could use it. Yes, OneDrive works, but I have to be selective about what I sync or else it gets wonky. Gaming works, as long as you find a streaming service with the game you want on it. Windows works, but not with the Store.
All of this stuff is going to get worked out, but like I said in part four, it's worth waiting at this point.
Check out the rest of the series: