Eve is a relatively new Finnish company which aims to develop devices better suited to the demands of users, while maintaining a reasonable price tag. The company made a splash in the tech market back in late 2014, when it launched its first device, an 8-inch entry level Windows 8 tablet named the "Eve T1". Priced at just €159 at the time, it was lauded for its construction and decent specifications and was compared to the relatively pricier Dell Venue 8 Pro. Neowin reviewed the device favorably as well, giving it a 7/10 rating, but cited display issues.
Now, the company is looking to take a step forward and launch a new crowd-sourced Windows 10 hybrid device that has been code-named as "Project: Pyramid Flipper". The advisory specifications of the 2-in-1 machine includes a 12-12.5" IPS LCD display, 7th-gen Intel "Kaby Lake" processors, an integrated kickstand, support for keyboards and digital pens, and various configurations for RAM and internal storage. The "Pyramid Flipper" will follow a form factor similar to the Microsoft Surface devices and will also feature an aluminum unibody design. The specifications were decided after mutual consultation between the company and the public, while considering numerous other factors including cost, resources and availability of components.
Ahead of the official launch of the "Pyramid Flipper"; an ambitious device which has also been dubbed by many as a "Surface killer", we got an opportunity to chat with Eve's CEO and co-founder, Konstantinos Karatsevidis, to talk about the company's history and its plans for the upcoming device.
---
Tell us a bit about yourself and Eve. What is your team's background in developing devices and technology in general?
My co-founder Mike and I are real tech geeks, every time there is a new device around we are the first ones to get it. We breathe and live tech in that sense. Right now there are 24 people all experts of their field in Eve with experience in Samsung, Lenovo, Xiaomi OnePlus, etc. And right now our team is more confident than ever that we can change the way this industry works and devices are developed.
I was born in Ukraine and came to Finland to study Business and IT. Things didn't go as planned with studies and Eve was born.
Actually, I am the youngest guy in our team. I'm 22 and have started Eve while I was studying in the University. The rest of team members have a much longer background in this industry like Michael, ex Art director of OnePlus and our mentors from Intel and other tech giants. I initially came to Finland to study but ended up starting Eve during the last year of studies. I have had a lot of manufacturing and sourcing experience before I started Eve and my studies. I started as an interpreter in international exhibitions, like Hong Kong electronics fair when I was 13. Later I became sourcing director and supply chain manager of a big Ukrainian company. That's the period when I gathered most of the connections and experience to start Eve.
What led to the inception of Eve?
Well, it all starts with how founders met. I and Mike have met at the poker table! One late, winter day I was playing poker and one guy wanted to join the table. We let him in and he kept winning all night long. That guy was a clear tech geek and economics enthusiast. After a game, we starting bouncing back and forth countless business ideas that we have generated over years. We busted a lot of each other ideas starting from online services, robot pizzas, and electric vacuum cleaners, the discussion got hot. At the end of the night, it was evident that if we would ever start a business together it would certainly be a tech company. Tech is our passion so the tech was the way to go. That's how I met Mike, my co-founder.
At the end of the day, we still did not have any particular business idea. At some point, I was considering buying a tablet and when I made my research online there were 2 options: tastelessly designed, poorly performing, full of bloatware "affordable" device or Apple iPad. Apple products are nice but are terribly overpriced while others conceal all kinds of bugs, flaws, etc under an "affordable" price tag. Why I put affordable in " is because they were not that cheap really. So as an end user, I had no other option as overpaying for Apple iPad that had questionable value for its price. I shared my frustrations with Mike and there was our eureka moment! [...] And that's how we got started.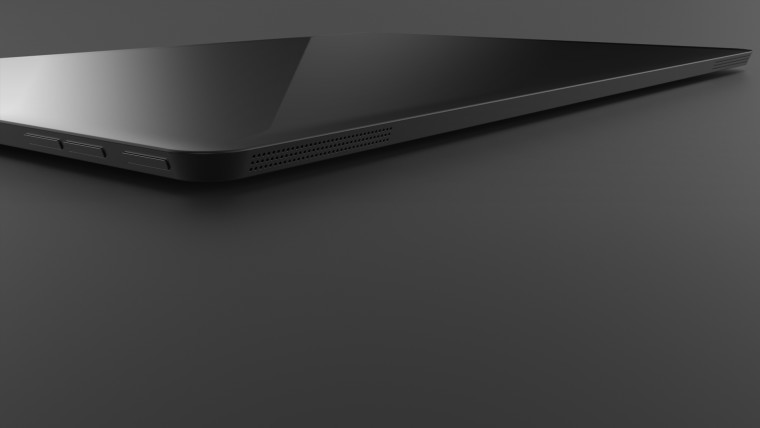 Your company claims to offer reasonable prices for its products, such as the Eve T1. How do you manage that?
From my previous distribution experience, I knew it was possible to achieve substantially better price than the competition by selling devices online only and spending less on ads and [sic] long distribution channel. For example, the Samsung Galaxy S6 edge costs approximately 260 USD to produce and retails at 900 EUR here in Finland. Some people would think that it's Samsung that makes huge profits with their device but that's not the case. 900 EUR price tag comes out of the sea of the middle man involved in the process. There is a distributor, retailer, whole seller, etc, etc between Samsung and the end user. Each middle man wants to enjoy a meaty margin. Consequently, device ends up being overpriced. Also, Samsung has spent around 18 billion dollars on marketing last year, which also slightly increase the price. We have Samsung ads all around Helsinki. Feels like Samsung city sometimes. *smiles*
Your website states that Eve aims to compete with "multi-million nonsense corporations". How do you think you'll be able to achieve that, considering that Eve is a relatively new company?
Well, starting a tech company that will compete with multi-billion competitors is no easy task. We had to start somewhere.
It was a crazy ambitious plan. It felt like we were David challenging giant Goliath!
The only thing we knew is that you can't beat (tech) giants like Samsung at their own game. You can't outspend them on ads and outsell them in retail. To be able to compete, we had to drastically change our approach and the way we do business.
We decided that we will create an ultimate 8 inch Windows tablet that will have the best value out there. That's how the Eve T1 was born.
We had to do a lot of things, starting from building our team, securing funding and finding manufacturing partners. I will not go deep into this as I can write a book about our T1 experience. To summarize, we were able to build the team, sell a lot of T1s worldwide and get some press coverage. It was a nice start T1s biggest competitor was Dell Venue 8 Pro that cost 300 euros. T1 came at 159 with similar specs. T1 proved that a small passionate team can build and launch the device in the market and sell it cheaper due to direct sales model.
Keeping in mind that your first device, the Eve T1, was internally developed, how did you arrive at the idea of crowd-development for your next project, the "Pyramid Flipper"?
As you might have noticed I have not said anything about community development in previous sections. It is because it was born after the T1 was launched.
As I have mentioned before, the T1 has received quite a lot of press coverage. And when the news was out, we saw that there were a lot of users saying just like me and Mike in the beginning: "great value device, I wish there was ..... in it!". After that, we looked at other products by Apple, Samsung, Lenovo and we noticed the same pattern. Every time a new product is launched there are thousands of tech enthusiasts around the globe that say what they would improve or do differently if they were the original manufacturers of the device.
And here was another eureka moment!
What if we would make our development process transparent and would just ask the end users how their dream device should look like?
You see, most of the players in this industry were established decades ago and their management is simply not used to the new age of online. Companies like Samsung and Lenovo work under strict NDAs. Because of this, the device-creating process [...] is compromised many times, the original intent is lost, and the (demands of the) end user are not understood.
How does crowd-development work?
We ask all of the community members what would the product of your dreams be like? What RAM, ROM, Speakers, Display the device should have, etc.
We gather all of the requirements and pass them to our technical team and manufacturing partners. They tell us what's possible and what is not.
We come back to the community with answers from tech team and decide which specs stay and which specs have to go.
We do final sourcing and design refinements. Keep showing them to the community and asking their direct feedback refining the device further.
This is how the flagship killer is born.
The important thing here is that every time that somebody makes some suggestion in engineering, design or some other team, we validate it with the community. And if people really want some feature we will do everything in forces to make it happen. So no compromises at any stage of development!
This way we (aim to) get the best 2-in-1 out there!
I would also like to ask, how would the "Pyramid Flipper" be different if your company alone decided about all the parts and not the community?
I can't imagine what it would be really. The only thing I know it would be different and full of compromises!
Because, as I have already described before during development when you come up with your perfect design/specs, there is a huge amount of suggestions coming from designers, engineers, and business guys on what changes need to be made to make the device cheaper or easier to manufacture. And you can't really argue with higher profit, and less engineering hours spent by saying "We can't compromise this feature as users won't like it" - this logic simply doesn't work in big corporations.
[...] For example, we had a huge internal "battle" going internally about active stylus pen. engineers said it is easier not to have it. Designers said that we don't need it as we would rather make it 0.1 mm slimmer than add an active pen. Mike said he likes it but not sure if others want it. So we asked the community! Guess what, when we asked whether they would buy 2-in-1 without a pen and 81% of the people said "no"! There was no reason to argue anymore. It was clear that pen is a must. It has been like that with most of the specs As it is very easy to figure perfect specs but very hard to make actual trade-offs of each decision internally.
It would be also very interesting to know, how did you convince ODMs and hardware-manufacturers to actually build your hardware and trust you in that regard?
It was actually quite challenging. We ended up partnering with biggest and most experienced ODM in China. We also received offers from Pegatron, an Apple vendor but we refused. So the way we did it was by good networking to get the doors open (we have some senior Intel executives and other experienced tech rebels in our team) and after that we told them "What if the end user would be in charge of the development? What if you would make the best device in the world with us?". ODMs are in a very price sensitive market with our business model they have a chance to experience explosive growth.
Why did you choose to build a Windows device. Why did the community choose this OS?
We went with Windows since we already had experience with it. Also, we believe that 2-in-1 devices are the future of computing. We agreed that it (sic) will be a 2-in-1 shortly after we launched T1 in a closed WhatsApp group with most loyal Eve fans. We just asked what device we should make next and people suggested a surface killer *smiles*. Then we checked market data and it became obvious that users were right again, it is a very interesting market segment.
We would like to thank Mr. Konstantinos for answering our questions and we wish his company the best of luck for its future endeavors.
---
The original interview has been trimmed slightly for brevity.