After weeks of leaks and rumors, Microsoft finally unveiled the Lumia 650 today. The device was revealed without fanfare and with no launch event; instead it was announced in a post on its Devices Blog.
The Lumia 650 is Microsoft's fourth handset to run Windows 10 Mobile out of the box, following in the footsteps of the Lumias 550, 950 and 950 XL, which it unveiled last October. The ultra-thin device features metallic bodywork and a 5-inch AMOLED screen.
It seems that the 650 is being aimed at business buyers, although the only real explanation for that is this paragraph in the blog post, written by Microsoft's Samuli Hänninen:
I've had an opportunity to talk with our business customers as well as our Windows fans and something that consistently comes up is that this ever expanding mobile world is quickly becoming chaotic. It's in that spirit that we designed the Lumia 650 to bring first class to business class; giving our customers the best of Microsoft productivity and security, all wrapped in a beautiful slim package. By providing a consistent experience across PC and phone through the power of Windows 10, we think professionals and Windows fans alike will love using it every day.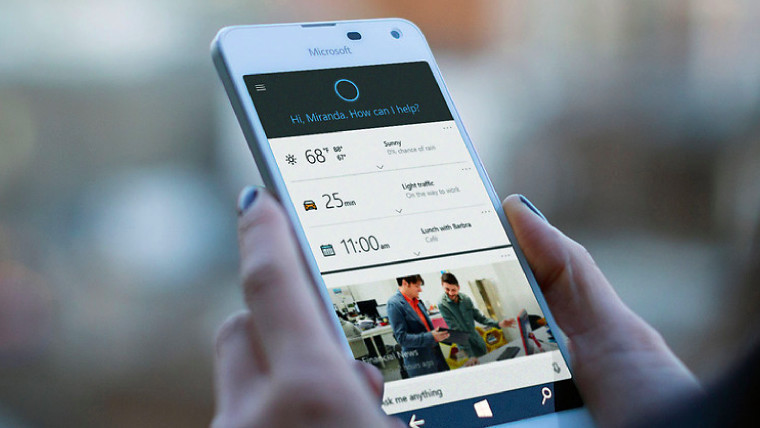 The product information page on Microsoft's website also emphasizes that the Lumia 650 is "built for business", although the device doesn't appear to include any unique features not available on its other handsets that make it uniquely suited to business customers. Its main specs include:
5-inch AMOLED with HD (1280x720px) resolution and Gorilla Glass 3
Quad-core 1.3GHz Qualcomm Snapdragon 212 processor
1GB RAM
16GB onboard storage (plus microSD card support up to 200GB)
8MP rear camera with autofocus, LED flash and 720p video recording at 30fps
5MP front-facing camera with continous autofocus, 'video light' and 720p video at 30fps
Bluetooth 4.1
Wi-Fi 802.11 b/g/n with support for Wi-Fi calling
4G LTE connectivity (bands 1, 3, 7, 8 and 20)
NFC support
microUSB 2.0 with Type B connector
Removable 2000mAh battery
142 x 71 x 6.9mm; 122g
Indeed, the Lumia 650 lacks one of the key features of Windows 10 Mobile that Microsoft has been promoting towards business customers: the PC-like Continuum feature that allows users to connect a mouse and keyboard to a handset, and then connect the handset to a larger display, effectively turning it into a mini-PC, complete with desktop-style user interface and Start menu. The Lumia 650's relatively low-end specs don't support Continuum, and while Microsoft Office, Cortana and OneDrive are also highlighted as benefits of the device for business buyers, these features are available not just on other Windows 10 Mobile handsets, and older Windows Phones, but even on Android and iOS.
The announcement does not include any mention of support for dual-SIMs either - another feature popular with business users who frequently travel to other countries. Update: As @teroalhonen pointed out, a dual-SIM version is available; Microsoft just didn't make any mention of it in its blog post.
You can get a quick overview of the Lumia 650 in Microsoft's video below:
The Lumia 650 will go on sale "in select European markets" from February 18, with a suggested retail price of $199 USD before taxes and subsidies. That converts directly to £137 GBP / €178 EUR / Rs.13,550 INR / $279 AUD - but those conversions should only be taken as a rough guide, as local pricing may differ in specific markets.
The Lumia 650 is rumored to be the last handset in Microsoft's Lumia range, as the company is said to be focusing its mobile development efforts on the 'Surface phone', expected later this year.
Update: Preorders have opened at the Microsoft Store in the UK for both Black and White versions of the Lumia 650 at £159.99 incl VAT, and as previously reported, it will ship on February 18th. In Germany it can be availed for €229.00. - Thanks Fahim S
You can see more of the Lumia 650 in the gallery below.