At its event at Mobile World Congress in Barcelona today, LG announced a pair of new flagship smartphones, powered by Qualcomm's new Snapdragon 855 chipset. The G8 ThinQ is the successor to last year's G7, the the V50 ThinQ is the firm's first 5G handset.
One of the headlining features of the G8 ThinQ is the Z Camera, which uses a TOF sensor for gesture recognition. For example, there's a feature called Hand ID, which will recognize the shape of your hand, right down to its veins. You can unlock the phone by just placing your hand in front of the front camera. LG also says that the camera isn't affected by lighting, so not only can it recognize your hand or your face in any lighting conditions, but you also can't fool it with a selfie.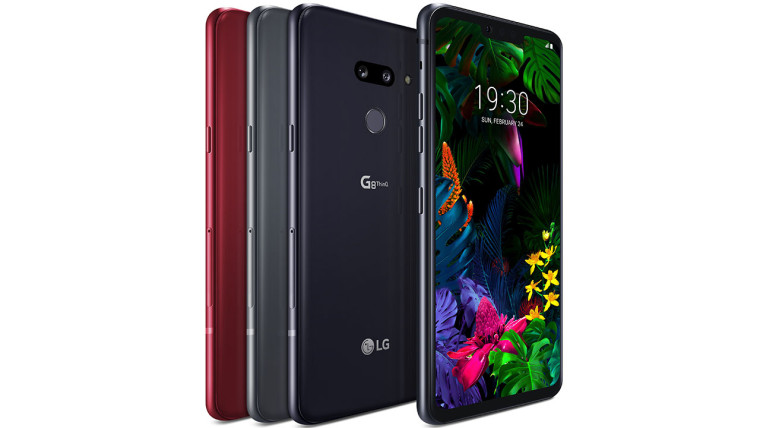 Aside from biometric authentication, you can also use the Z Camera for gestures. You can use it to answer calls, take screenshots, switch between apps, or adjust volume.
The G8 ThinQ uses a dual-lens rear camera, with a 12MP main sensor with an f/1.5 aperture and a 16MP wide-angle sensor with an f/1.9 aperture. The rear camera also supports portrait mode video, something that's enabled by the Snapdragon 855 chipset.
Another thing that's worth noting is that the handset includes a 6.1-inch 19.5:9 3120x1440 OLED display. It's the first handset from the G-series to use OLED instead of a backlit LCD, as OLED was previously exclusive to the V-series.
Other specs include 6GB RAM, 128GB storage expandable to 2TB, and a 3,500mAh battery. It also packs LG's Boombox Speaker with DTS:X for great audio, and its 32-bit Hi-Fi Quad DAC for a better headphone experience.
And then there's the LG V50 ThinQ, a 5G handset that also uses the Snapdragon 855 chipset, but with a Snapdragon X50 5G modem. The V50 ThinQ includes a 6.4-inch OLED FullVision display, also with a 19.5:9 aspect ratio.
It has a larger battery at 4,000mAh, which will certainly be necessary for the power consumed by 5G. The V50 retains its triple-lens camera, with a 12MP f/1.5 standard lens, a 16MP f/1.9 wide-anngle lens, and a 12MP f/2.4 telephoto lens.
LG also announced a Dual Screen accessory, which is meant to resemble a cover case. It adds a 6.2-inch screen, which can be operated independently. The company provides the example of watching a movie on one screen and searching IMDB on the other. It also helps that you can use one screen as an onscreen keyboard, so the keyboard doesn't take up valuable screen real estate, as seen in the image at the top of this article.
Pricing and availability for both the G8 ThinQ and the V50 ThinQ will be announced by carriers.