LG has unveiled an unusual, but potentially brilliant, solution for those seeking the most portable keyboard companion for their tablet or smartphone. There's no shortage of mini-keyboards out there these days - such as Microsoft's recently-launched Universal Foldable Keyboard, which has a form factor designed to make the peripheral as small and portable as possible. LG had the same aim with its latest mobile keyboard - but it's taken things to a whole new level.
Called the Rolly Keyboard (model number KBB-700), LG says it's "the industry's first solid rollable wireless portable keyboard", and it folds down into a small 'baton'-like strip that will take up very little space in your bag. (LG's press release rather optimistically suggests that it will "fit into one's pocket as easily as any purse or briefcase" - but try sitting down with that keyboard in your jeans, and you may well disagree.)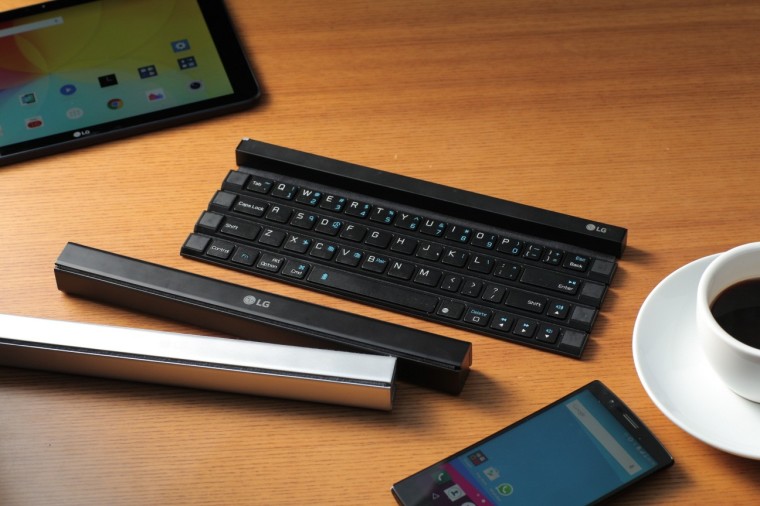 When fully opened, the keyboard has four rows (Q, A, Z and the Ctrl row), with the top row of letters also offering numerical inputs via the Fn key. Given the limited space available on the tiny keyboard, various other secondary functions are also mapped to the Fn key.
The Rolly is made of "impact-resistant and durable polycarbonate and ABS plastic", and also features an integrated stand that can support smartphones, as well as tablets with up to 10-inch screens. The keyboard pairs to these devices via Bluetooth 3.0, and you can switch between two paired devices with the push of a button.
You'll only need one AAA battery to power the keyboard, which LG says will give you "up to three months of average use". The company says that the Rolly Keyboard will launch in September in the US, followed by key markets in Europe, Latin America and Asia in Q4 2015. Pricing will be announced locally for each market at launch.
---
Video
Get a quick overview of what the Rolly Keyboard has to offer in this LG promotional video:
---