A couple of weeks ago, the Lumia 635 appeared available for pre-order on MicrosoftStore.com, but a day later, the 4G Windows Phone 8.1 device vanished from the site. The company told Neowin that its disappearance was due to "incorrect information" in the listing, but it seems that Microsoft was just a bit trigger-happy in posting the page ahead of its official announcement this week. 
Now that T-Mobile has announced that it will be the first carrier in the United States to offer the device - which will also be the very first Windows Phone 8.1 handset to go on sale there - the Lumia 635 has now returned to the Microsoft Store, and is available for pre-order for $129 off-contract with T-Mobile.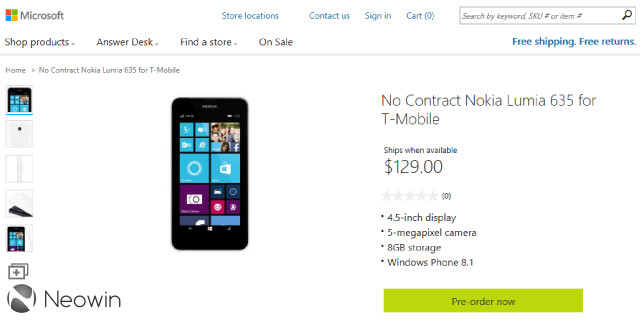 Apart from its added 4G LTE support, the Lumia 635 is identical to its 3G-only sibling, the Lumia 630. It features a quad-core 1.2GHz Qualcomm Snapdragon 400 processor, 8GB of onboard storage (plus microSD slot) and 512MB, along with a 4.5-inch display with 854x480px resolution. There's also a 5MP rear camera, but no flash, and no front-facing camera either. 
As WinBeta reports, the AT&T version of the Lumia 635 has not yet returned to the Store, although this is not entirely surprising as the carrier has not yet announced its release plans for the device. The 635 will also be available on MetroPCS from July 18, with special "promotional pricing" of $99 off-contract. 
Source: Microsoft Store via WinBeta | upper image via Microsoft