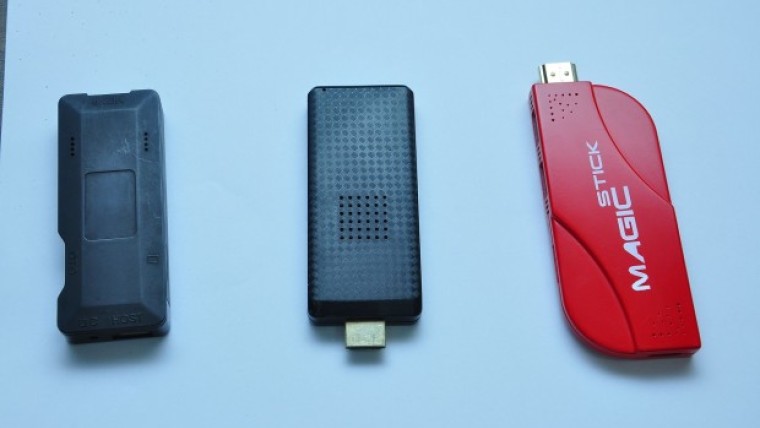 Another new entrant into the new form factor of very small, fully featured Windows PCs is the MagicStick Wave, a pocket-sized Windows 10 PC with an Intel Cherry Trail Z8700 up to 2.4Ghz and 8GB of RAM, along with 64GB of eMMC storage.
The MagicStick Wave is currently being offered through IndieGogo for an early-bird price of $249 US + shipping, with an expected retail price of $399. The early-bird price seems to offer a good value for the computer being offered, but at nearly $400 the device is reaching into price points occupied by even higher powered Core or AMD based mini PCs.
Another option is available on the IndieGogo pledge page, the MagicStick One which is a much more traditionally spec'd machine, with a Cherry Trail Z8300 clocked at 1.83 Ghz, 2GB of RAM and 32GB of eMMC storage. This option has an early price of $99 US + shipping, doubling afterwards for a retail price of $199.
Both devices offer HDMI 2.0 for native 4K output and USB 3.0 Type-C connectors for high speed I/O, as well as two operating systems preloaded, a Windows 10 Home 3-month trial and Android Lollipop. MagicStick is also offering a mobile app to easily control the device while connected to a television, reducing the need for strange keyboard/mouse dongles or extra purchases just to use your device.
The team seems to have focused on a lot details that plague other diminutive computers, such as poor WiFi signal, a problem they have solved with a high-sensitivity 10Dbi antenna, and an aerodynamic chassis to move airflow through the stick, hopefully reducing the need to throttle performance.
The Indiegogo campaign has already raised nearly five times its original goal of $50,000 US with 13 days remaining in the campaign and is rapidly approaching the stretch goals set, the first being an HDMI extension cable added to all backer orders.
Source: IndieGogo | Images: MagicStick