Last month, Microsoft announced that they have sold over 100,000,000 Windows 8 licenses. With Windows 8.1 (Blue) scheduled for release later this year, there's a lot of questions on what will be included in the update. Today at TechEd, Microsoft explained their focus for the user interface and how they're planning on improving security with the new release.
Microsoft is focusing on is letting the user work in whatever environment they're most comfortable. For example, if you're working in the desktop, and want to open an app, it should be able to run on the desktop. Specifically, you "leave the desktop only when you want to, and see the desktop only when you have to." Microsoft also pointed out that Bing is heavily integrated into the search for Windows 8.1, showing you results from both the Internet as well as from your own machine.
Another interesting feature that Windows 8.1 will provide is the ability to use the device as a hotspot. Although many phones give users the ability to tether, you will instead be able to have multiple users connect to your Windows machine and share the Internet that way, and according to Microsoft, users will be able to have 8-9 connections before noticing a performance degradation.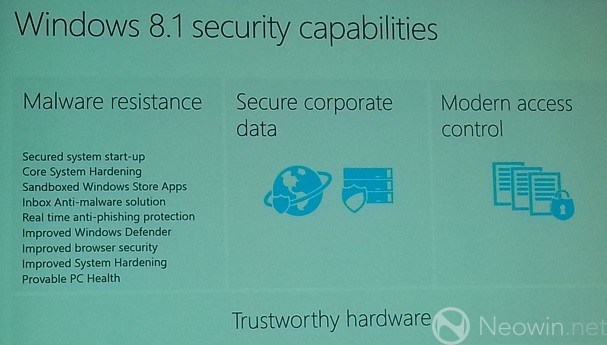 During the keynote, Microsoft touched on some of the steps Windows 8.1 will take to improve security, and then went into more detail later in the day. They started by talking about the fact that Windows 8 is already far more secure than the company's predecessors. For example, Windows 7 is six times more likely to be compromised, and Windows XP is roughly 20 times more likely. That said, Microsoft isn't resting on their laurels, especially as it relates to the enterprise, and instead of playing defense, are now going on the offensive to battle malware.
In addition to core system and browser hardening, and running Windows Store Apps within a sandbox, Microsoft has an interesting concept called "Provable PC Health." Although the name is expected to change, the idea is that your system will be checked against a known good install in order to identify whether any malicious changes have been made. Although there were no details, we suspect that it will work similar to running an MD5 checksum against all of the core system files, and compare them to the known good MD5 checksums, similar to how a tool like Tripwire works. In short, a lot of security is being pushed into the cloud.
After years of jokes about Windows security, it's nice to see that the company is tackling the problem head-on.