Microsoft has revealed the opening dates for two major additions to its network of Stores - one of which will mark a significant milestone in the company's international expansion plans.
Back in April, Microsoft announced plans to open its first flagship retail store outside of North America. While the company has in-store concessions offering its products in China - as well as Microsoft 'partner' stores operated by third-parties in various markets - the new Microsoft Store in Sydney, Australia, will be the company's first full dedicated retail location outside of the US, Canada and Puerto Rico.
In a blog post today, Microsoft said that its new Australian store will open at Westfield Sydney on Pitt Street Mall on November 12 at 1200 AET. It also revealed that its new US flagship store will open in New York City on October 26 at 1200 ET.
Microsoft first discussed plans to open a new Store in New York City last September, but it was only a couple of months ago that it confirmed that the new location would be opening this fall. Situated at 677 Fifth Avenue by 53rd Street, the Store is in a part of Manhattan that's overflowing with prestigious and highly-regarded brands; right next door is Tommy Hilfiger, while the likes of Rolex, Prada and Abercrombie & Fitch are all nearby too.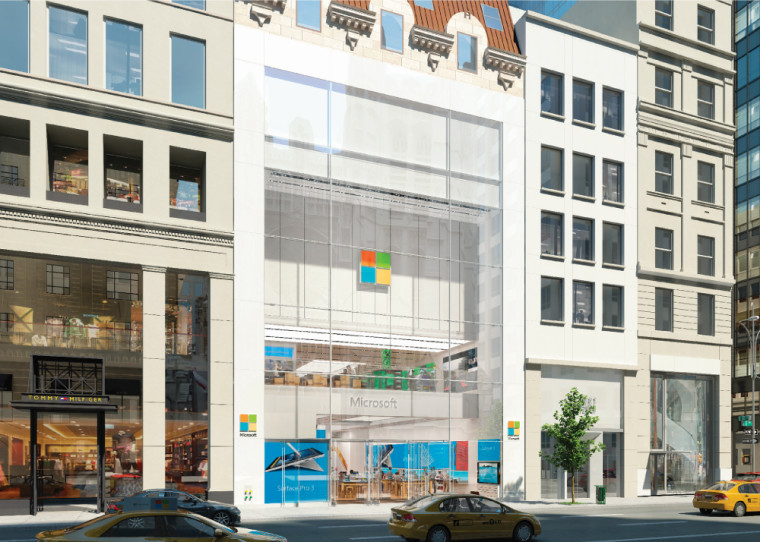 Spread across five floors, with over 22,000 square feet of space, the store in NYC is described as "a premier venue to learn about, experience and shop for" the company's range of products and those of its partners. The Sydney location won't be as large - around 6,000 sq ft across two floors - but it will include not just retail space but also an 'interactive area' for customers. Microsoft explains:
Our largest stores to-date, the New York City and Sydney flagships will include elements that our customers have grown to know and love such as technology you can try from Microsoft and our partners, the Answer Desk – a one-stop shop for technical questions, troubleshooting and repairs regardless of device or where it was purchased, the Community Theater – a space where customers can learn how to use Microsoft's latest and most popular products in their everyday work and lives, and immersive video walls throughout. These stores are being built for you.
Microsoft will certainly have plenty of new products to show off in its new Stores when they open in the next few weeks. On October 6, Microsoft will host an event in New York City at which it will unveil its new Surface Pro 4 tablet, Band 2 wearable device, and its new Lumia flagship phones - but of course, it remains to be seen if its latest products will have customers flocking to buy them.