Earlier this year, Microsoft updated Skype for Web with several new features including notifications, support for YouTube, and more. The company also updated Skype Web SDKs to deliver a customized, unique and integrated communication experience directly through the browser. Now, in an effort to boost seller productivity, Microsoft has announced Skype for Salesforce.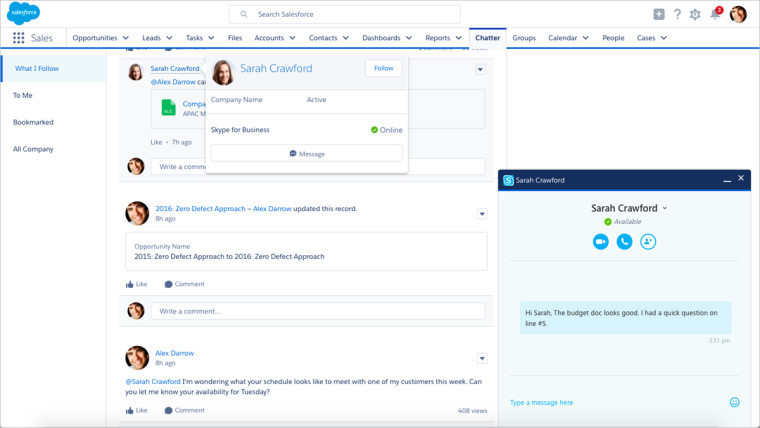 Skype for Salesforce utilizes the capabilities of Skype for Business and directly integrates them into the service, in order to provide real-time communication between sellers and colleagues, using the Salesforce Lightning experience.
Users can simply hover their mouse over any name listed in the activity timeline or a record to find out if a coworker is available. Microsoft states that:
The ability to see a person's status, within the context of a CRM activity, allows you to choose the most effective form of communication. For example, if you need feedback on an action and that person is on a call, an email may be appropriate, but if that person is available, you could get an instant response via chat. You can start a chat, voice call or video call with a single click and without the need to switch to a different application. With real-time communications embedded directly in Salesforce, you can significantly reduce the turnaround time on sales tasks and customer queries.
Skype for Salesforce is now available as a public beta for all customers with Skype for Business Online and Salesforce Enterprise or Unlimited Edition. Although users can utilize chatting features on any supported browser for Lightning Experience, but video and audio calls are currently only supported on Microsoft Edge and Apple's Safari browser. Microsoft has stated that support for more browsers is coming soon, along with the introduction of more communication features.
Source: Microsoft