Earlier this month, rumors started going around that Microsoft was looking to bring its Copilot, the AI companion on Windows, to Windows 10 as well, even though it was apparently only planned for as a Windows 11-only feature.
As it turns out, those reports were indeed true. Microsoft announced this past week that it was going to introduce Copilot on Windows 10 wherein Release Preview channel Insiders would get a taste of it first. Earlier today, or last night, depending on where you live, the company released Copilot on Windows 10 on the latest Windows 10 Release Preview build 19045.3757 under KB5032278.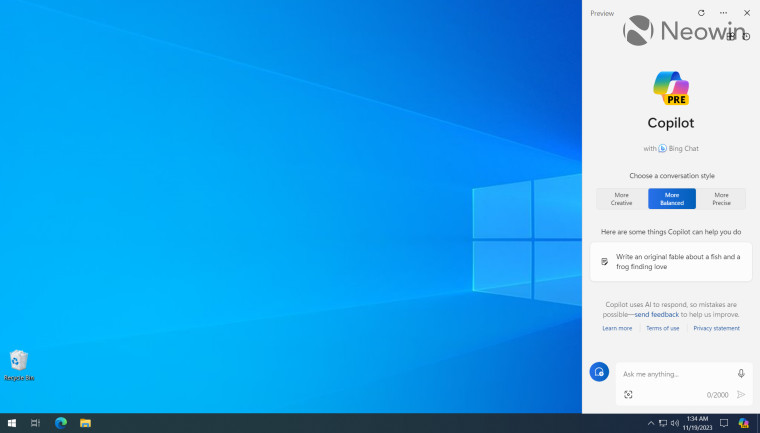 In a new Tech Community blog post, Microsoft has explained how Copilot can help you and why you need it irrespective of whether you are on a Windows 11 or a Windows 10 PC especially if you are a part of the IT workforce.
It writes:
Why you should try Copilot in Windows

People who work with information daily are excited about the capabilities of generative AI to help them discover and create new content. They may already be using generative AI by accessing Microsoft Copilot (previously Bing Chat) or ChatGPT in the browser.

Copilot in Windows powers the generative AI experience in managed Windows 10 and 11 PCs. As an IT professional, you want to help your organization be at the forefront of AI, but also hold the bar on protecting corporate data that employees may share with AI models. We are here to help you do both. With Copilot in Windows, you can offer a managed version of Copilot to Windows 10 and Windows 11 devices so employees do not accidentally share confidential or proprietary information.

By using Copilot, employees can:

Save time and effort by prompting for information and services in one place by typing prompts in natural language or using their voice.
Explore new possibilities and ideas by generating creative and innovative content that includes both text and images.
Whether or not you agree with Microsoft's suggestion is up to you, though in case you are planning to disable or remove it, we did a guide on that which you can check out in this article.