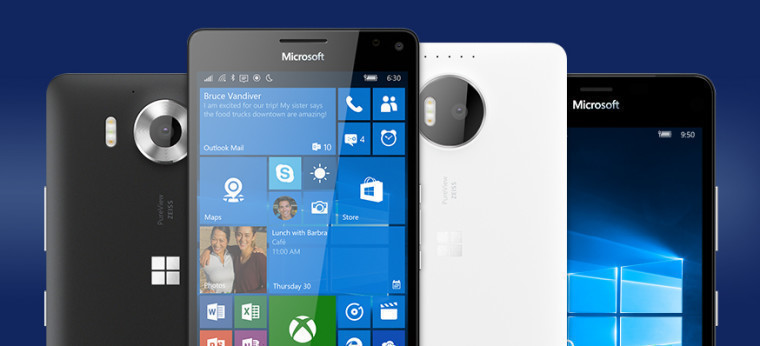 Earlier this month, Microsoft reduced the cost of its two Windows 10 Mobile flagships, referring to those discounts as limited-time offers. The Lumia 950's price dropped by $150, while the Lumia 950 XL fell by $200, and Microsoft further sweetened the deal by giving away a free Display Dock worth $99 with each device.
The small print on those deals said they would end on August 14, and indeed, the Microsoft Store is no longer offering a free Display Dock with either handset today. For several hours today, the Lumia 950 XL also returned to its earlier price of $649.
But those savings are here to stay. Microsoft has amended its listings for both devices, deleting any indication that the price cuts are special offers, including the removal of the small print, leaving no hint that the discount will come to an end.
The Lumia 950 is now $399 unlocked and will remain at that price, while the Lumia 950 XL is $499.
If you're an AT&T customer, you can save even more. The carrier halved the Lumia 950's price to just $298.99 this month, and it's still listed at that price for those who sign up for a 24- or 30-month plan starting at $9.97 per month. Bizarrely, the phone is listed at $598.99 for those who opt for a prepaid GoPhone service, even though AT&T told us that you can simply pay the $298.99 price up front and still opt for GoPhone with no annual contract.
The Microsoft Store reductions are the company's latest move to boost sales of its high-end handsets. The company has previously resorted to buy-one-get-one-free deals on the Lumia 950 and 950 XL - twice - but this is its first permanent US price cut on the devices since their launch last year. Over in the UK, both handsets have had their prices permanently reduced twice in the last seven months.
Microsoft's chief financial officer admitted in April that "sell-through of our Lumia products was weak, and we exited the quarter with relatively high channel inventory", and since then, Lumia sales have almost halved, down to just 1.2 million units last quarter.
Source: Lumia 950 (Microsoft Store)