Microsoft is expected to release the next iteration of Visual Studio, namely Visual Studio 2022, on November 8 of this year. The IDE offers numerous improvements upon its predecessor, Visual Studio 2019, including the fact that it comes in a 64-bit flavor, supports .NET 6 and C++ 20, offers better performance for the core debugger, and supports text chat during Live Share sessions. It also offers more capabilities for the IntelliCode engine, improvements to code search, and better asynchronous collaboration, with new logic related to making commits and reviewing pull requests from platforms like GitHub.
Although the software has been in preview for both Windows and Mac for quite a while, Microsoft has now penned a blog post highlighting all the UI changes coming to the IDE.
Visual Studio 2022 is getting new icons as can be seen in the graphic above. The company says that these icons have been finalized after discussion with the developer community and reviewing their feedback throughout the preview. The resulting icons are modern and intuitive.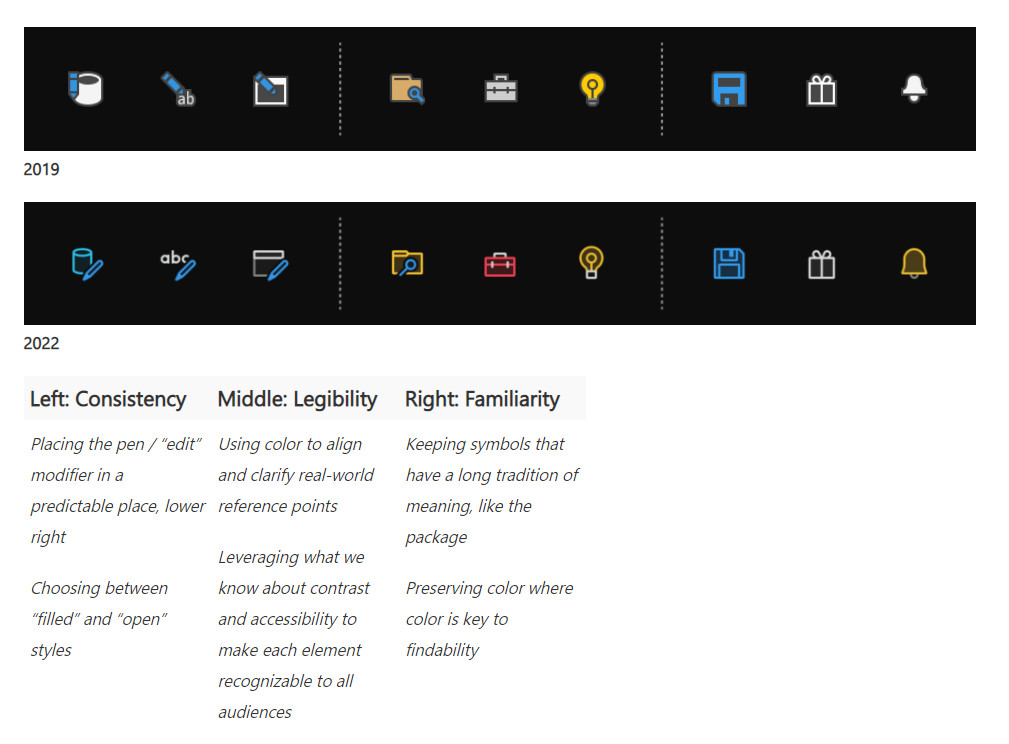 Additionally, the Redmond tech giant noted that its acceptance criteria for revamping iconography for Visual Studio was consistency, legibility, and familiarity. These involved placing icons in their correct places, the use of color to identify reference points, rectifying contrast for all audiences and preserving colors and symbols where familiarity is key.
Microsoft also found out that dark theme has overtaken light theme to become the most popular option for developers using Visual Studio. As such, it has adjusted the color contrast across the IDE to make the design more accessible, especially for people who are using dark theme. A key component of this is highlighted elements getting a border. That said, developers who are used to the Visual Studio 2019 theme can download it as an extension. In the same vein, other custom themes can also be downloaded from the Visual Studio Marketplace.
Following feedback, accent colors have been made less intense while Cascadia Mono is the new default font. Overall, Microsoft has emphasized that the visual revamp (pun intended) of Visual Studio 2022 is "clearly modern, and clearly Microsoft", but those who have further feedback can offer it via the developer community forums.