Microsoft has announced the launch of Skype Meetings, a new group meetings and collaboration tool intended for small businesses - and perhaps the most appealing feature is its price tag.
Skype Meetings is free to use, and allows users to set up online chats with colleagues and business associates by sharing a personalized URL, which participants click on to join the meeting in their browser. As Microsoft explained today:
During the meeting, participants can IM, share their screen or PowerPoint presentation or use the laser pointer and whiteboard features to make it more engaging and productive. The meeting organizer also gets professional meeting controls such as the ability to mute the audience in order to be heard.
You can get an overview of Skype Meetings in the video below:
Anyone with a business email address and whose organization doesn't already have Office 365 can sign up to use Skype Meetings - but it's only available in the United States.
Office 365 business subscribers already get Skype for Business, which includes support for even larger group meetings of up to 250 people, along with the ability to IM anyone in their organization at any time. Microsoft is using Skype Meetings as a 'taster' for small businesses, with the hope of encouraging them to opt for its more richly featured Office 365 plans. As you can see in the image below, Skype Meetings even includes a promotional panel encouraging users to 'upgrade to Office 365':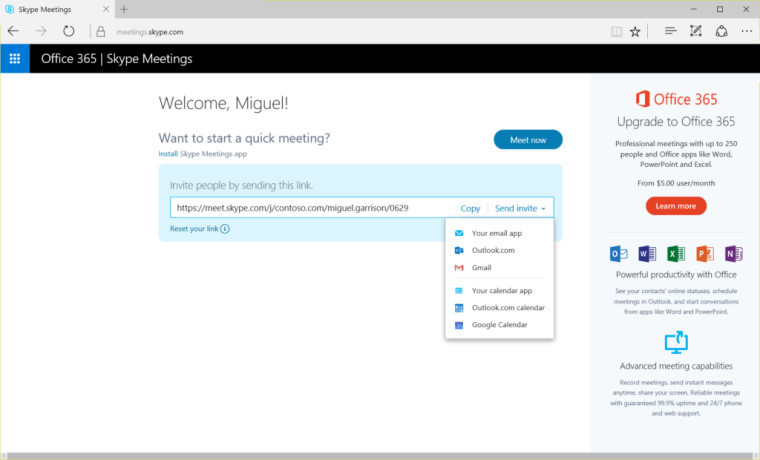 Indeed, those who sign up for Skype Meetings will initially be able to set up meetings for up to ten people, but only for the first 60 days. After that, group meetings will be limited to just three people.
Source: Office Blogs