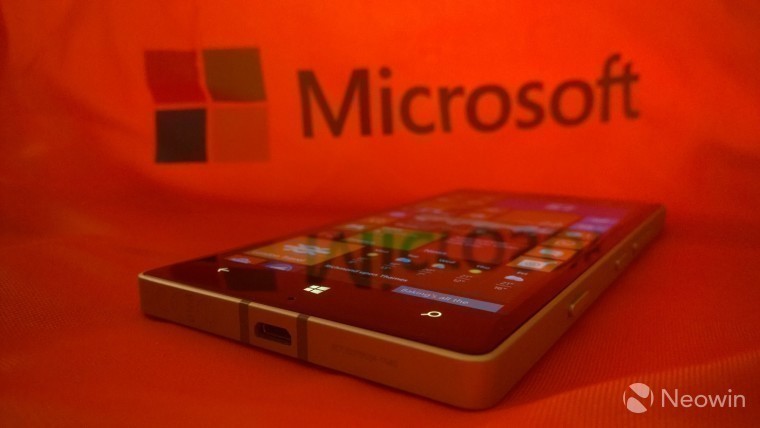 Today, Microsoft published its latest earnings report for the fourth quarter of its 2016 fiscal year. The company put in a strong performance with impressive results for its cloud business, gains for its Office business, and solid growth for its Surface devices - but as expected, its phone hardware division suffered a steep drop in performance, with revenue falling by 71% year-over-year (YoY).
And unlike in previous quarters, Microsoft has apparently avoided disclosing just how many handsets it sold during Q4 2016.
When Microsoft published its earnings report at the end of its 2015 fiscal year last July, its 8-K form submission to the SEC included a detailed breakdown of how many phones it sold, in addition to the decline in revenue in its phone hardware division. The relevant portion of that form stated [emphasis ours]:
Phone Hardware revenue decreased $748 million or 38%. Gross margin decreased $158 million, due to lower revenue, offset in part by a $590 million or 31% decrease in cost of revenue. Phone Hardware has been included in our consolidated financial results starting on April 25, 2014, the date we acquired NDS.

Lumia phones revenue declined, driven by a mix shift to lower price point devices. We sold 8.4 million Lumia phones in the fourth quarter compared to 5.8 million in the prior year.
Non-Lumia phones revenue declined, driven primarily by lower volumes. We sold 19.4 million non-Lumia feature phones in the fourth quarter compared to 30.3 million in the prior year.
However, the 8-K form published today on its Investor Relations site offers no such detail when it comes to quantifying the number of handsets that it sold last quarter. It states [emphasis ours]:
Devices revenue decreased $782 million or 35%, mainly due to lower revenue from phones, driven by the change in strategy for the phone business, offset in part by higher Surface revenue. Phone revenue decreased $870 million or 71%, driven by a reduction in volume of phones sold. Surface revenue increased $76 million or 9%, primarily driven by the release of Surface Pro 4 and Surface Book in the second quarter of fiscal year 2016, offset in part by a decline in revenue from Surface Pro 3 and Surface 3.
So, no handset sales figures this time around. Microsoft's most recent official statement regarding its phone sales came last quarter, when it said that it had sold just 2.3 million Lumia Windows phones. According to Gartner, Windows phone sales accounted for just 0.7% of the global smartphone market last quarter.
But while Microsoft is no longer keen to disclose the number of phones it's sold, its SEC filings do offer some insights into how quickly and how far its phone business has fallen.
At the end of its 2014 fiscal year, Microsoft's 8-K stated that "Phone Hardware revenue was $1.99 billion, reflecting sales of Lumia Smartphones and other first-party non-Lumia phones following completion of the NDS [Nokia Devices & Services] acquisition".
It reported a year-over-year decline of $748 million, falling to around $1.24 billion during Q4 FY2015. Its latest reported fall of $870 million means that phone revenues dropped to around $372 million last quarter.
That represents a total decline in phone sales revenue of more than 80% in the last two years - and on its earnings call today, Microsoft warned that it expects its devices revenue to fall even further. Given that it said the latest drop in devices revenue was "mainly due to lower revenue from phones" - and that Surface revenue increased by 9% last quarter - it seems pretty clear that that additional projected decline will come from its phone business.
Those declines are also entirely separate from the huge costs that Microsoft has incurred from its disastrous Nokia takeover. The company said it had booked $10 billion in "impairment, integration and restructuring charges" during FY2015 related to that acquisition; and during the last quarter alone of FY2016, it booked a further $1.1 billion of "restructuring and related impairment expenses" associated with its phone business.
Microsoft has said that it's committed to its Windows phone platform "for many years" - but after such devastating declines, it remains to be seen if its restructuring and change of strategy can turn its mobile efforts into a profitable part of its wider business.