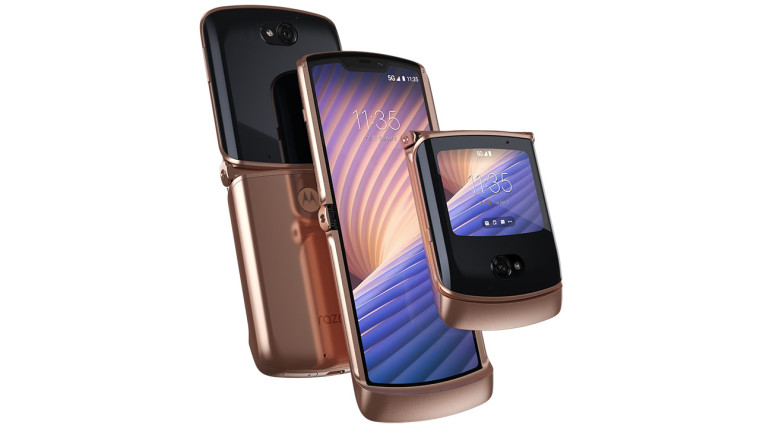 Motorola is announcing the successor to its foldable razr flip phone today. Called the razr 5G, it's not just a 5G variant of the original as the name suggests. In fact, this is a completely device refresh, improving on every aspect of the device.
First things first; that includes the hinge. Motorola says that the razr 5G is tested for 200,000 flips, and if a user opened it 100 times a day, it would take five years to meet that. The company said that it expects the average user to open it 40 times a day, with power users opening it 100 times a day. While 40 may seem low, the Lenovo-owned company hopes to achieve this by making the razr more useful when it's closed.
The Quick View display can show you notifications, and even let you type out a reply. It also now uses the same gestures as Android 10, so it's easy to navigate. You can also use the Quick View display as a viewfinder for the camera, meaning that while there's a front-facing camera inside of the device, you can use the main sensor for selfies.
That main sensor has been improved; as mentioned earlier, everything has been improved. The rear camera is now a 48MP sensor that uses quad pixel technology for 12MP images, and it has an f/1.7 aperture. It's still single-lens, but it's a big improvement on the 16MP lens of its predecessor. The 20MP front camera is an improvement on the 5MP one on the original as well.
There's also a refined design, with a smoother chin, and you'll notice that there's no fingerprint sensor down there. That's been moved to the back of the device. It comes in Polished Graphite, Liquid Mercury, and Blush Gold, and it costs $1,399, which is $100 less than the original razr.
Moreover, it's not exclusive to Verizon this time. In fact, it's not coming to Verizon at all. The Motorola razr 5G is coming to AT&T and T-Mobile, and it's going to be available unlocked. The 5G connectivity available is sub6-only, which we're told is due to it not coming to Verizon, although it could have something to do with the 2,800mAh battery.