NeoBytes :) is an occasional feature that takes a step back from the big headlines, to take a look at what else is happening in the vast, scary expanse of the tech world - often with a cynical eye, always with a dose of humour.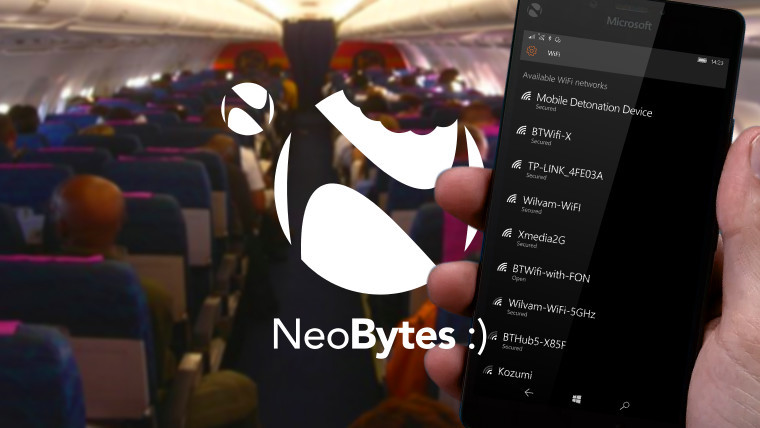 Taking a flight can - let's face it - be a bit of a nightmare. From the hassle of getting to the airport, to endless queues, the tedium of security checks, and the joyless crush of sitting in a tiny seat for hours next to someone unfamiliar with deodorant, the whole experience is often less than delightful.
Security is, of course, a serious issue for airports and airlines, and while many of us miserably complain about long lines and frustrating delays, the various checks and precautions in place are, ultimately, there for our benefit and safety as travellers.
Keeping things moving requires the cooperation of passengers - however begrudgingly - but it also demands some degree of common sense. For example, most passengers know that making a joke about having a bomb in your bag - however light-hearted the tone with which the joke is made - is an incredibly stupid thing to do at an airport, and is likely to get you a fast-track pass to a room with unamused people wearing rubber gloves.
A similar absence of common sense was evident when a passenger boarded Qantas flight 481 for a domestic flight from Melbourne to Perth, Australia. As the flight was still at the gate waiting to depart, a fellow passenger spotted a Wi-Fi hotspot on her device, titled 'Mobile Detonation Device'. You can probably see where this is going.
The passenger informed a flight attendant, who passed the information onto the captain who, understandably, didn't see the funny side, and considered it a potential threat that must be taken seriously.
As The West Australian reports, another passenger, John Vidler, said that the captain soon announced that "there was a device on the plane that had a name on it that he found threatening and that we were not leaving until that device was brought to him."
Ultimately, the device was never found, and eventually the flight departed - without Mr Vidler, and around 40 other passengers who were upset or unsettled by the experience, and who demanded to be let off the flight, which later landed in Perth without further incident.
This really should go without saying, but next time you board a flight, make sure you avoid any attempts at humor that could be perceived as terrorist threats. If you end up in the room with the rubber-gloved folks, you probably won't be laughing much...
Source: The West Australian | 'Airplane!' gif via FreeRepublic.com