This week, OPPO launched the international variant of the Reno4 Pro, starting with a launch in India. The international variant is somewhat different from the Chinese variant, dropping 5G support and opting for a less powerful chipset, but it's still a notable upgrade over the international version of Reno3 Pro.
The first OPPO phone I reviewed was actually part of the Reno family, too - the Reno Z I reviewed last summer - and it's a little surprising to see we're on the fourth iteration of the Reno family in just over one year. Regardless, I've grown to like OPPO phones more than most other brands, thanks in big part to its software experience, ColorOS, so I was very excited to review this one.
It's not very clear when it will come to more markets around the world, but the Reno4 Pro is a pretty exciting phone nonetheless, offering some solid specs for its ₹34,999 (roughly $467.24) price tag. However, it does face some stuff competition, including - perhaps surprisingly - from its sister brand OnePlus.
Specs
| | |
| --- | --- |
| CPU | Qualcomm Snapdragon 720G; two Kryo 465 Gold 2.3GHz, six Kryo 465 Silver 1.8GHz |
| GPU | Adreno 618 |
| Display | 6.5-inch Super AMOLED, 2400x1080 (20:9), 402ppi, 90Hz refresh rate |
| Body | 160.2 x 73.2 x 7.7mm, 161g |
| Camera | 48MP main + 8MP ultra-wide + 2MP macro, 2MP monochrome, Front - 32MP |
| Aperture | f/1.7 + f/2.2 + f/2.4 + f/2.4, Front - f/2.4 |
| Video capture | 4K 30fps, 1080p 60fps; Front - 1080p 30fps |
| Battery | 4000mAh |
| RAM | 8GB |
| Storage | 256GB |
| Colors | Starry Night, Silk White |
| OS | Android 10 with ColorOS 7.2 |
| Price | ₹34,999 (128GB of storage) |
Day one
Design
The design of the Reno4 Pro is one of its highlights for me. It's an incredibly thin phone at just 7.7mm, and it's also pretty darn light at 161 grams, and it all adds up to a pretty great feel in the hand. I also love that the back uses frosted plastic instead of a glossy panel. It's not the first time I see a matte finish on phone, but in this case it actually makes the glass feel a lot more grippy, and I feel a lot more confident holding it or leaving it on surfaces that aren't perfectly flat. It felt a little rough at first, but after getting used to it, it's pretty comfortable. And yes, it's using plastic instead of glass, but I actually hadn't noticed that until I began writing this review, so I would say the build quality is pretty good.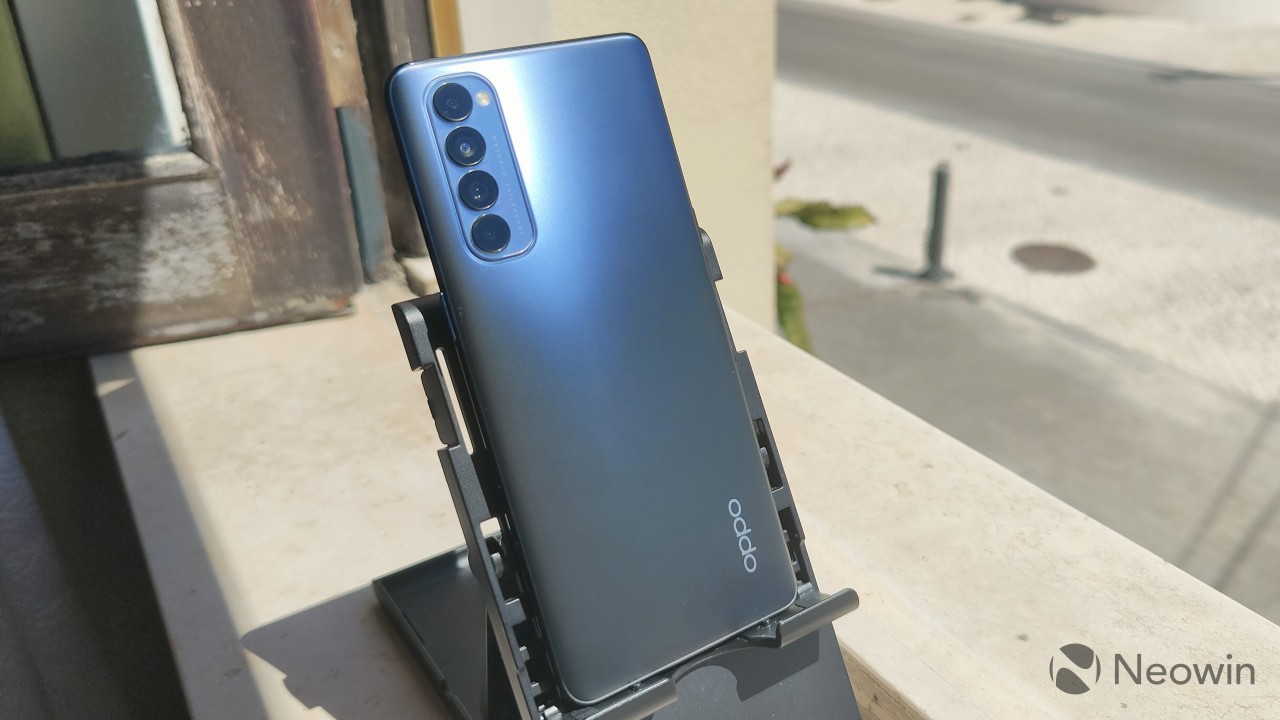 To add to that, the Starry Night variant, which is what OPPO sent me, is beautiful, with this subtle gradient from black to silver that just oozes elegance. The frosted glass back is beautifully accented by the glossy camera bump, similar to the iPhone 11 Pro, and OPPO borrowed more ideas from Apple here, with each of the cameras sticking out from the camera module individually.
Going around the phone, you'll find a lot of what you expect from OPPO. The power button is alone on the right edge, with the green accent that almost every one of the company's phones uses.
On the left edge, there's only the volume rocker, which is split into two physical buttons, in typical OPPO fashion.
On the top edge, there's a microphone, along with the SIM card slot, which I had personally never seen placed on the top edge of a phone.
Finally, on the bottom edge, another microphone, the single bottom-firing speaker, a 3.5mm headphone hack, and the USB Type-C charging port are all here. Yes, there's still a headphone jack despite how thin the phone is, so diehard fans of cables can rejoice.
Display and sound
Seeing the specs for the display of the Reno4 Pro was pretty impressive. In addition to being an AMOLED panel with a 90Hz refresh rate, which is still not too common among phones in this price range, OPPO seems to have put quite a bit of work into making this a good display. It has a peak brightness of 1100 nits, which sits between the peak brightness of the company's Find X2 and Find X2 Pro, both of which are far more expensive than the Reno4 Pro. That means it's almost always bright enough to see, though direct sunlight on the screen makes it a little harder.
For the most part, I really love this display, it's super bright and colors are very vivid, and everything just looks great. The 90Hz refresh rate also brings the advantages you know of by now, making everything feel that much smoother.
Now, OPPO sent me an pre-production unit, so the hardware here isn't completely finalized, but I did have a pretty noticeable issue with this screen. At lower brightness levels - as in, around 50% or lower - darker colors can very often jump between visibly different tones, in a way that almost feels like flickering. I noticed this for the first few seconds after transitioning from one screen to another or opening up my keyboard app, for example, and then the colors settle. I talked to OPPO extensively about this and the team wasn't able to replicate the issue, so it may have to do with this being a pre-production unit, but I couldn't go without mentioning it. I'll try to get a production unit from OPPO and verify whether the problem persists.
The Reno4 Pro has a single bottom-firing speaker, and sadly, the earpiece isn't amplified for stereo sound. That does make it a lot easier to muffle the sound coming from the phone, but the speaker can actually get pretty loud and sound quality is good. A stereo set of speakers would be better, but I can't complain all that much.
Camera
The camera setup on the Reno4 Pro is probably one of the more standard things about it. Like many other mid-range and even higher-end phones, it has four cameras, starting with a 48MP Sony IMX586 sensor for the main camera. It also has an 8MP ultra-wide lens, a 2MP macro camera, and a 2MP monochrome camera.
Low-resolution macro cameras have become one of the more annoying trends in smartphones because they're often added just to create the illusion of a better camera setup thanks to having four cameras, and that's still the case here. There's often not much reason to use the macro camera over the main one, and that's probably why OPPO hides the macro options in the cameras's pro mode. The 2MP monochrome sensor is not as common, and it helps with some interesting features that not a lot of phones have.
In general, I quite like the cameras on the OPPO Reno4 Pro. In daytime, the main camera delivers some very well-balanced and natural-looking colors, which I really appreciate. In some pictures, especially when dealing with flowers and harsh sunlight, the white balance can be less than ideal, but it's still better than a lot of other cameras. I compared it most directly with the TCL 10 Pro, which is the most similarly priced phone I've reviewed recently, and the Reno4 Pro was immensely better. However, the wide-angle camera can produce some oversaturated shots.
I'm not sold on OPPO's night mode, though. The processing it does makes colors look very washed out and while it does add clarity - object edges and contrast become more apparent - things just end up looking bleak a lot of the time. The point of night mode in a camera, in my opinion, isn't just to be able to see things better, but to be able to save memories the way you would want to remember them, and at that, I think this fails. I also don't like the front-facing camera that much, mostly because it seems like it tries to smoothen my face too much (even with the related features disabled), and hair just doesn't look as detailed as I would expect from a 32MP sensor.
Despite only having a 48MP sensor, the Reno4 Pro does have a special mode that lets it capture 108MP pictures, which you can see in the last four sets of pictures above. You need to use the camera in Pro mode for this, but the higher resolution doesn't actually seem to add any delay to actually taking the photo, which I found a bit surprising. The final results are alright, the higher resolution does add a bit more detail, but it's not something you need to use most of the time.
Arguably what makes this phone stand out the most is its use of "color retention" filters. These basically make it so that in portrait shots or videos, only the person in focus is captured in color, while the background is black and white. For video (strangely enough, photos don't support it), it's also possible to make only certain colors - blue, red, or green - show up, with everything else remaining monochrome. I assume this is where the monochrome lens comes into play, since it's the only one of these features that doesn't work with the selfie camera.
These filters are fun, if not the most accurate or necessary things in the world. I'm not much of a portrait fan, but recording a video where only shades of blue or green or visible is a fun idea.
Performance and battery life
The performance on the Reno4 Pro is just another example that shows that you don't need to pay top dollar for a flagship phone to get all the speed you might need. There's never been a moment where I found myself thinking "if only I had a Snapdragon 865" while using this phone, and everything flows perfectly well. Games, like Asphalt 9 or PUBG Mobile work just fine, even at the highest settings, and there's really not much to complain about here.
Of course, you'll see the difference in benchmarks, and the numbers are a far cry from true flagships, but day-to-day use is just fine on the Reno4 Pro. Either way, to put a number on it, I tested the phone with AnTuTu, GeekBench 5, and GFXBench.
AnTuTu Benchmark
AnTuTu is an all-around benchmark that tests all the major components of a phone. The score here is well ahead of something like the TCL 10 Pro, and in the range of the Exynos-powered Galaxy S9 from a couple of years ago.
GeekBench 5
GeekBench tests the CPU only, and the results are within expectations, with the Reno4 Pro pulling significantly ahead of the TCL 10 Pro and hovering around devices with the Snapdragon 845.
GFXBench
Finally, GFXBench tests the GPU, and the phone performs reasonably well too.
As for battery life, the Reno4 Pro does just fine. It's always gotten me through the day easily, even with lots of YouTube videos playing throughout the day, and I've often had it last me two days, which is always great. What makes the battery more special on this phone, however, is the support for 65W charging, which the Reno4 Pro is borrowing from the Find X2 Pro. It fully charges the battery in just 36 minutes, and because of that, I just don't need to charge my phone overnight. I plug it in when it's about to die, and it's quickly back to full, so I can unplug it and go about my day. Charging this quickly is really convenient, and it's not something you find on most mid-range phones.
Though it hasn't changed much, I feel like OPPO deserves praise for its implementation of Android, which is called ColorOS. I can't overstate how much I appreciate that it lets me use the default Android 10 navigation gestures while using a third-party launcher - and it's still the only Android skin I've tried that lets me do so. However, in this phone, whenever I reboot the phone it seems to clear my preference for the default launcher app and I have to set it again, so I hope that will be fixed.
This is a slightly updated version of ColorOS, and the only notable addition is, in my opinion, OPPO Lab, which has a couple of neat little features, like a decision spinner and a ringtone maker, which gives you a default melody that can be customized to create your own personalized ringtone. There are some others, but some of the text hasn't been translated so I couldn't use them.
Conclusion
The OPPO Reno4 Pro is a very attractive package, both in terms of its looks and what it offers. It's super thin and light, but it still has features that might usually be sacrificed for thinness, like a sizeable 4,000mAh battery and a headphone jack. It's also just a very well-rounded phone, with a beautiful and smooth display, a pretty good camera in daytime - and some unique camera features to boot - and all the performance most people will need.
I did have some major issues with some display colors, but it's always possible this is a defect of my particular unit. I haven't seen other reviews mention this, and as I mentioned above, OPPO says it wasn't able to replicate my problems. The camera's night mode also posed some problems, and I generally just didn't like the results that much, but it's at least usable.
From my personal experience, I would say the Reno4 Pro offers pretty good value. The sub-$470 price tag places it close to something like the TCL 10 Pro, and the Reno4 Pro beats that phone at just about every turn.
The Reno4 Pro's biggest competition, I would say, comes from its sister brand OnePlus. In India, the OnePlus Nord with 8GB of RAM and 128GB of storage costs ₹27,999 ($373.51), which is ₹7,000 less than the price of the Reno4 Pro. That phone has a faster processor with 5G support, the Snapdragon 765G, and is otherwise fairly similar in terms of specs. The Reno4 Pro mostly gets you what I would say is a better design, faster charging, and a headphone jack. For most people, I don't think that's justified, though it's also not news that OPPO-branded phones tend to be more expensive than OnePlus', as was the case the the Find X2 Pro versus the OnePlus 8 Pro.
Pros
- Sleek and stylish design - Bright and smooth display - Good performance - Solid main camera - Super fast charging
Cons
- Disappointing night mode and selfie camera - Display issues - OnePlus Nord offers more value