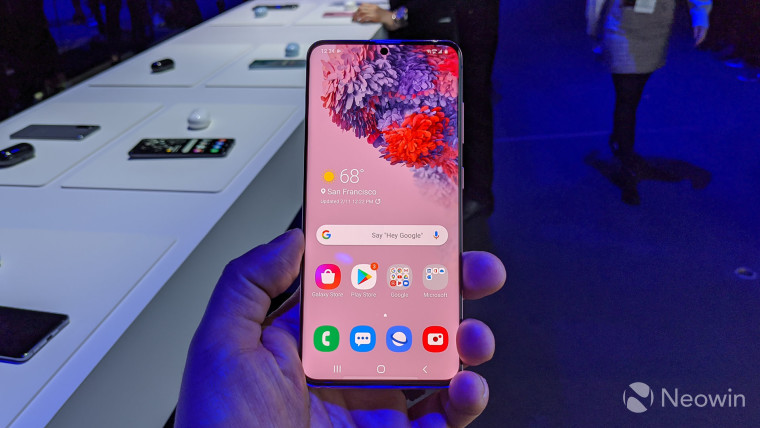 Samsung has finally announced the Galaxy S20 series, its flagship smartphone lineup for 2020. The South Korean company has made some major changes and upgrades with the Galaxy S20 to ensure it remains among the best Android smartphones in the market.
The Galaxy S20 lineup packs a number of new features that we are yet to see on any other smartphone. If you are looking to buy the Galaxy S20 and are wondering what some of its top features are, read below.
Super Fast Charging
Samsung is not making the same mistake that it did with the Galaxy S10 series last year as it shipped the device with only 15W fast wired charging support. The Galaxy S20 series supports Super Fast Charging that can rapidly charge the beefy batteries inside these devices from 0-100%.
While Samsung is bundling a 25W USB-C fast charger with the Galaxy S20 series, the S20 Ultra supports even faster 45W charging. However, you will have to spend an extra $50 for the charger.
The good thing about Samsung's fast charging implementation is that it is based on the USB-Power Delivery protocol so you can use the same USB-C charger to charge your MacBook Pro, Nintendo Switch, or other USB-C devices without any issues.
In addition to Super Fast Charging, the Galaxy S20 series also supports 12W wireless charging and 5W reverse wireless charging.
8K video recording and Direct upload to YouTube
Samsung has worked really hard to make the Galaxy S20 series a camera powerhouse. Among other things, the Galaxy S20 is among the very few smartphones in the world that can record 8K videos. The Nubia Red Magic 3 was the first smartphone to record 8K videos but it was limited to doing so at 15fps. The Galaxy S20 one-ups the Nubia by being able to record 8K videos at 24fps.
Sure, it makes almost no sense to record 8K videos on your smartphone but it does make for a cool feature to boast about. Plus, you can also capture 33MP stills from any 8K videos that you record.
That's not it though. Samsung has partnered with YouTube to ensure that you can directly upload 8K videos to the streaming service. You can also share 4K or Full HD version of 8K videos right from the device.
Switch between front and rear cameras while recording videos
On the Galaxy S20, a user can take photos from the three cameras at the back at the same time. What's even better is that the phone allows one to switch between the front and the rear cameras while recording videos. No other smartphone in the market currently offers this feature including the latest iPhones. While it might seem like a small deal to many, this feature could come in extremely handy for vloggers and people who use their smartphone to frequently record videos.
Google Duo video calls in Full HD resolution
Samsung has worked with Google on deeply integrating Duo video calling in One UI. On the Galaxy S20, one can make native video calls using Duo right from Samsung's Dialer app. Additionally, one will be able to make video calls in Full HD resolution on the device for crystal clear clarity. No other smartphone in the market currently supports making Full HD resolution video calls.
Pro video mode
Samsung has focused strongly on improving the camera performance of the Galaxy S20 series. Apart from the upgraded hardware, the company has also worked on improving its camera app. Among the plethora of new features and modes, it has added a useful Pro video mode to it.
If you are a photographer or a videographer and know what ISO, shutter speed, and exposure mean, you will love this new Pro video mode. It will let you control almost every aspect of the camera while recording videos. Usually, smartphones offer pro mode only while capturing photos but Samsung is taking things to the next level with the Galaxy S20 series.
Quick Share
Samsung is making it easier to share content with other Galaxy devices with its new Quick Share feature. As the name suggests and as previously leaked, the Quick Share feature is Samsung's own take on AirDrop. It will allow Galaxy S20 users to quickly and easily send large files to their friends nearby without going through the hassle of pairing their devices first.
While Quick Share is currently only available on the Galaxy S20, Samsung will bring the feature to its older devices via a software update.
---
What are your favorite new features of the Galaxy S20? Share with us in the comments below!