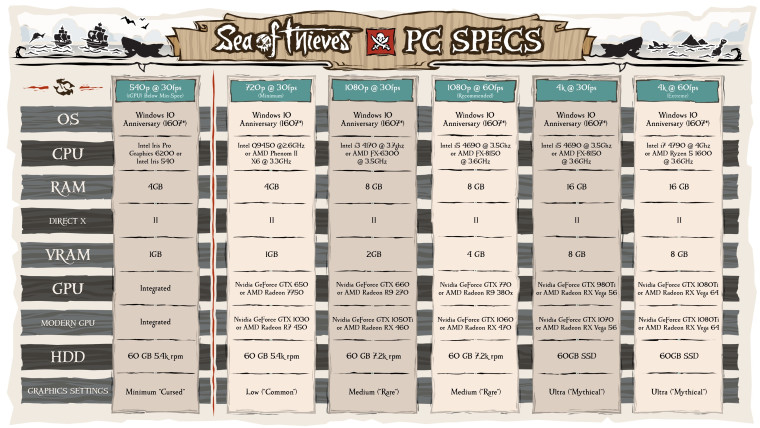 In an interview last year, Rare stated that it has plans to implement graphics settings that should allow even the frailest of PCs to run its upcoming pirate adventure game, Sea of Thieves. It certainly seems Rare is sticking to its guns, as the newly revealed system requirements for the game paints a detailed picture of what kind of rigs prospective pirates will need to begin their adventure on PC.
As seen in the extensive table above, the graphics settings are split into four categories, from Cursed being the lowest, to Mythical being the highest. The only requirements that stay constant between all columns are the Windows 10 version (Anniversary 1607), the 60GB of storage space, and DirectX 11.
The developer recommends either an Intel 4690 or an AMD FX-8150, paired with an Nvidia GTX 1060 or an AMD RX 470 to achieve 60fps at 1080p resolution on medium settings. However, going towards the enthusiast end, anyone looking to enjoy the game on maximum graphics settings on a 4K display at 60fps, will require an i7 4790 or a Ryzen 5 1600, along with a GTX 1080ti or a RX Vega 64.
Meanwhile, on the other end of the spectrum, the developer has also listed a 'Below Min Spec' column that will let players with Intel integrated GPUs join in on the fun, as long as they aren't bothered by things like slideshows or being able to count the pixels on the screen.
Sea of Thieves is set to set sail on March 20 for Windows 10 and Xbox One, featuring Xbox Play Anywhere functionality, and cross-play. The game will also be a part of the Xbox Game Pass program at launch.
Via PCGamesN