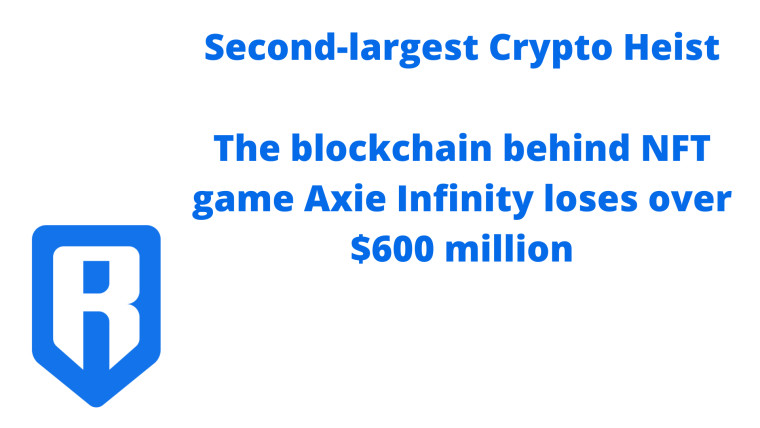 According to news outlet Forbes, the Ethereum-linked blockchain platform for non-fungible token-based video game Axie Infinity, Ronin Network, was hacked last week and the hackers stole cryptocurrencies now worth over $600 million. The recent exploit is possibly the second-biggest crypto heist in the cryptocurrency market.
Issuing a community alert, the gaming-focused blockchain platform, Ronin, stated:
There has been a security breach on the Ronin Network. Earlier today, we discovered that on March 23rd, Sky Mavis's Ronin validator nodes and Axie DAO validator nodes were compromised resulting in 173,600 Ethereum and 25.5M USDC drained from the Ronin bridge in two transactions (1 and 2).
Ronin also said that after a hacker utilized hacked private keys to forge two fake withdrawals last week, 173,600 ether tokens and 25.5 million USDC were extracted from its platform. The company found out about the attack when a user reported that they were unable to withdraw 5K ether tokens from the network.
Following are the actions that Sky Mavis' Ronin Network has taken so far:
We moved swiftly to address the incident once it became known and we are actively taking steps to guard against future attacks. To prevent further short term damage, we have increased the validator threshold from five to eight.
We are in touch with security teams at major exchanges and will be reaching out to all in the coming days.
We are in the process of migrating our nodes, which is completely separated from our old infrastructure.
We have temporarily paused the Ronin Bridge to ensure no further attack vectors remain open. Binance has also disabled their bridge to/from Ronin to err on the side of caution. The bridge will be opened up at a later date once we are certain no funds can be drained.
We have temporarily disabled Katana DEX to due to the inability to arbitrage and deposit more funds to Ronin Network.
We are working with Chainalysis to monitor the stolen funds.
To know more, we'll have to wait until the company issues further announcements.