Undead Labs' zombie survival title, State of Decay 2, managed to gather a million players only a few days after its launch. That number grew to two million less than two weeks later. And now, Microsoft has announced that the game has been played by over three million players.
Celebrating the Fourth of July and this new milestone, the developer has released a new DLC pack today. Titled The Independence Pack, the DLC comes with three new vehicles, five new weapons, and some new fireworks to spice up the desolate maps. Here's a full rundown:
Take the Pyrohawk, Burninator or Meatwagon out for a spin. With names like these, you know driving will be more entertaining.
Step up to your station at the BBQ with The Freedom Ringer, Grillmeister and BBQ Fork – new hand-held zed-slaying solutions.
Subtlety not your thing? Well we have the Pyro Launcher and Starshank Launcher so you can blast zombies with fiery explosives.
Just like loud noises with pretty colors? You're in luck! The Block Rocker, Reign o' Fire, Bouncing Boris and XL Firework Shell offer even more options to turn a mission into a celebration.
There's even a new facility mod that will let players craft fireworks and a wandering trader that will exclusively deal with pyrotechnics.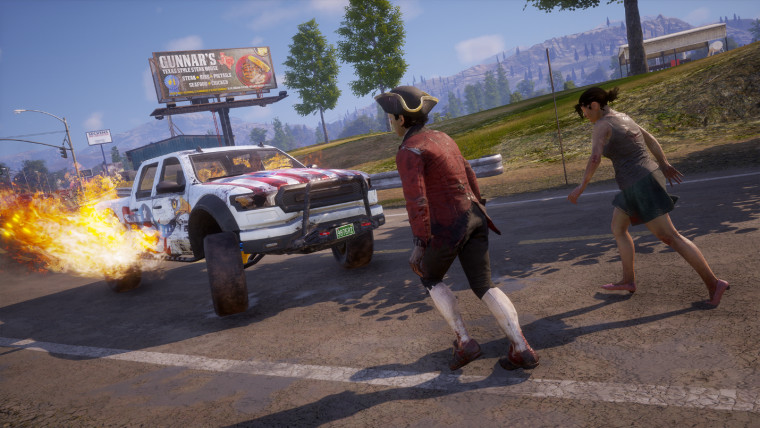 Coming in at $4.99, The Independence Pack is available now for Xbox One and Windows 10, but Ultimate Edition owners get the DLC pack for free, while Xbox Game Pass subscribers receive a 10% discount when purchasing it.
Separate from the DLC, the developer has also pushed out a free update to the game, adding 20 new missions, a score of new weapons, a rare books trader, and more. More highlights from the 2.0 update can be read over here.
Moreover, the announcement teased the upcoming Daybreak DLC pack for the game as well, which is slated to launch sometime in September. This pack will also be free to all Ultimate Edition owners, and brings along a new mode that will let players take the role of a decked out Red Talon soldier who must take down waves of zombies.
State of Decay 2 is available for purchase via the Microsoft Store for Xbox One and Windows 10 with a $29.99 price tag. The game is also a part of the Xbox Game Pass subscription program, which costs $9.99 per month.