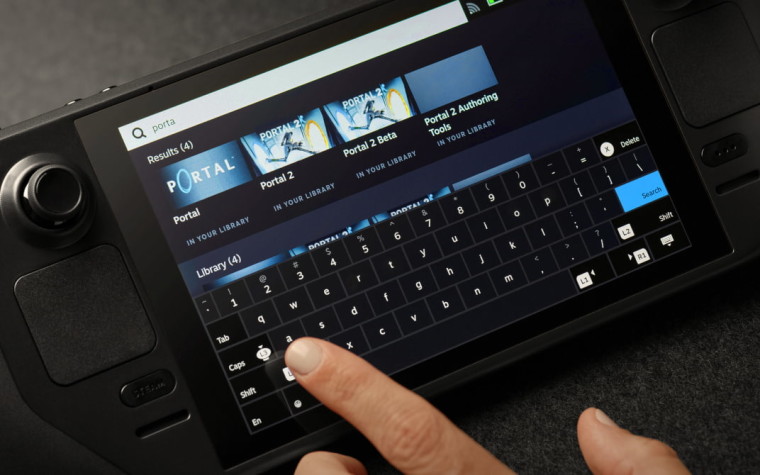 December is a bittersweet month for those who reserved Steam Deck back in July. What was supposed to be already shipping has been delayed until February, and while Valve cites the silicon shortage as the cause, it looks like there may be a bit more to the story.
In the latest SteamOS image, they've patched up a lot of rough edges. One of the headlining features of Steam Deck is Steam OS 3.0, which will debut the redesigned Big Picture Mode and offer a seamless transition between handheld and desktop. However, it seems Valve has used the delay to make significant advancements to the Steam OS image.
SteamOS Image 20211120.2 shrinks from 24gb to 10gb, which is over two times smaller. This adds precious library space for those who reserved the 64gb model. Here is a full list of changes:
SteamOS image 20211120.2
Touchscreen should be reliable on every boot now, please let us know if you still see issues.
Boot sequence cosmetic improvements, should be seamless now.
Fix for HDMI out not working after disconnecting once on certain configurations.
WiFi performance improvements, please test and let us know if you see lower performance than expected compared to other devices in the same spot.
Updates bundled version of Steam for the first boot on clean images/OOBE
OS and pre-installed software now takes up substantially less of the internal disk space (~10GiB, down from ~24GiB). Will only apply on the next full reimage.
BIOS 100 released for units with Micron memory, and BIOS 29 for units with Samsung memory. After updating to this version, you will be prompted to install a BIOS update next time you are connected to A/C power.
Kernel driver updates for WiFi, Audio, GPU, and others.
Steam Client Update December 9th
Fixes to controller configurator
Fixes to library collections
Starting to test UI sounds (work in progress)
Lots of interesting stuff in here, but most notable are the BIOS updates. It seems that Steam Decks ship with two different BIOS images based on which memory your unit ships with. Samsung and Micron are mentioned as providers which could be due to a multitude of reasons. This probably has to do with manufacturing constraints caused by the chip shortage, as the Steam Deck is advertised to ship with the same 16GB LPDDR5 configuration across all models.
It's interesting that Valve is just now starting to test new UI sounds. The current Big Picture Mode sounds are familiar, if not a bit dated, and the fact that they're testing new ones so close to launch is a bit concerning.
Source: Reddit via Metacouncil