Valve has been trickling out Steam UI overhauls to specific components in recent years, and the company's latest target is the client's Downloads page. The newly overhauled section can be accessed by switching to Steam's beta client, though in this initial public version, some bugs are to be expected. See how the new Downloads page looks in the screenshot above.
At first glance, the biggest change is happening to the header, with the download status information being moved to the right while the currently downloading game's key art and name are visible on the left. Disk usage is now more visible than before as well, which should alleviate situations where it looks like the download has stalled, even though space is being allocated in the background.
Instead of fiddling with the "to the top" button like before for individual downloads, users can drag and drop the available updates to change the queue order now. If an update being downloaded is not solely game content, a tooltip can also be triggered that shows if it's DLC, workshop, or shader cache that's incoming. A clear all button for completed downloads and a shortcut to quickly access Steam download settings are available too.
Moreover, relevant patch notes will be easily accessible via a button next to downloads when the corresponding update is available. However, this will only be for games where the developer is using Steam Events to publish patch notes.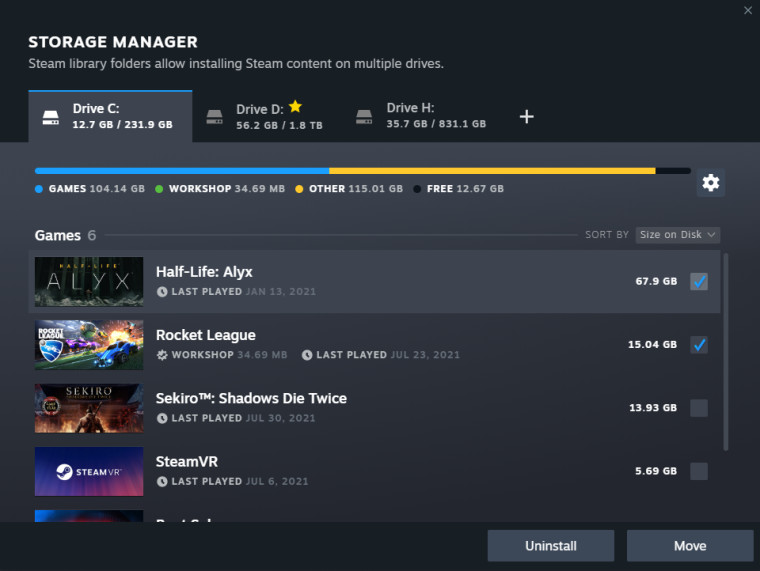 Updates have also arrived to the Library section in this beta build, with the brand-new Storage Manager being the biggest change, as seen above. Other than moving games, which currently has an issue, the new storage options and information displayed should be extremely useful for Steam users.
Find the complete patch notes for the beta update here. To join the beta, head to the Steam Settings menu, then in the Accounts tab, use the CHANGE button in the Beta participation section and select the "Steam Beta Update" from the dropdown. Once Valve is happy with the implementation and bugs have been squashed, the Downloads revamp will roll out to all Steam users.