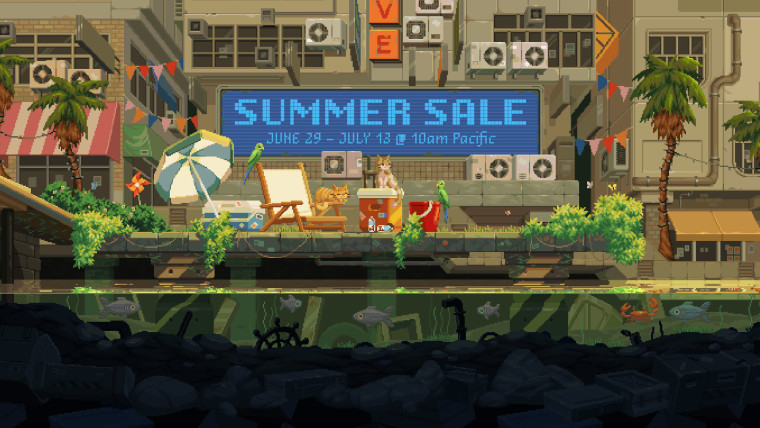 Valve is known for its massive store-wide sales that only show up a few times a year, and it's that time again. The Steam Summer Sale of 2023 is now officially open for business. Although Valve's servers were a bit shaky at the start from the amount of people trying to see the latest offers, things seems to have calmed down.
Everything from hidden gem indies to the biggest blockbusters are now touting discounts on the PC gaming platform. While refreshing flash deals are a thing of the past on the store, the front page will have a rotation of deals being highlighted every day.
The event's opening day is putting a spotlight on discounted games like Monster Hunter Rise, Sea of Thieves, Wild Hearts, Civilization VI, Midnight Suns, Call of Duty Modern Warfare II (the reboot), Persona 5 Royale, and many more.
Valve's latest hardware venture, the Steam Deck, is a part of the festivities too. The company is offering discounts of up to 20% on the hand-held gaming PC's various versions.
Coming back to the games, some newer titles like Hogwarts Legacy, the Dead Space remake, Forspoken, and High On Life are also discounted right now. Even FromSoftware's latest RPG Elden Ring is a part of the sale with a hefty 30% discount, a first for the fan-favorite game. In fact, the studio's entire Dark Souls franchise is on sale after a rather extended period of being full price.
Like every year, the event also has stickers to collect from visiting genre category pages, trading cards to gain from going through Discovery Queues, and UI cosmetics to redeem from the Points Shop. There doesn't seem to be a meta mini-game attached to the event this time though.
The Steam Summer Sale of 2023 will keep its doors open until July 13, giving PC gaming fans two weeks to decide on how to lighten their wallets. Be sure to read our Weekend PC Game Deals special this coming Saturday to check out the biggest highlights from the sale.
Earlier this year Valve uncharacteristically revealed the exact dates it plans to kick off each and every major Steam sale and event of 2023. Something that's usually the job of a leaker every year. According to it, there are several specific genre-focused game fests incoming in the next five months. If the Summer Sale isn't enough though, the Steam Winter Sale is set to kick off on December 21.